How to invest in the latest developments in hearing technology
Traditionally dismissed as a relative backwater, this branch of medicine is about to move into the limelight thanks to ageing populations and major breakthroughs, says Matthew Partridge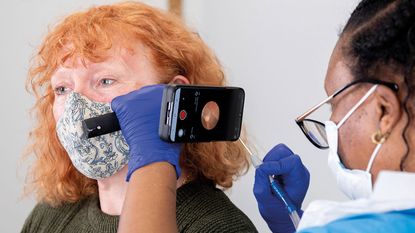 (Image credit: ©Tympa System)
Hearing problems are often dismissed as a niche concern when it comes to medical care. This is perhaps largely because they are seen as an inevitable consequence of getting older. But in an ageing world where one in ten people are already over the age of 65, more and more people will suffer from problems with their hearing. What's more, there are some interesting technological developments taking place in this field. There is, in short, ample scope for this subsector to grow. Francesco Conte, JP Morgan European Smaller Companies Trust's lead investment manager, says that €15bn is spent each year on devices such as hearing aids – just 0.2% of global health expenditure.
Generation X can't hear you
The demand for hearing care in all forms has grown particularly strongly in recent years. Hearing problems have overtaken eye trouble as the most common sensory disorder in the developed world, says Dr Lawrence Lustig, Howard W. Smith professor and chair of the department of otolaryngology, head and neck surgery at Columbia University Medical Center and New York Presbyterian Hospital. Lustig thinks this is largely due to an ageing population.
However, there is also strong evidence of "an increased incidence of hearing loss among those who are still relatively young". This may be due to the "greater ubiquity of personal audio devices" over the past four decades. This doesn't just include all the people who spend time listening to music from their smartphones, but also the generation that first embraced the Walkman in the 1980s, now reaching middle age. Those who listened to loud music in the 1960s and 1970s are also experiencing problems.
Subscribe to MoneyWeek
Subscribe to MoneyWeek today and get your first six magazine issues absolutely FREE
Get 6 issues free
Sign up to Money Morning
Don't miss the latest investment and personal finances news, market analysis, plus money-saving tips with our free twice-daily newsletter
Don't miss the latest investment and personal finances news, market analysis, plus money-saving tips with our free twice-daily newsletter
What's more, there is an increasing awareness that sensory health "is just as important as our physical health", says Karen Shepherd, director of professional standards at Boots Hearingcare. Part of this is a result of the impact that poor hearing can have on someone's mental health; people feel socially isolated.
However, there is also increasing evidence that the quality of our hearing has an impact on our physical state. Studies show that "if you do start to lose some of your high-frequency hearing [which helps you make out high-pitched sounds] and you start to mishear certain words", it forces you to "use other cognitive senses to try and identify what that word is". Over time that can cause "fatigue, neural changes, and cognitive decline" – and possibly even dementia.
A 2013 study by Johns Hopkins University of 2,000 pre-screened volunteers found that declines in thinking skills happened faster among people with hearing loss than among those without it. While those with normal hearing took 11 years to develop cognitive impairments, those with hearing problems started to experience difficulties within only eight years. Although it's possible that both hearing loss and cognitive decline were caused by an unexplained factor common to both conditions, more recent studies, including one published in the Lancet last year, suggests that early treatment, such as the use of hearing aids, can cut the risk of dementia.
Hearing aids are getting better...
The humble hearing aid remains the most visible part of the hearing-loss market. Around 17 million units were sold worldwide in 2019, and revenue is growing by around 6% a year, according to the European Hearing Instrument Manufacturers Association. However, the market for these devices is about to undergo some radical changes, says Dr Laurel Christensen, chief audiology officer for GN Hearing. At present they are only available through hearing-healthcare professionals in most countries, including America, the largest market for hearing aids. While this rule was put in place to make sure that hearing problems aren't caused by any serious underlying medical condition, it may discourage people who could otherwise benefit from buying one.
However, in 2017 America's Food and Drug Administration (FDA) formulated rules for a new category of hearing aid that can be purchased over the counter. They have yet to be implemented, but legislators from both political parties support the idea. As a result, people could soon be able to buy hearing aids from a supermarket, or online, without having to go to a store at all. Christensen hopes that more people with mild hearing loss problems will therefore get help for their hearing sooner.
At the same time the technology underpinning hearing aids is constantly evolving. Today's hearing aids "are markedly different from your grandfather's clunky" one, Christensen says. Not only are they smaller and less obtrusive, but the sound quality is also "much better".
For example, GN Hearing has recently launched the ReSound ONE Hearing Aid, which puts the microphone in the ear of the hearing-aid user rather than at the top of the ear, as is most common today. This improves sound quality, reduces wind noise (a major challenge with conventional hearing aids) and makes it easier for the wearer to determine the direction the sound is coming from.
Christensen expects the technology to evolve further in the next few years. She expects artificial intelligence (AI) to play a big role in the hearing aids of the future. AI will help the devices tune out unwanted sounds at the right time by learning to recognise noise patterns.
People will also increasingly be able to personalise their hearing aids so they can set the extent of wind-noise reduction and other features. What's more, even though overuse of personal music devices is damaging people's hearing, hearing-aid makers are learning from designs and technology in consumers' headsets.
... and more advanced treatments are improving too
While hearing-aid technology is constantly improving, people whose hearing loss is more profound may require more radical treatment involving surgery and more complicated devices. One of the most cutting-edge surgical procedures is cochlear implants, says Joseph Manjaly, a consultant otologist, auditory implant and ENT surgeon at University College London Hospital. The procedure, aimed at those "whose natural acoustic hearing is too poor to be amplified with conventional hearing aids", works by implanting a device that can generate electronic signals to replace those normally produced by the cochlea, a part of the inner ear. These signals are in turn delivered by the auditory nerve to the brain, where processing allows hearing and understanding of spoken language again.
In the past, the procedure was viewed as an absolute last resort, as it is expensive (it costs the NHS around £40,000), takes several hours and will not work for all patients. However, advances in technology mean that the time required for the procedure has shrunk to less than an hour per ear, while it is now accepted that it can be a "life-changing operation" for both those who are born deaf and people who lose their remaining hearing later in life. There is also a medical consensus that it should be done as soon as possible after severe deafness is diagnosed, so the brain is still able to decode the signals coming from the device, in order to maximise the chances of success.
There is now also increasing evidence that people with hearing loss in one ear or in both can benefit from implants. Similarly, there is a drive to offer implants to babies within one year of birth, rather than waiting until they are older, to achieve better outcomes. At the same time, Manjaly also notes that other surgical implants have starting to emerge.
The new ones include bone-conduction implants, which bypass a damaged middle ear and deliver sound directly to the inner ear, and middle-ear implants for people struggling with conventional hearing aids. There is still enormous room for growth. While according to the Ear Foundation more than 600,000 people worldwide have received cochlear implants, Reo Liao, market analyst with IG Index, believes that in the developed world alone 15 million people could benefit from some sort of implant. This means that "the global supply of cochlear implants units is still far below the number of patients who demand it" and could potentially grow twentyfold.
Pills and potions will help too
Better devices and surgery are one element of the solution, but drug companies and biotech firms are also playing a part through some "really exciting" research, says Lustig. He estimates that there are no fewer than 30 companies actively engaged in research and clinical trials in this area.
At present most attention is focused on the cochlear hairs in the inner ear. These hair cells transform sounds into electrical signals that then goto the brain. Most age-related hearing problems occur because the number of hair cells decline as people get older, reducing the sounds that get transferred to the brain.
Since some of the deterioration in the number of hair cells is due to faulty genes, many biotech companies are trying to identify the genes responsible and design ways to put the correct gene into a virus, which would be delivered through pills or an injection. This virus will produce the correct protein, allowing hair cells to grow or improving the connections between the hair cells in the cochlea and the nerves that carry the signal to the brain. Several treatments based on these ideas are undergoing early phase clinical trials, including the REGAIN trial at University College London led by Professor Anne Schilder.
Lustig hopes that "within one to two years we should start to get some definitive data" on which treatments are effective. The number of trials carried out means that "we could... have some viable treatments for certain types of hearing loss within five years".
Of course, he emphasises that this is unlikely to mean an instant cure for deafness. Instead, the first discoveries are likely to produce small improvements, with later research building upon and refining these advances. Still, this means that "in the not-so-distant future we'll see more cochlear-implant candidates be able to function with just a hearing aid for longer, and those previously considered for hearing aids get by without one".
And even when drug therapies start to reach their potential, cochlear implants and other advanced devices are still likely to have a role to play. Lustig thinks that there is a good chance that in the future the boundaries between drug therapies and surgery could start to blur, with cochlear implants becoming drug-delivery devices.
Remote diagnosis will accelerate treatments
The final area in hearing care that is starting to experience rapid change is telemedicine, says Dr. Krishan Ramdoo, an ear, nose and throat research registrar in North West London Hospital Trust and founder of TympaHealth Technologies. At present the only way to diagnose hearing problems is to visit a doctor or audiologist in person.
This is time-consuming, inefficient (especially when people miss appointments) and plays a large part in the typical gap of up to seven years between hearing problems emerging and people seeking treatment. The ongoing pandemic and the need to maintain social distancing have also caused additional problems for ear specialists around the world.
The good news is that devices are starting to be developed that can aid remote diagnosis, and even treatment. Ramdoo's Tympa system, developed with funding from the NHS, and now available in chains such as Boots, is the world's first all-in-one hearing health-assessment system.
It allows non-specialists, including nurses, healthcare assistants or even pharmacists, to carry out routine procedures such as earwax removal, which until recently were carried out by a GP or even a specialist. The system not only clears the ear, but it can also take a snapshot of the ear drum and screen for hearing loss in the inner ear. The image can then be sent to a doctor, who can use it to diagnose abnormalities remotely.
In the longer run, Ramdoo hopes that advances in AI will allow the system to diagnose problems itself, thus reducing the amount of work that a human doctor has to do. For now, he and other researchers are hard at work building algorithms "that use pattern recognition to spot hearing problems, even at an early stage".
Preparing the data for AI algorithms
All this will require huge amounts of data, so University College London and several other British hospitals are currently collaborating on creating a huge bank of information and case studies, which can be used to teach the machine how to spot various ear-related problems and trends. GN's Christensen agrees that telemedicine will play a much bigger role in hearing care in the near future, and even predicts that there could be benefits for other types of medicine. "Companies are starting to realise that ears can provide a glimpse of a person's overall health, and any future problems that might emerge." She notes that recent research suggests that "you can get a more accurate pulse from the ear than from the wrist, and that it should even be possible to carry out an ECG from it".
The stocks to buy now
The most lucrative part of the hearing-care market is cochlear implants, a subsector currently dominated by Cochlear Limited (Sydney: COH), which accounts for half the market. Cochlear has not only been a "good performer over the last 20 years", but is also likely to remain "an attractive longer-term growth investment", says Alex Hunter, global-equity analyst at Sarasin & Partners.
While it trades at 41 times 2021 earnings, this multiple is justified by the strong growth rate of the underlying market for cochlear implants as well as the "annuity-style business" from the servicing and maintenance of past implants.
Another major player in the hearing-aid market is GN Store Nord A/S (Copenhagen: GN). The company has two major subsidiaries: GN Hearing, which deals with hearing aids, and GN Audio, which makes money from headsets.
While GN Hearing's revenue has been hit by Covid-19-related disruption, both to demand and supply, it is expected to recover quickly this year. Meanwhile, the audio business has boomed thanks to the increase in home working. Overall, GN Store Nord trades on a 2021 price/earnings (p/e) ratio of 36, which is more than reasonable given that sales have surged by more than 50% in four years and are expected to keep growing strongly.
A riskier but potentially more lucrative investment is the American firm Eargo (Nasdaq: EAR). Instead of following in the footsteps of its more established competitors it is trying to disrupt the market by aiming at younger consumers, who have milder hearing loss and would not normally consider a hearing aid. Its hearing aid is smaller and cheaper than its competitors' versions and sits within the ear canal, making it less visible. It also uses rechargeable batteries for added convenience.
While it is currently losing money as it focuses on building up its brand, sales more than doubled in 2020 despite the challenge of Covid-19 and are expected to grow by more than 50% again in 2021 as the company expands its share of the fast-growing US hearing-aid market.
While many drug and biotech companies are working on treatments for hearing loss, most of them are either private or part of huge conglomerates. One pure play, which recently floated on Nasdaq, is Decibel Therapeutics (Nasdaq: DBTX). It focuses on using gene therapy to tackle hearing in several ways, including regenerating cells within the cochlea to help cochlear hairs regrow. It has a total of seven treatments either under discovery or development, with clinical trials already under way on a drug to help protect against hearing loss caused by chemotherapy.
Frequency Therapeutics (Nasdaq: FREQ) is another publicly traded biotech working on drug therapies to reverse hearing loss. Using an approach developed by researchers at MIT and Harvard Medical School, it targets progenitor cells within the body, which in turn create new tissues and cells.
Its most advanced hearing loss drug, FX-322, targeted at those with sudden mild hearing loss, is undergoing stage-two trials (the penultimate stage of clinical trials). Note that Frequency, like Decibel, has not yet brought any drugs to market, which makes it an extremely risky investment.
Matthew graduated from the University of Durham in 2004; he then gained an MSc, followed by a PhD at the London School of Economics.
He has previously written for a wide range of publications, including the Guardian and the Economist, and also helped to run a newsletter on terrorism. He has spent time at Lehman Brothers, Citigroup and the consultancy Lombard Street Research.
Matthew is the author of Superinvestors: Lessons from the greatest investors in history, published by Harriman House, which has been translated into several languages. His second book, Investing Explained: The Accessible Guide to Building an Investment Portfolio, is published by Kogan Page.
As senior writer, he writes the shares and politics & economics pages, as well as weekly Blowing It and Great Frauds in History columns He also writes a fortnightly reviews page and trading tips, as well as regular cover stories and multi-page investment focus features.
Follow Matthew on Twitter: @DrMatthewPartri