Harry Potter publisher Bloomsbury should ride out the economic storm
Bloomsbury – publisher of the Harry Potter books – saw sales boom during lockdown, and it expects to ride out the cost of living crisis too. Rupert Hargreaves delves into the figures.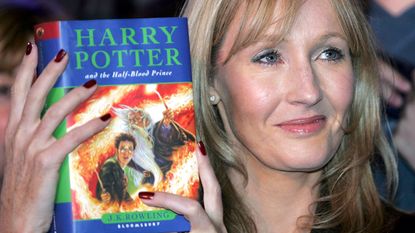 (Image credit: © Christopher Furlong/Getty Images)
Investors have poured trillions of dollars into digital infrastructure over the past decade as the demand for cloud computing, online gaming, artificial intelligence and virtual reality services has exploded. We are all spending more time online in the digital world and less time doing mundane things like reading a hardback book.
Against this backdrop you might expect an old-fashioned publishing house like Bloomsbury (LSE: BMY) to be struggling. However, the company has seen its profits explode over the past couple of years. It doesn't look as if its growth is going to slow down any time soon.
A company for changing times
Bloomsbury emerged as one of the publishing industry's biggest players in the mid-90s with the rights to the Harry Potter books – the best-selling book series in history. It has flogged more than 500 million copies, and is still dining out on the rights to this franchise (I'll come back to this later on).
Subscribe to MoneyWeek
Subscribe to MoneyWeek today and get your first six magazine issues absolutely FREE
Get 6 issues free
Sign up to Money Morning
Don't miss the latest investment and personal finances news, market analysis, plus money-saving tips with our free twice-daily newsletter
Don't miss the latest investment and personal finances news, market analysis, plus money-saving tips with our free twice-daily newsletter
Bloomsbury's association with Harry Potter became a bit of a double-edged sword. It generated vast profits, but there was always a question as to whether or not the company had a future away from the world of magic.
As it turns out, it does. Over the past decade, Bloomsbury's management has successfully steered it away from dependence on Harry Potter by expanding its presence in the fiction and non-fiction book markets, all while building an educational arm.
The coronavirus pandemic was a boon for Bloomsbury. With consumers stuck at home, book sales jumped – the consumer books unit accounted for 61% of pre-tax profit in 2021 and new releases have helped carry that momentum into 2022.
According to Bloomsbury's results for the financial year to the end of February 2022, consumer revenue grew by 25%, while the non-consumer division reported a 23% increase in revenues. For the year as a whole, revenue increased by 24%.
Some analysts had been concerned that the pandemic consumer reading boom would not last as the world reopened. As it turns out, these concerns have not materialised: group sales are now around 41% higher compared to pre-pandemic levels.
Bloomsbury's valuable intellectual property rights
One of the most attractive qualities of companies that own the rights to valuable intellectual property (IP), like Bloomsbury, is the fact that this property can continue to generate a recurring income for decades, without the need to invest heavily.
Indeed, most assets, such as the infrastructure required to maintain a cloud computing network or a container ship that serves vital trade routes around the world, require annual capital spending to keep them serviceable and reduce the risk of a severe breakdown. There is no need for such spending with IP such as book manuscripts. Once written these texts can be resold almost indefinitely without significant changes or spending.
As a result, Bloomsbury is still reaping the benefits of the Harry Potter franchise. As the 25th anniversary approaches, sales of the series grew by 5% last year. According to CEO Nigel Newton, more than half of the company's sales are backlist titles, which are cheaper and easier to publish than new work.
As noted above, to complement its traditional business Bloomsbury has also made significant inroads into the educational market. To that end, towards the end of last year it acquired US-based publisher ABC-CLIO, which supplies schools and libraries.
This was just one of several deals. Others include Red Globe Press and London-based fiction publisher Head of Zeus. More are planned. "We have several acquisitions under consideration, and they are primarily academic," Newton told the Financial Times in an interview after Bloomsbury published its full-year numbers.
It certainly has the resources to continue snapping up smaller peers. At the end of February, Bloomsbury reported a net cash balance of £41m. Even after spending something in the region of £25m on deals last year, and returning £15m to shareholders via dividends, Bloomsbury's robust cash generation puts it in a strong position.
In fact, management is so confident that it has hiked the final dividend for the year by 24%. Together with the interim payout, the full-year dividend is 10.7p per share, a yield of 2.7%.
Past performance suggests the group's future is bright
Bloomsbury has defied expectations over the past couple of years, but the question is, with economic headwinds growing, can it maintain its growth trajectory?
Newton believes it can. The cost of living crisis does not seem to be hitting sales with growth "suring" in May. Inflation is pushing costs higher, but the company is continually reviewing its pricing and consumers seem willing to pay higher prices (shareholders can beat inflation with a 35% discount on all titles).
The company believes that books are an "affordable luxury" that readers are likely to continue to buy even if disposable income falls. A higher share of digital sales at Bloomsbury's academic division, as well as a push to expand into international academic markets, may also help it navigate growing economic headwinds – these sales tend to be more non-discretionary.
Management has done an excellent job of steering the group through the pandemic and diversifying into new growth markets over the past three years. I think the odds are they'll be able to keep the momentum going over the next three years despite the uncertain macro backdrop.
Rupert is the Deputy Digital Editor of MoneyWeek. He has been an active investor since leaving school and has always been fascinated by the world of business and investing.
His style has been heavily influenced by US investors Warren Buffett and Philip Carret. He is always looking for high-quality growth opportunities trading at a reasonable price, preferring cash generative businesses with strong balance sheets over blue-sky growth stocks.
Rupert was a freelance financial journalist for 10 years before moving to MoneyWeek, writing for several UK and international publications aimed at a range of readers, from the first timer to experienced high net wealth individuals and fund managers. During this time he had developed a deep understanding of the financial markets and the factors that influence them.
He has written for the Motley Fool, Gurufocus and ValueWalk among others. Rupert has also founded and managed several businesses, including New York-based hedge fund newsletter, Hidden Value Stocks, written over 20 ebooks and appeared as an expert commentator on the BBC World Service.
He has achieved the CFA UK Certificate in Investment Management, Chartered Institute for Securities & Investment Investment Advice Diploma and Chartered Institute for Securities & Investment Private Client Investment Advice & Management (PCIAM) qualification.