China's V-shaped stockmarket bounce
China's economy contracted sharply in the first three months of 2020, but it has since staged a V-shaped comeback, with the CSI 300 index up more than 15% so far.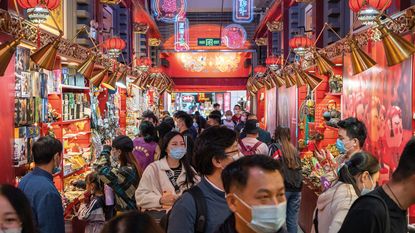 (Image credit: © Yan Cong/Bloomberg via Getty Images)
China was the first country into the Covid-19 crisis and is now the "first out", writes Larry Elliott in The Guardian. The world's second-biggest economy contracted by an annual 6.8% in the first three months of the year, but has since staged a V-shaped comeback. Official statistics show that GDP increased by 4.9% on the year in the third quarter. The International Monetary Fund (IMF) thinks China will grow by 1.9% in 2020, making it the only major economy set to expand.
The debt question
Industry continues to lead the recovery, says Bloomberg. Consumption for the first three quarters is still 7% down on the same period last year and "tourism, education and travel" lag behind other sectors. Yet the latest data shows that shoppers are starting to close that gap, with retail sales growth accelerating in September. The recent Golden Week holiday encouraged many people "to open their wallets again".
Economists take China's official growth statistics with a pinch of salt, says The Economist. One camp argues that while the numbers are "overly smooth" they paint a generally accurate picture of what is going on. Sceptics argue that they are more fundamentally misleading. Yet whomever you ask, everyone agrees that the current rebound is real: to see that you only need look at China's "bustling shopping malls… and its mobbed tourist sites".
Subscribe to MoneyWeek
Subscribe to MoneyWeek today and get your first six magazine issues absolutely FREE
Get 6 issues free
Sign up to Money Morning
Don't miss the latest investment and personal finances news, market analysis, plus money-saving tips with our free twice-daily newsletter
Don't miss the latest investment and personal finances news, market analysis, plus money-saving tips with our free twice-daily newsletter
Household borrowing growth has been muted in most advanced economies this year, but not in China, says Mike Bird in The Wall Street Journal. IMF data shows that the country's household debt to GDP ratio is 31.6% higher than it was a decade ago, by far the biggest jump among the world's top ten economies. Much of that borrowing goes towards property purchases, sustaining a "nexus between banks, home buyers and real-estate developers" that helps keep activity ticking over. Yet "leaning on households again" will only deepen the economy's "financial vulnerabilities".
A rally with legs
China's CSI 300 index is up more than 15% so far this year, comfortably beating the 5% gain on the US S&P 500. With the virus under control and the economy bouncing sharply it is little surprise that Chinese shares are soaring, says Fidelity's Tom Stevenson in The Daily Telegraph. The total value of listed Chinese equities recently surpassed $10trn for the first time. Risks include a frothy property sector and a probable resumption in trade spats whoever wins the US election. But a "well-balanced portfolio" can hardly ignore the country.
As elsewhere, China's rally has been led by a "narrow wedge of tech powerhouses" while value shares have lagged, says Craig Mellow in Barron's. Bull runs in 2015 and 2017 "ended badly", but the market is no longer the Wild West. There are stricter rules on leverage and flighty retail investors are increasingly being replaced by institutional investors, who account for "70% of traded equities". This "rally could have legs". (Listen to our podcast with Pictet's Shaniel Ramjee at moneyweek.com/podcast for more on China).