Why the stockmarket has got this crisis all wrong
Emerging markets and small companies may be better bets than the US and its technology giants, says Matthew Lynn.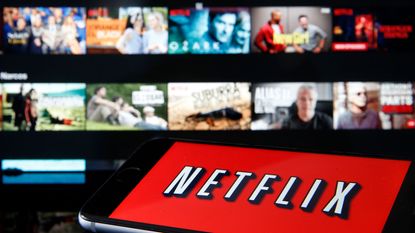 (Image credit: Netflix © Chesnot/Getty Images)
Netflix. The tech giants. The mega-corporations. And the US. The stockmarket has already decided who will be the long-term winners from the coronavirus crisis. It only takes a glance at the way prices have moved over the last month to see that a few firms, sectors and countries are coming out ahead, while others, such as small companies and emerging markets, have been pummelled.
But hold on. In truth, we still know almost nothing about Covid-19, and even less about its long term impact on the global economy. The market has been wrong plenty of times before and it looks to have got this crisis upside down as well.
Today's winners may yet lose
Take Netflix for example. It has done brilliantly this month, adding 16 million new subscribers in a few weeks. But in six months' time it will have no new shows, so will all those people stick around or will they cancel? And competitors like Disney-Plus have used lockdown to get a foothold in the market (with bored kids at home, paying £5.99 per month looks like a great deal to many parents). Netflix is no longer the only streaming service around, and that is going to make staying ahead of the competition a lot harder and a lot more expensive. Or how about Amazon? Again, it has had a great crisis so far, extending its reach and customer base. But as it looks more and more like an essential utility, it may face more regulations.
Subscribe to MoneyWeek
Subscribe to MoneyWeek today and get your first six magazine issues absolutely FREE
Get 6 issues free
Sign up to Money Morning
Don't miss the latest investment and personal finances news, market analysis, plus money-saving tips with our free twice-daily newsletter
Don't miss the latest investment and personal finances news, market analysis, plus money-saving tips with our free twice-daily newsletter
And despite the market rebound, is the US really the big winner? It looks like having the worst death toll from the virus, and the most incompetent response. There may be a huge political reckoning for that over time. The US is not a global leader any more in the way it has been for much of the past century: there is no sign of a Manhattan Project to cure the disease, or a Marshall Plan to fix the global economy. Instead it may well have just surrendered global leadership to China, and it will emerge significantly weakened.
Bouncing back
Likewise, are emerging markets a loser? Sure, they have been hammered by investors, their currencies are weak and they will suffer from the slowdown in global trade. Still, so far they have not seen anything like the same infection rates as the developed world. Vietnam has yet to record a single death from Covid-19, and seems to have stopped it from spreading. Eastern and central Europe have done far better than western Europe, with countries such as the Czech Republic re-opening schools and shops even as borders remain closed to prevent the disease coming in from Germany and Italy. Younger populations and tougher governments may mean those countries escape relatively unharmed, and their economies can bounce back far quicker than a developed world that will see massive death rates and will end up crippled by debt for generations.
Change favours the small
And should big companies really outperform small ones? Sure, in the first instance stronger balance sheets mean they can come through this crisis in far better shape, and their muscle means they will be first in the queue as economies start to re-open again. But during unprecedented periods of change, it is usually smaller companies that adapt quicker than huge corporations.
They are more flexible, and can switch from one business model to another. And when sales move online, as they have done in this crisis, that favours small firms, because the playing field is suddenly level. Specialist, artisan food and drinks manufacturers, small restaurants, tiny fashion designers and niche publishers and broadcasters find they can beat the global giants even with fewer resources. And once they get established, they won't go away.
Matthew Lynn is a columnist for Bloomberg, and writes weekly commentary syndicated in papers such as the Daily Telegraph, Die Welt, the Sydney Morning Herald, the South China Morning Post and the Miami Herald. He is also an associate editor of Spectator Business, and a regular contributor to The Spectator. Before that, he worked for the business section of the Sunday Times for ten years.
He has written books on finance and financial topics, including Bust: Greece, The Euro and The Sovereign Debt Crisis and The Long Depression: The Slump of 2008 to 2031. Matthew is also the author of the Death Force series of military thrillers and the founder of Lume Books, an independent publisher.