Will house prices fall in 2024?
Data shows house prices are falling as high borrowing costs take a toll on the property market, but will house prices continue to fall in 2024?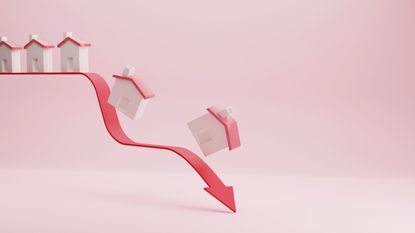 (Image credit: © Getty Images)
Office for National Statistics (ONS) data has revealed that house prices fell annually for the first time in a decade during September.
Average property values fell 0.5% between August and September 2023 and by 0.1% annually to £291,385, according to the latest ONS House Price Index.
It is the first annual drop in house price growth for more than a decade, although the market was reacting to the aftermath of the mini-Budget in September 2022.
Subscribe to MoneyWeek
Subscribe to MoneyWeek today and get your first six magazine issues absolutely FREE
Get 6 issues free
Sign up to Money Morning
Don't miss the latest investment and personal finances news, market analysis, plus money-saving tips with our free twice-daily newsletter
Don't miss the latest investment and personal finances news, market analysis, plus money-saving tips with our free twice-daily newsletter
More recent house price reports from Halifax and Nationwide for October have shown that prices are down annually but have increased unexpectedly on a monthly basis.
According to the latest Halifax House Price Index, property values rose by 1.1% in October, ending a six-month streak in monthly falling house prices.
They were still down 3.2% annually though, which was an improvement on the 4.5% drop registered a month before.
The unexpected monthly rise, which was also echoed in the Nationwide House Price Index, means the average property price is now £281,974 - a £3,373 increase. from September.
It may be a bit premature to see this as a sign of recovery though as Halifax attributed the increase to a lack of property stock rather than buyer demand improving.
This is why it is worth checking all house price reports as each relies on different data. While Halifax and Nationwide's indices refer to their own mortgage lending activity, the ONS gives a broader overview of all sales in the market, including from cash buyers. However, its data is typically around two months behind the market due to how long it takes for sales to be recorded with the Land Registry.
Meanwhile, property website Zoopla has said house prices have fallen across 80% of the UK as the cost of living crisis dents demand and buyer budgets.
While house prices experienced spectacular growth throughout the pandemic, that seems to have come to an end. Average mortgage rates for two-year and five-year fixed deals are around the 5% - 6% mark, significantly higher than the 2% rates seen at the beginning of 2022.
As the property market faces its biggest challenge in decades, what is the outlook for the rest of the year and into 2024?
Is there buyer demand for property?
High mortgage rates and the cost of living crisis have dampened demand in the housing market for much of this year and the outlook isn't looking much better at least over the short term, the Royal Institution of Chartered Surveyors (RICS) has warned.
The professional body, which represents surveyors and estate agents, has revealed the latest mood of the housing sector in its September Residential Market Survey.
Its report measures the percentage of surveyors that are reporting increases or declines in listings, sales, buyer enquiries and house prices and then produces a net balance figure.
This gives a sense of what is going on at the coalface of the property market.
The report has been gloomy for most of the year and the latest research shows indicators on demand, sales, instructions and house prices all remain in negative territory.
The sales that do go ahead are also taking longer: the average is 20 weeks from listing to completion, up from 16 weeks in late 2021.
"With mortgage affordability still incredibly stretched, it is unsurprising that buyer activity across the housing market remained subdued in September," says Tarrant Parsons, senior economist at RICS.
"Although the decision to pause monetary policy tightening [when base rate was held at 5.25% for the second consecutive month in November ] provided a glimmer of relief for the market, interest rates are likely now set to remain on hold for a prolonged period.
"As such, it appears there is little prospect of trends deviating much from the recent picture in the immediate future."
Graham Cox, founder of Bristol-based broker, Self Employed Mortgage Hub, says prospective buyers should sit tight: "Unless you really have to, there's very little incentive to buy now when it's almost certain that property prices and possibly mortgage rates will be lower in six months' time."
However, Darryl Dhoffer, director at Bedford-based broker, The Mortgage Expert, stresses that people should buy when the time is right for them: "People need to look at properties as their homes and not short-term investments, and need to act now if the time is right for them. Historically, time in the property market is better than trying to time it."
Sarah Coles, a senior personal finance analyst at Hargreaves Lansdown, warns that there are risks to a 'wait and see approach.'
"Even if mortgage rates fall, if buyers and sellers return in their droves, it's going to mean more competition, and it could push prices higher," she says.
"What you save through a lower mortgage rate you could lose through higher prices."
HOW IS THE HOUSING MARKET PERFORMING?
House prices experienced rapid growth throughout the pandemic thanks to a combination of stamp duty cuts, low interest rates and the "race for space".
However, the combination of rising interest rates and the cost of living crisis started hitting buyer confidence last year – and house prices have been falling since.
"There are still significant challenges in saving up enough for a deposit and affording higher mortgage payments," says Tim Bannister, Rightmove's director of property science.
Nationwide said someone earning an average income and purchasing a typical first-time buyer home with a 20% deposit would spend 38% of their take-home pay on their monthly mortgage payment – well above the long-run average of 29%.
While mortgage rates have been falling recently, rates remain high. The average two-year fixed mortgage deal is currently 6.19% according to data from Moneyfacts, while the average five-year fix is 5.79%.
Of course, when we talk about UK house prices, these are averages - and there are big regional variations across the country.
The latest ONS house price data shows the North East of England saw the highest annual percentage change of all English regions in the 12 months to September 2023, with average prices up 1.6% annually.
However, the South West saw the lowest growth with a 1.6% drop.
The highest average price was in London, at £537,000, but they are down 1.1% annually.
Abi Hookway, wealth coach and director at property investment firm Redmayne Smith, is bullish about the opportunities: "This data reflects the huge property demand in the north of England, which provides a great opportunity for property investors who are seeking incredible capital growth.
"Furthermore, as the Bank of England has frozen the interest rate at 5.25%, we can expect this to start decreasing over the next 12 months, which will therefore see house prices increase at an even faster pace."
WILL PROPERTY PRICES FALL FURTHER THIS YEAR?
Lloyds Banking Group, which owns Halifax and is Britain's largest mortgage provider, expects average house prices to drop by 4.7% this year. That compares with predictions of 6.9% last December.
Estate agency Knight Frank said it expects prices to slump by a total of 7% this year – more than its March estimate of 5%.
But rival brand Savills is slightly more positive.
It claims that property values have held up slightly better than expected so far in 2023 and mortgage markets have settled, so it predicts that prices will be down 4% by the end of 2023.
Online property portal Zoopla is predicting a fall of 2% to 3% over the course of this year.
What will happen to house prices in 2024?
The Office for Budget Responsibility (OBR) published a forecast for the property market alongside the Spring Budget earlier this year, saying it estimated prices would fall further than previously expected. The OBR expects house prices to fall 10% by 2024.
Other commentators are more optimistic.
Zoopla has predicted that UK house prices will fall by 2% during 2024 based on mortgage rates dropping to 4.5% by the end of the year and remaining there into 2025.
The property website also estimates there will be one million sales in 2024, but it suggests this could be higher if mortgage rates fall back towards 4%
Knight Frank expects property prices to drop by 5% in 2024. Analysts at Capital Economics predict house prices will fall by 5-6% by mid-2024, because "we think that mortgage rates will stay around their current high level until next summer".
Lloyds Banking Group thinks prices will continue to slide next year, and will not start to recover until 2025. It is predicting a decline of 2.4% in 2024.
Nationwide says prices may drop further next year, depending on what happens to interest rates and in the labour market. They should level out and remain fairly flat in 2025, according to the building society.
House prices are expected to be around £45,000 higher on average by 2028, as market demand and buying power recovers, according to a forecast.
Savills estimates that the market will "bottom out" around the middle of next year.
Its latest five-year forecasts predict the average house price will fall by 3% in 2024 but will be followed by price increases in 2025, 2026, 2027 and 2028 as affordability pressures slowly ease.
Prime central London is expected to see the least downward pressure on prices next year, given much less reliance on mortgage debt and the relative value on offer to a range of wealthy domestic and international buyers.
Transactions are expected to remain at around 1.01m in 2024, rising to 1.16m per year at the end of the forecast period in 2028, as mortgage buyers gradually return to the market.
"Interest rates are expected to have peaked and the worst of the house prices falls look to be behind us, but the first cut to rates still looks to be some way off," says Lucian Cook, head of residential research at Savills.
"This means continued affordability pressures are likely to result in further modest house price falls over the first half of 2024, resulting in a peak-to-trough house price adjustment in the order of minus 10%.
"The expectation of a gradual reduction in rates suggests a progressive restoration of buying power and steady recovery in demand."
Vaishali graduated in journalism from Leeds University and she has experience working with the likes of Leicester Mercury, Inews and The Week. She also comes from a marketing background, where she has done copywriting and content creation for businesses.
Currently writing about all things personal finance, Vaishali is passionate about finding the best deals around, whether it's the best credit cards or the cheapest personal loans, as well as sharing top money hacks to help people save and better manage their money.
With contributions from