Average house prices fall -0.4%. Is the market cooling?
House prices show their biggest monthly fall in October since early 2021, the latest Halifax House Price Index shows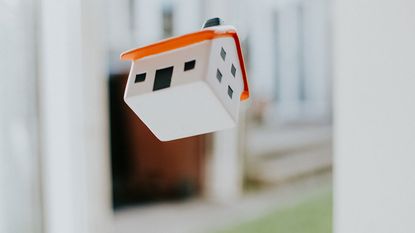 (Image credit: © Getty Images)
If you're thinking about when is a good time to buy a house, then you may be pleased to see that house prices have fallen.
House prices have recorded their biggest monthly fall in October, with the average property value lower by 0.4% – the third month-on-month drop in the past four months and the biggest drop since February, according to the latest Halifax House Price Index.
This means the average UK property now costs £292,598, down from £293,663 in September.
Subscribe to MoneyWeek
Subscribe to MoneyWeek today and get your first six magazine issues absolutely FREE
Get 6 issues free
Sign up to Money Morning
Don't miss the latest investment and personal finances news, market analysis, plus money-saving tips with our free twice-daily newsletter
Don't miss the latest investment and personal finances news, market analysis, plus money-saving tips with our free twice-daily newsletter
The pace of annual growth has slowed to 8.3% in October compared with growth of 9.8% in September.
The effect of the cost of living crisis and the tumultuous mini-Budget from former chancellor Kwasi Kwarteng has hit house prices, but unfortunately, mortgage rates are also on the rise meaning buyers may still find it difficult to move.
Commenting on the latest index, Kim Kinnaird, director at Halifax mortgages, said: "Though the recent period of rapid house price inflation may now be at an end, it's important to keep this is context, with average property prices rising more than £22,000 in the past 12 months, and by almost £60,000 (+25.7%) over the last three years, which is significant.
The uncertainty has certainly led to some people asking if now is a good time to buy a house.
"While a post-pandemic slowdown was expected, there's no doubt the housing market received a significant shock as a result of the mini-Budget which saw a sudden acceleration in mortgage rate increases. While it is likely that those rates have peaked for now – following the reversal of previously announced fiscal measures – it appears that recent events have encouraged those with existing mortgages to look at their options, and some would-be homebuyers to take a pause."
Could house prices fall further?
According to Haliax, the direction of house prices could be determined by factors such as the performance of the labour market.
"While certain longer-term, structural market factors which support higher house prices – like the shortage of available properties for sale – are likely to remain, how significantly prices might ultimately adjust will also be determined by the performance of the labour market.
"Currently, joblessness remains historically low, but with growing expectations of the UK entering a recession, unemployment is expected to rise. Whilst it may not spike to the same extent as seen in previous downturns, history tells us that how this picture develops in the coming months will be a key determinant of house price performance into next year and beyond."
The autumn Budget, due later this month (17 November) may help give some clarity around the direction of house prices.
Karen Noye, mortgage expert at Quilter, added: "One of the few policies left standing from the mini-Budget was the cut to stamp duty. If this remains in place as expected, it could lower the size of the house price drop as people may opt to take advantage of the tax saving despite the economic backdrop. However, soaring inflation, rising interest rates and high energy bills are putting a hold on many people's plans to move.
"Ultimately, costs are rising across the board and as the winter draws in and the real impact of rising energy bills hits, people's finances will be stretched even further. With mortgage rates rising, many people will need to reconsider moving home and could opt to stay put to ride out the cost-of-living crisis instead, while others will need to move into cheaper properties. As demand falls and the level of stock increases, we will no doubt see a further drop in house prices."
Earlier this month, the UK's biggest mortgage lender, Lloyds Banking Group, said it expects a housing market slump, with prices dropping 8% in 2023, and then stagnating for the following four years. The property platform Zoopla predicts house prices will fall next year, and puts the drop at 5%.
Remember to get your tickets for the MoneyWeek Wealth Summit hosted by Merryn Somerset Webb, on 25 November 2022! – we've got some brilliant speakers lined up and, given everything that's going on, we'll have an awful lot to talk about.
Book your place now at moneyweekwealthsummit.co.uk
Kalpana is an award-winning journalist with extensive experience in financial journalism. She is also the author of Invest Now: The Simple Guide to Boosting Your Finances (Heligo) and children's money book Get to Know Money (DK Books).
Her work includes writing for a number of media outlets, from national papers, magazines to books.
She has written for national papers and well-known women's lifestyle and luxury titles. She was finance editor for Cosmopolitan, Good Housekeeping, Red and Prima.
She started her career at the Financial Times group, covering pensions and investments.
As a money expert, Kalpana is a regular guest on TV and radio – appearances include BBC One's Morning Live, ITV's Eat Well, Save Well, Sky News and more. She was also the resident money expert for the BBC Money 101 podcast .
Kalpana writes a monthly money column for Ideal Home and a weekly one for Woman magazine, alongside a monthly 'Ask Kalpana' column for Woman magazine.
Kalpana also often speaks at events. She is passionate about helping people be better with their money; her particular passion is to educate more people about getting started with investing the right way and promoting financial education.