How to avoid risk when investing in real estate
For all the talk of working from home and shifting demand for offices, the outlook for interest rates matters more for investors in real estate.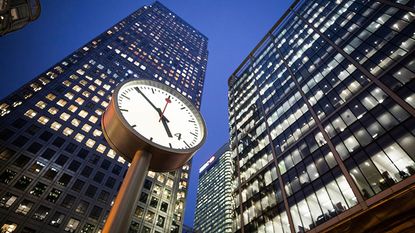 (Image credit: © Chris Ratcliffe/Bloomberg via Getty Images)
Markets don't always get it right, but they know a lot more than any of us individually. So when an entire sector starts to look unduly cheap, it's crucial to think about what risks are being priced in. Right now diversified office real estate investment trusts (Reits) are a good example.
British Land and Land Securities are still well up from where they were in most of 2020, but are down this year. Boston Properties, perhaps the best US office landlord, is almost back to its pandemic lows. Some of the European property stocks are trading lower than they were two years. With yields in the 5%-7% range, many look attractive – especially given that historically real-estate income has done a decent job of keeping up with inflation over the long term.
Three threats to offices
Yet there are three obvious threats to offices. One is whether work from home has permanently cut demand. Commuter traffic in many major cities is still below 2019 – by exactly how much varies and is probably linked to how arduous commuting is in each location. Still, even if people are only in the office 60% of the week, that doesn't mean a 40% reduction in space required. If 90% of people come on Tuesday, Wednesday and Thursday – a pattern that seems to be the emerging trend – the total fall in demand is much smaller.
Subscribe to MoneyWeek
Subscribe to MoneyWeek today and get your first six magazine issues absolutely FREE
Get 6 issues free
Sign up to Money Morning
Don't miss the latest investment and personal finances news, market analysis, plus money-saving tips with our free twice-daily newsletter
Don't miss the latest investment and personal finances news, market analysis, plus money-saving tips with our free twice-daily newsletter
The second is whether a glut of new buildings combined with other factors – eg, the drive for energy efficiency – will make some stocks unpopular at any price. The idea that many lower-quality buildings are now obsolete seems very likely.
The takeaway for investors here is to focus on Reits that own top-class space. That said, maintaining this space may be more costly and investors should take that into account.
However, the most important factor now is interest rates. Investors have grown used to ultra-cheap debt for years, but that's now changing and costs will go up. It's notable that Reits in the US (where rates are going up faster than expected) and Europe (where even a small rise may make a big difference to costs for investors who were paying not much over 1%) have fallen more than the UK, where rates have not yet shifted so much.
Most Reits will not be refinancing much debt immediately. If the average maturity of their debt is spread over five to ten years, they will be able to roll it over gradually. Assuming rents rise as a consequence of general inflation, that will help reduce the impact of higher interest. That said, investors should be wary of excess leverage. Higher rates or recession could cause real-estate values to fall. That will squeeze the loan-to-value headroom that borrowers have on debt covenants.
So all risks considered, income from offices and other commercial real estate should be attractive in an inflationary environment. But investors should focus on top-class assets. It's not the right time in the interest-rate cycle to be taking risks.
Cris Sholto Heaton is an investment analyst and writer who has been contributing to MoneyWeek since 2006 and was managing editor of the magazine between 2016 and 2018. He is especially interested in international investing, believing many investors still focus too much on their home markets and that it pays to take advantage of all the opportunities the world offers. He often writes about Asian equities, international income and global asset allocation.
Cris began his career in financial services consultancy at PwC and Lane Clark & Peacock, before an abrupt change of direction into oil, gas and energy at Petroleum Economist and Platts and subsequently into investment research and writing. In addition to his articles for MoneyWeek, he also works with a number of asset managers, consultancies and financial information providers.
He holds the Chartered Financial Analyst designation and the Investment Management Certificate, as well as degrees in finance and mathematics. He has also studied acting, film-making and photography, and strongly suspects that an awareness of what makes a compelling story is just as important for understanding markets as any amount of qualifications.