The factors driving Britain's provincial house-price bubble
Where once London led the way in rising house prices, that's no longer the case, says Nicole Garcia Merida, as buyers head for the country, spurred on by interest rates that remain at rock bottom.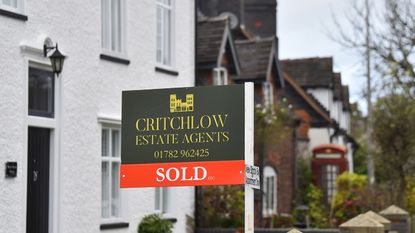 (Image credit: © Nathan Stirk/Getty Images)
We wrote last week about New Zealand's runaway house prices making headlines worldwide, with historically low interest rates and pent up demand making it so even subpar properties were selling for record prices.
The situation is by no means confined to the other side of the globe, as the latest monthly property transaction data from HMRC and the Office for National Statistics' most recent house price index show.
HMRC data revealed the number of seasonally-adjusted residential transactions in March 2021 was double the amount in March 2020, jumping by 102.3% to 190,980. This number was also up 32.3% from the month before.
Subscribe to MoneyWeek
Subscribe to MoneyWeek today and get your first six magazine issues absolutely FREE
Get 6 issues free
Sign up to Money Morning
Don't miss the latest investment and personal finances news, market analysis, plus money-saving tips with our free twice-daily newsletter
Don't miss the latest investment and personal finances news, market analysis, plus money-saving tips with our free twice-daily newsletter
Meanwhile ONS data revealed house prices in the UK rose by 8.6% over the year to February 2021, the highest annual growth rate the country has seen since October 2014.
Average house prices in England increased to £286,000, in Wales to £180,000, in Scotland to £162,000 and in Northern Ireland to £148,000. The North West was the English region with the highest annual growth jump, while London saw the lowest.
This echoes what we've said before, and what my colleague John Stepek pointed out in yesterday's Money Morning: people are turning their backs on big cities and opting for smaller towns with more outdoor space after the pandemic killed the daily commute to the office.
According to late March data from Rightmove, a year after stay-at-home restrictions were put into place, Cornwall replaced London as the most searched for place to live, and the number of prospective buyers looking for a home with a garden has hit a record high. The term "garage" was the most popular keyword used by home hunters on the website.
This huge demand currently far outstrips the number of homes for sale. Marketing consultant TwentyCi's property and home mover report for the first quarter of 2021 revealed that supply is 50% below historical norms. Ensuring the level of supply meets demand is "critical to help maintain the economic recovery", said TwentyCi's chief customer officer Colin Bradshaw. Only "time will tell" whether dwindling stock will impact the "continued momentum" of the residential property market.
This combination of factors has led to concerns the housing market has entered a bubble, says Capital Economics. The last time valuations were this lofty was in 2007, and then house prices dropped by over a fifth.
However, the firm expects interest rates to remain at 0.10% "for longer than most", meaning "there is scope for house prices to increase by around a further 17% over the next four years". That's because the decline in interest rates "has allowed households to comfortably service larger mortgages" which means that even though house prices are surging, they "don't look over-valued and there are no signs yet of a bubble developing".
Annoyingly as with many things only time will tell. But one thing I feel pretty confident in saying is that while these conditions continue — low interest rates, high mortgage availability and the frenzied escape away from cities — demand and supply will continue to be at odds. And look how that's turned out for New Zealand.
Nic studied for a BA in journalism at Cardiff University, and has an MA in magazine journalism from City University. She joined MoneyWeek in 2019.