How on earth can UK house prices be at record highs right now?
Despite the pandemic, a surge in unemployment and a collapse in business activity, UK house prices are higher than they've ever been. John Stepek explains what's driving prices – and asks if we're heading for a crash.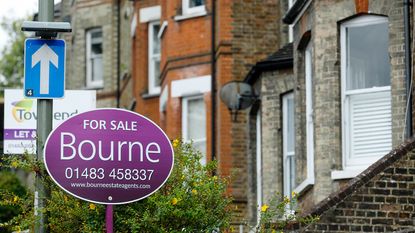 (Image credit: House for sale sign © Luke MacGregor/Bloomberg via Getty Images)
House prices have hit a new record high. That, of course, is exactly what you'd expect after a global pandemic, and the resulting surge in unemployment and collapse in business activity.
Wait a minute – no it's not!
How can UK house prices have hit a record high when job security has collapsed and we've just suffered the worst recession ever?
Subscribe to MoneyWeek
Subscribe to MoneyWeek today and get your first six magazine issues absolutely FREE
Get 6 issues free
Sign up to Money Morning
Don't miss the latest investment and personal finances news, market analysis, plus money-saving tips with our free twice-daily newsletter
Don't miss the latest investment and personal finances news, market analysis, plus money-saving tips with our free twice-daily newsletter
That's a very good question and it's one that I will endeavour to answer for you this morning...
What is pushing house prices higher?
According to Nationwide, house prices hit a record high in August. The average UK house will now set you back £224,123, up 3.7% on the same month last year (yes, the idea of an "average" UK house is a laughable notion, but we need some way of measuring these things).
Nationwide's view is not an outlier Halifax said something similar in its most recent release. The Office for National Statistics has also re-started the official house price index (it was suspended during Covid due to a lack of transactions).
Its data is published with a longish lag while it plays catch-up, but it reckons prices rose in both March and April.
So there's no point in denying it – house prices are going up. The question is: why?
OK. Let's have a think. It's worth bearing in mind that before the coronavirus outbreak, house prices were ticking higher after a long period of stagnating, or even falling in real terms (see our video for a definition of "real return"). So you could argue that we're just seeing a return to the pre-Covid-19 trend.
The argument then was that fear over Brexit had dissipated, along with election uncertainty. There was an element of truth in that argument, but only an element. What else is going on?
UK house prices are very expensive and it's no wonder that they cause so much social strain. That said, this makes it hard to appreciate that the market has actually seen pretty weak price growth for about five years or so now.
That was when George Osborne, as chancellor, put a serious dent in demand from small landlords by raising taxes on second home ownership. Demand from overseas investors also took a knock. All of this hit the London market particularly hard. It's quite possible that by the end of last year, those changes had mostly been digested by the market. The landlords who were going to get out had left, as had the overseas investors.
So come back to today, post-Covid. The overseas buyers who were put off by higher costs and Brexit are now more interested again, as it looks like the pound may have bottomed and they also have a deadline of next April before the cost of buying goes up even more (not to mention the surge in interest from Hong Kongers, for obvious reasons).
Die-hard landlords, meanwhile, still can't see better uses for their capital, what with record low interest rates. Throw the stamp duty cut into this mix, and you can see why interest from those sectors might have bounced.
Then think about the other people who might be moving right now. There are those who are going ahead with transactions that were already agreed.
And then there are people who are panic-moving out of cities into the countryside, driven both by fear of another city centre lockdown, and the dream of an easier "working-from-home" existence in a bucolic idyll. Remember that if you're moving out of central London to "the sticks" then you probably have (a) a lot of money to play with and (b) a distorted view of what property is worth. Those buyers are going to be less price-conscious than they might have been because they're blinded by the sense that they're getting a bargain (they're not, they're just not used to paying under £250,000 for an extra bedroom).
These are all reasons why prices might well be popping up like a champagne cork as the market defrosts post-lockdown.
Is a crash on the horizon? I don't think so
All of these drivers might fizzle out. But does that mean there might still be a crash on the horizon? I'm still not convinced. Previous crashes have involved both spiking unemployment and soaring interest rates (that was the 1990s). Or in the case of 2008, a total shutdown in the mortgage market (which isn't on the cards today). Interest rates aren't going up any day soon. That's the one variable in this equation that I'm about as certain of as I can be.
The cost of credit and its availability, of course, are two different things. The Bank of England rate and even long-term bond rates can be low, but it can still be difficult to get a mortgage. It's clear that banks and building societies are wary at the moment. They realise that a lot of the debt already on their books might go bad. And they are not sure how much responsibility the government will take for the loans that they encouraged the banks to make.
However, even if it becomes even harder to secure a home loan, that just restricts the number of potential buyers. It doesn't create any forced sellers. The one thing that might create forced sellers is not a rise in the cost of mortgage servicing, but a surge in the number of people who can no longer afford to pay their mortgage because they've lost their job.
Thus unemployment is the variable that I'd be keeping the closest eye on. But even then, it's a slow burn. Your mortgage is a priority bill in the average household. You don't default on it unless you have no other option.
So, long story short, I don't know if prices will keep rising or if this is mostly a burst of activity driven by panic moves – but I am pretty sure that, contrary to the most pessimistic views, a fully-fledged house price crash is not on the cards.
You may well disagree and I would welcome your dissent – ping me an email at editor@moneyweek.com and put "house prices" in the subject line so we can pick it out.
And if you're not already a subscriber to MoneyWeek magazine, don't forget that you can get your first six issues free right here.
John is the executive editor of MoneyWeek and writes our daily investment email, Money Morning. John graduated from Strathclyde University with a degree in psychology in 1996 and has always been fascinated by the gap between the way the market works in theory and the way it works in practice, and by how our deep-rooted instincts work against our best interests as investors.
He started out in journalism by writing articles about the specific business challenges facing family firms. In 2003, he took a job on the finance desk of Teletext, where he spent two years covering the markets and breaking financial news. John joined MoneyWeek in 2005.
His work has been published in Families in Business, Shares magazine, Spear's Magazine, The Sunday Times, and The Spectator among others. He has also appeared as an expert commentator on BBC Radio 4's Today programme, BBC Radio Scotland, Newsnight, Daily Politics and Bloomberg. His first book, on contrarian investing, The Sceptical Investor, was released in March 2019. You can follow John on Twitter at @john_stepek.