How high energy prices are driving up food prices too
High energy prices aren't just affecting our heating bills, they're making food more expensive, too. Saloni Sardana explains what's going on.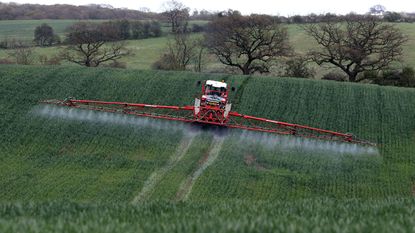 (Image credit: © Chris Ratcliffe/Bloomberg via Getty Images)
Soaring gas and electricity prices in the UK (and beyond) mean that consumers and businesses are facing much higher bills.
But it's not just our energy we'll be paying more for – rising food prices are the next big threat posed by the energy crisis, partly due to a knock-on shortage of ammonium nitrate.
So what is going on and what may it mean for investors?
Subscribe to MoneyWeek
Subscribe to MoneyWeek today and get your first six magazine issues absolutely FREE
Get 6 issues free
Sign up to Money Morning
Don't miss the latest investment and personal finances news, market analysis, plus money-saving tips with our free twice-daily newsletter
Don't miss the latest investment and personal finances news, market analysis, plus money-saving tips with our free twice-daily newsletter
What is going on
UK gas prices and electricity prices are trading at record highs for reasons outlined here. Our electricity prices have become the most expensive in Europe.
As a result, two fertiliser plants in the north of England have been closed down simply because they were not economically viable to run. CF Industries, which runs both plants in Teesside and Cheshire, did not say when operations would resume.
Where does ammonium nitrate feature in this?
Ammonium nitrate is one of the most commonly used fertilisers globally. It's produced with ammonia derived from natural gas. Unfortunately, prices of the fuel have risen faster than fertiliser producers can pass increases on to their customers. The plants shuttered by CF Industries account for 40% of the UK's fertiliser market.
Worse still, Norway's Yara, another leading fertiliser producer, announced on Friday that it is temporarily cutting its ammonia production due to soaring natural gas prices hitting profit margins: "Yara will by next week have curtailed around 40% of its European ammonia production capacity".
Industry analysts are now sounding the alarm on how this will affect the fertiliser market and feed into higher food prices. Farmers now face the prospect of having to buy fertiliser at very high prices. That in turn implies less usage of fertiliser, meaning weaker crop yields, which could dent food supply.
What effect will higher food inflation have?
Higher food prices are the last thing the UK and many countries need. Even before our energy woes erupted into the public eye, food prices were already at the highest levels for decades, according to a recent report by the UN's Food and Agriculture Organisation. In August, for example, global food prices were a third higher than at the same time last year.
And in the UK, inflation hit an annual rate of 3.2% in August, up from 2% in July, marking the biggest rise since 1997, when the UK began measuring inflation using the current method (the consumer prices index – CPI). The main culprit was higher food costs, said the Office for National Statistics.
For consumers the effect is clear – higher food prices, like higher energy prices, and higher taxes, shrink disposable incomes.
But what is the effect on investors?
The big question remains, how long will fertiliser plants remain offline? If plants remained shuttered for significant amounts of time, lost output might offset any gain due to higher prices. But if any shutdowns are only temporary, it is likely that consumers and farmers, rather than companies, will bear the brunt of the crunch in both fertiliser markets, especially if the price of fertilisers shoots up and is in greater demand.
So it may well be worth having exposure to these firms, either directly or via a fund, because as volatile as they are, they stand to benefit from any prolonged rise in gas prices – which may help serve as a hedge against the hit to growth that rising energy and food prices may well cause.
Saloni is a web writer for MoneyWeek focusing on personal finance and global financial markets. Her work has appeared in FTAdviser (part of the Financial Times), Business Insider and City A.M, among other publications. She holds a masters in international journalism from City, University of London.
Follow her on Twitter at @sardana_saloni