Invest in water and provide a buffer against future pandemics
Global water shortages have long hampered growth and development, and climate change has exacerbated the problem. Will the coronavirus pandemic be a turning point? Stuart Watkins reports.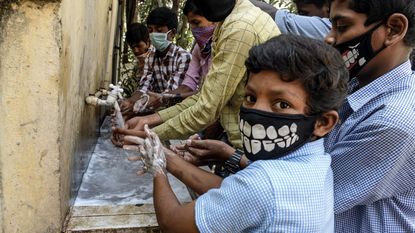 (Image credit: Indian children with facemasks wash their hands © NOAH SEELAM/AFP via Getty Images)
This article was first published in MoneyWeek magazine issue no 1000 in May 2020. To make sure you don't miss out in future, and get to read all our articles as soon as they're published, sign up to MoneyWeek here and get your first six issues free.
It is hard to see into the future at the best of times, but the coronavirus has made our crystal balls murkier than usual. Lockdowns have throttled large parts of the global economy. Governments are beginning to take their hands off our throats, but there's no way of knowing whether the casualties will ever get up and walk again, as Edward Chancellor put it in a recent interview with MoneyWeek.
Will businesses that have temporarily shut up shop open again and resume business as normal, or will they find their customers and workers gone, their supply chains broken? Will the economy roar back to health in a V-shaped recovery? If not, perhaps a U-shaped one? Can anyone yet be very sure that it won't be an L, at least for the foreseeable future? We just don't know.
Subscribe to MoneyWeek
Subscribe to MoneyWeek today and get your first six magazine issues absolutely FREE
Get 6 issues free
Sign up to Money Morning
Don't miss the latest investment and personal finances news, market analysis, plus money-saving tips with our free twice-daily newsletter
Don't miss the latest investment and personal finances news, market analysis, plus money-saving tips with our free twice-daily newsletter
Some things, however, do seem relatively clear. One is that the coronavirus crisis has accelerated trends that were already apparent before the outbreak. Another is that governments can usually be relied upon to fight the last war vigorously. Both may give a lift to companies that seek to alleviate water shortages.
Get the dull stuff right
Preventing pandemics is relatively cheap, simple and cost-effective, certainly when compared with the costs of letting them rip, as we are seeing now only too clearly. As Max King recently pointed out in these pages, when the World Health Organisation was required to trim $1bn from its budget in 2008, it dissolved its pandemic response department, slowing its ability to respond to Ebola.
An analysis by Dr Jonathan Quick, who wrote a book on the threat of epidemics in 2018, suggested that the equivalent of just $1 for every person on the planet per year ($7.5bn annually) would save lives and pay for itself. Developed-world governments, now shovelling hundreds of billions into an economic black hole with no end to the task yet in sight, will surely reconsider their attitudes to what it's worth spending to prevent future known unknowns.
As has been well understood for more than a century, when it comes to public health, dull efficiency, in the provision of effective sewerage infrastructure for example, can be far more effective and important than the excitement of flashy new technologies or praying for vaccines and therapies that may never arrive.
In the case of the coronavirus crisis, we all got used early on to the advice that we should wash our hands more regularly and it seems increasingly likely that a Sweden-style route back to normal life involving relying on people to take modest but sensible precautions will prevail globally, whether or not the fancy new tracing apps or tests or therapies ever amount to much or reach enough people to make a difference.
Yet something as simple as regular hand-washing is far easier said than done for those who do not have ready access to water. Very many people around the world do not. And as this crisis has shown only too clearly, that is not only a cause of real suffering for them, it is very much our problem too.
Health authorities advise washing hands frequently for at least 20 seconds to prevent the spread of coronavirus, yet three billion people, 40% of the world's population, lack access to basic hand-washing facilities in their homes, as the World Resources Institute (WRI) points out.
Nearly a billion people have only partial access or experience regular outages even when they do have piped water, making frequent hand washing difficult or impossible. Charitable organisations have ramped up assistance to provide short-term solutions to this problem to help prevent the spread of coronavirus, but securing public health and controlling Covid-19 in the future will require governments to address the root problems of water scarcity.
The UN reckons that the capital investments required to meet its global sustainability goals for water supply, sanitation and hygiene services in low-income countries are at least three times current expenditure levels. Such investments, along with improved management of existing resources, including the natural ecosystems that ultimately provide the water, not only create a sound foundation for preventing the spread of Covid-19 and other diseases, but also boost local economies. WRI's research suggests that the UN's goals could be achieved by 2030 by spending as little as 1% of global GDP.
Richard Connor, editor-in-chief of the UN World Water Development report, told The Observer earlier this year that water investments are often overlooked because the economic benefits are not emphasised. Water scarcity is perceived as being mainly a social or environmental issue, rather than an economic one. "Yet the economic costs of an outbreak [such as Covid-19] are enormous, both in terms of national economies and stockmarkets, as well as in terms of household revenue – when people cannot work because of sickness or lockdowns.
Realising the economic importance of water and sanitation should provide an additional catalyst for greater investment," he said. Connor cites evidence that returns on investment in water and sanitation can be high, with a global benefit-cost ratio of 5.5 for improved sanitation and 2.0 for improved drinking water, when broader macroeconomic benefits are taken into account.
The bigger picture
The coronavirus crisis is throwing new light on these issues, but the underlying causes of the problem have been manifest for many years. Water use has increased sixfold over the past century and is rising by about 1% a year owing to rising populations and increasing demand from industrial and agricultural production, and our increasingly urban existence, as well as from domestic use. At the same time, supply is under strain.
The overall amount of water has not, of course, changed – three-quarters of the Earth's surface is covered with the stuff – but only about 3% of that is fresh and shortages of potable water have been exacerbated by pollution and climate change, which tends to make drier areas drier, causing droughts, and wetter ones wetter still, causing flooding. Ecological destruction, such as deforestation, only makes the problems worse.
According to the UN, global demand for fresh water could outstrip supply by 40% by 2030. More than five billion people could be suffering water shortages by 2050. As a result, commentators have worried about the prospect of water wars for years and, although we have yet to see a full-blown conflict explicitly about the issue, security of water supply has been an element in many geopolitical disputes and conflicts around the world.
What is to be done? The UN's report mentions a range of measures, including innovative techniques such as fog capture, traditional ones such as wetland protection, and methods for using less water in agriculture and industry, by reusing waste water without necessarily making it safe to drink, for example.
Other promising developments often mentioned include water desalination, drip irrigation systems that give crops only exactly what they need, and generally improving the efficiency of existing infrastructure by fixing leaks, and so on. The crucial question, of course, is financing.
The authors of the UN report point out that the services relevant to achieving success in all these areas are often underfunded and need greater attention from states, and point to the scope for integrating such services within water-scarcity investment vehicles to make them more attractive to donors, as has happened in Sri Lanka, for example.
When it comes to the role of private firms, their involvement is sometimes contentious. Attempts to privatise water resources have had mixed results and provoked criticism for making water harder to access for poorer communities, as Antoun Issa points out for Brink News.
Water pricing, although the obvious way to motivate change to an economist's way of thinking, is largely taboo for political and ethical reasons. The UN has proclaimed access to water a human right, which makes it politically difficult to then charge for it, especially as those worst affected will struggle to pay. But private firms are inevitably going to be part of the solution. "Investment on every possible level is what will end the water crisis and bring water and sanitation access to all," says Gary White of the WaterEquity fund, a global non-profit organisation that provides affordable financing to poor communities lacking access to clean water.
How to invest
When governments wake up to the fact that dealing with the water issue is one way of providing a decent buffer against future pandemics and act as they did when they demanded that banks provide bigger buffers of their own in the wake of the financial crisis, it will be private firms that will provide the nuts and bolts. The cheapest and simplest way to invest in companies tackling global water scarcity is through exchange-traded funds (ETFs).
One option is a relatively new entrant, the L&G Clean Water ETF (LSE: GLGG), which listed on the London Stock Exchange in 2019. It is slightly cheaper than the obvious alternatives, with a total expense ratio (TER) of 0.49%, but also "offers something different", as Kenneth Lamont points out in Money Observer. Like its peers, the fund tracks an index of global water stocks, but it also targets companies that provide technological, digital, engineering and other water services beyond utilities and water equipment. This gives it a greater tilt towards small caps and growth.
An actively managed alternative is the Pictet Water Fund, with an ongoing charge of 1.15%. Its managers invest for the long term in companies around the world operating in the water sector. It has been a steady performer, generating annualised returns of 8.79% over the past ten years.
A top holding in the Pictet fund and many of the sector's ETFs is Xylem (NYSE: XYL), which operates in water infrastructure and also sells metering, networked communications, remote monitoring and measurement and control technologies. The stock had been on a steady upward trend for the past five years before taking a hit due to the present crisis, which took it down to what Simply Wall Street's analysts judge to be fair value. Xylem looks to have a bright future, with earnings predicted to rise by 75% over the next few years.
Stuart graduated from the University of Leeds with an honours degree in biochemistry and molecular biology, and from Bath Spa University College with a postgraduate diploma in creative writing.
He started his career in journalism working on newspapers and magazines for the medical profession before joining MoneyWeek shortly after its first issue appeared in November 2000. He has worked for the magazine ever since, and is now the comment editor.
He has long had an interest in political economy and philosophy and writes occasional think pieces on this theme for the magazine, as well as a weekly round up of the best blogs in finance.
His work has appeared in The Lancet and The Idler and in numerous other small-press and online publications.