Don't count resources out
Commodities have performed poorly over the past year, but they tend to move in long and volatile cycles.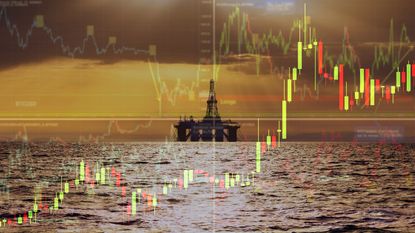 (Image credit: © Getty Images)
It has not been a strong year for commodities. Since peaking in June 2022, the Dow Jones Commodity Index – which tracks a basket of energy, metals and agricultural commodities futures – is down by almost 25%. Shares in many commodity producers have held up better, since today's prices are still higher than those we saw in the past decade: oil majors can produce plenty of cash with crude at $70-$80 per barrel. But for those who expect inflation to head back to a steady 2% in the years ahead – in line with central banks' targets – this looks like a helpful tailwind.
Yet commodity prices are always volatile and cyclical, even when they are trending upwards. Take oil: in 1999, it bottomed at around $10 per barrel (prompting The Economist's infamous "Drowning in Oil" cover, suggesting that the price could still halve to $5). It reached an all-time high of $147 in 2008, on the eve of the financial crisis. Along the way, there were several swings as big as the one we've seen in the past 12 months.
Supply and demand
Some markets are unlikely to get back to their recent highs. European natural gas peaked at almost €350 per MWh in August and is now down to €33. Conditions have changed. The desperate stockpiling caused by the end of Russia supplies has passed. Storage is refilling fast. Prices will almost certainly rise again in the winter – but not to where they were last year. Meanwhile, on a long-term view, the amount of liquefied natural gas (LNG) terminals under construction will permanently change the structure of the market.
Subscribe to MoneyWeek
Subscribe to MoneyWeek today and get your first six magazine issues absolutely FREE
Get 6 issues free
Sign up to Money Morning
Don't miss the latest investment and personal finances news, market analysis, plus money-saving tips with our free twice-daily newsletter
Don't miss the latest investment and personal finances news, market analysis, plus money-saving tips with our free twice-daily newsletter
But for most other commodities, there's much more reason to think the decline is temporary. The continued reluctance to invest in new fossil fuel projects will create tighter supplies in future, unless we move to renewables much faster than expected. Meanwhile, the energy transition will require large amounts of metals such as copper. We don't have the vast demand for commodities that China's infrastructure spending created in the 2000s – and China's long-term potential growth is now likely to be a lot weaker than many people expect. However, India's population continues to grow – it probably passed China's this month – and its middle class is expanding. The Indian economy remains much less investment-driven and we shouldn't expect such a large supply shock but it should be a steady source of demand.
I am always reluctant to be structurally bullish on commodities: history shows us that most raw-material prices have declined in real terms over the very long term due to greater efficiency and substitution. Yet after a decade of under- investment, there's solid reason to think we're at the early stages of another up cycle. That's likely to be another source of inflationary pressure over the medium term – and a good reason to hold a few oil firms and miners as a hedge.
Cris Sholto Heaton is an investment analyst and writer who has been contributing to MoneyWeek since 2006 and was managing editor of the magazine between 2016 and 2018. He is especially interested in international investing, believing many investors still focus too much on their home markets and that it pays to take advantage of all the opportunities the world offers. He often writes about Asian equities, international income and global asset allocation.
Cris began his career in financial services consultancy at PwC and Lane Clark & Peacock, before an abrupt change of direction into oil, gas and energy at Petroleum Economist and Platts and subsequently into investment research and writing. In addition to his articles for MoneyWeek, he also works with a number of asset managers, consultancies and financial information providers.
He holds the Chartered Financial Analyst designation and the Investment Management Certificate, as well as degrees in finance and mathematics. He has also studied acting, film-making and photography, and strongly suspects that an awareness of what makes a compelling story is just as important for understanding markets as any amount of qualifications.