The simple way to invest in iconic classic cars
Alternative and passion investing are areas that have seen considerable growth in recent years, but some asset classes have priced investors out. Now, The CarCrowd offers a new concept of fractional investment and is unlocking the potential of classic cars for thousands of qualifying investors.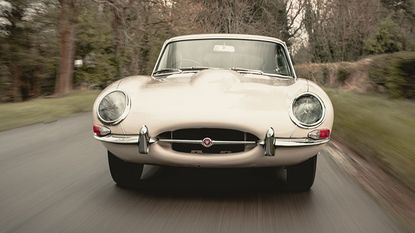 (Image credit: E-Type Jaguar)
According to the Knight Frank Luxury Investing Index, classic and luxury cars have returned 193 per cent over the past decade. In fact, certain classics have appreciated by as much as 25 per cent annually, with 10-15 per cent being quite common for vehicles from the nostalgic 90s.
Unlocking classic car market accessibility
When it comes to investing in classics, the primary issue for many investors is accessibility. Car selection is complex and there are long-term costs associated with storage, insurance and maintenance. All too often, potential investors are put off before unlocking this great diversification option. So, how can individual investors access returns in the classic car market without the hassle? Through asset-backed fractional investing with TheCarCrowd.
What is TheCarCrowd?
TheCarCrowd is an innovative investment platform that makes investing in classic cars simple and engaging. It is the UK's first asset-backed fractional investment platform and TheCarCrowd is the trading name for TheCarCrowdAR Limited, which is an appointed representative of Infinity Asset Management LLP which is authorised and regulated by the Financial Conduct Authority (FRN464315).
Subscribe to MoneyWeek
Subscribe to MoneyWeek today and get your first six magazine issues absolutely FREE
Get 6 issues free
Sign up to Money Morning
Don't miss the latest investment and personal finances news, market analysis, plus money-saving tips with our free twice-daily newsletter
Don't miss the latest investment and personal finances news, market analysis, plus money-saving tips with our free twice-daily newsletter
David Spickett, CEO of TheCarCrowd, said: "Generally speaking, fractional investment is quite a new category," explained Spickett. "Having seen the scepticism around things like crypto and NFTs among traditional investors, I wanted to ensure it was far more conventional and familiar. Whilst ensuring we meet the FCA's regulation is challenging, it has also allowed us to gain far more traction among serious investors looking for viable alternatives that appeal to their interests."
The platform has already surpassed 3,000 users and currently has 10 classics under management with a combined value of over £600,000. Of the platform's qualified investors, the majority hold shares in one or more vehicles, allowing them to diversify within the classic car market and curate their own classic car collection. It is a new and interesting take on fractional investment – one that has already proved popular among 'petrol heads' and those looking to benefit from the classic car market's substantial potential growth.
How does it work?
TheCarCrowd uses an expert panel to research and select classic cars, like a Ford Sierra Cosworth, Jaguar E-Type or Porsche GT3. It then divides the cars into 250-500 shares using an SPV (Special Purpose Vehicle) and offers them to its qualified investor members. One recent example, a Ferrari Testarossa, was fully funded in less than 27 hours across 400 registered investors. As with all investments your Capital is at risk when investing and TheCarCrowd encourage all qualifying investors to discuss the opportunity with their financial advisor prior to investing.
"Unlike other categories, like funds, that may have a minimum investment of £50,000, TheCarCrowd's offer a far more accessible entry point, with average investment around £2500," continues Spickett. "The investment is also into a real, tangible asset. Investors can see their chosen assets in person, giving the platform a strong sense of community and shared passion."
Safely storing, insuring and maintaining classic cars for extended periods can be expensive. This is particularly true of the models that typically see high growth. That is part of TheCarCrowd's unique approach – the business warehouses and maintains the vehicles, with investors able to visit their investment at any time at their facilit, near Nottingham.
Deciding when to sell the assets is also an interesting process. To ensure the procedure is straightforward and fair, TheCarCrowd pre-screens purchase offers for the assets, before forwarding them to members in a democratic vote. If the majority decides to accept the offer, the car is sold. In 2021, investors achieved gross annualised returns as high as 36%, following the vote to sell the platform's Renault Clio V6. Note that past performance is no guarantee of future performance and the value of assets may decrease as well as increase.
How to get started?
While alternative and passion investing will never be the backbone of a portfolio, it does allow investors to diversify into unusual markets and offers an outlet for their interests. Critically, platforms like TheCarCrowd are making these asset classes far more accessible. For more information and to see if you could qualify as an investor, visit www.thecarcrowd.uk/invest. TheCarCrowd is currently taking pre-registrations for a spectacular Porsche GT3 and a rallying legend, the Lancia Delta Integrale.