Here's a useful vehicle for betting on blockchain without buying cryptocurrencies
Many investors have been searching for a way to invest in bitcoin in their Sipp or Isa via a regular broker account. This fund fits the bill nicely, says Dominic Frisby.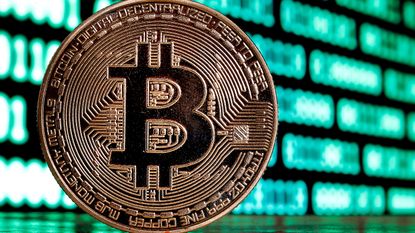 (Image credit: © Chesnot/Getty Images)
Traditional investors have long been searching for a vehicle by which they can own bitcoin through their Sipp or Isa, via a regular broker account.
Many of us don't want to get involved with wallets and keys and storing coins on hard drives in safes and all the rest of it. We just want to be able to buy and sell bitcoin through our regular broker, with which we are familiar.
On the other side of the coin, providers have long been seeking a means by which to provide investors with the products they seek. It's not like the demand isn't there. There were numerous attempts to establish bitcoin ETFs, but every attempt has run into some sort of regulatory issue.
Subscribe to MoneyWeek
Subscribe to MoneyWeek today and get your first six magazine issues absolutely FREE
Get 6 issues free
Sign up to Money Morning
Don't miss the latest investment and personal finances news, market analysis, plus money-saving tips with our free twice-daily newsletter
Don't miss the latest investment and personal finances news, market analysis, plus money-saving tips with our free twice-daily newsletter
The most successful were probably the Grayscale Bitcoin Trust (NYSE: GBTC), listed in the US, or Coinshares' Swedish-listed XBT Bitcoin Tracker One (COINXBT/COINXBE). Neither is quite the same as owning bitcoin, but they do track the price.
Then in October-November 2021 three bitcoin futures ETFs finally came to market in the US after what seemed like years of wrangling. The ProShares Bitcoin Strategy ETF (BITO) was the first to launch, followed by the VanEck Bitcoin Strategy ETF (XBTF) and the Valkyrie Bitcoin Strategy ETF, which has the glorious ticker BTFD. They are all pretty similar, holding bitcoin futures as a way to track the bitcoin price. But it's not the same as holding actual bitcoin and so will be prone to the expensive vagaries of contango and backwardation.
However, these are only of relevance to you if you are outside of the UK, because here in Blighty since October 2020 the UK's Financial Conduct Authority (FCA) has, in its wisdom, seen fit to ban the sale of crypto-derivatives to retail consumers. In other words, UK retail investors can't buy the above products.
This means UK investors either have to go down the above-mentioned rabbit hole of wallets and exchanges in order to buy in. The irony of the FCA ban is that it forces consumers to take risk.
There is another vehicle that might be quite a useful compromise: the VanEck Vectors Digital Assets Equity UCITS ETF (LSE: DAGB)
This is a London-listed, pound-denominated ETF that invests in companies that, to use its own lingo, "are driving the blockchain revolution". That is to say in companies that hold bitcoin and trade it, as well as bitcoin miners, exchanges, payment providers, service.
If I were to draw a parallel, I'd say that, rather than buying gold, it's like holding a basket of mining and royalty companies and bullion dealers.
The ETF is listed in London, and it's been going since the beginning of May. There's a dollar denominated version whose ticker is DAPP – and a sterling version, which is probably most useful to us, with the ticker DAGB. There are also euro-denominated versions listed in Germany (DAVV) and Italy (DAPP), and a Swiss franc denominated version listed in Switzerland (also DAPP).
It's still small – very small – and very volatile. In this current bear market it has lost two thirds of its value – so far. But as awareness grows it has the potential to grow.
It holds 25 companies in total, with 75%+ weighting to the US and Canada, about 17% to Europe and Australia and 7% to China. It rebalances on a quarterly basis. I'll post the holdings below, but in case you're not familiar with them, I'll outline what the major ones do.
It's biggest holding is Coinbase (Nasdaq: COIN), a well known exchange and wallet provider. Then there's Jack Dorsey of Twitter fame's payment company Block Inc (NYSE: SQ) and Silvergate (NYSE: SI), the bank for fintech and cryptocurrency businesses.
Then there's Microstrategy (Nasdaq: MSTR), effectively a bitcoin holding company run by one of bitcoin's most celebrated cheerleaders, Michael Saylor. Saylor has in the past two years totally got the bitcoin bug and become one of the most vocal and articulate spokespersons for the space. His company Microstrategy has gone from being a software company to a bitcoin holding vehicle, owning more than 122,000 bitcoins. He's raised debt to do it so it is a highly leveraged bitcoin play.
Finally there are the bitcoin miners Marathon Digital Holdings (Nasdaq: MARA), Riot (Nasdaq: RIOT), Hive (Vancouver: HIVE) and Argo (LSE: ARB). Voyager Digital (Toronto: VOYG) is on a Toronto-listed exchange.
Anyway, here are the main holdings:
Swipe to scroll horizontally
Bitcoin is supposed to be outside of the traditional financial system so it sounds funny saying that I own DAGB in my Sipp, but I do. I'm not recommending it as a buy. I see it more as a useful vehicle to be aware of.
My overriding theory that we are in a period of "frustrating consolidation" for bitcoin remains in play, so I would try to wait for the sell off to get really harsh before you buy: buy the dips, as they say. But this should be a good vehicle to play the bitcoin game, should you see fit.
Dominic Frisby ("mercurially witty" – the Spectator) is the world's only financial writer and comedian. He is MoneyWeek's main commentator on gold, commodities, currencies and cryptocurrencies. He is the author of the books Bitcoin: the Future of Money? and Life After The State. He also co-wrote the documentary Four Horsemen, and presents the chat show, Stuff That Interests Me.
His show 2016 Let's Talk About Tax was a huge hit at the Edinburgh Festival and Penguin Random House have since commissioned him to write a book on the subject – Daylight Robbery – the past, present and future of tax will be published later this year. His 2018 Edinburgh Festival show, Dominic Frisby's Financial Gameshow, won rave reviews. Dominic was educated at St Paul's School, Manchester University and the Webber-Douglas Academy Of Dramatic Art.
You can follow him on Twitter @dominicfrisby