As the US earning season kicks off, we look at how you can save on US trading fees
One investment platform is marking the US earnings season with a three-day trading offer on US shares. Here we explain how it works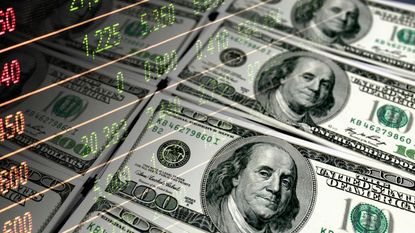 (Image credit: © Getty images)
With first-quarter earnings season in full swing in the US, interactive investor is marking the occasion with a three-day trading offer for US shares.
The investment platform will remove trading fees, which are usually £5.99 to buy and sell, on all US shares executed within the offer period from 26 April until 28 April.
It means until 9pm BST on Friday there will be no trading fees applied to all US stocks bought and sold on the interactive investor website and mobile app.
Subscribe to MoneyWeek
Subscribe to MoneyWeek today and get your first six magazine issues absolutely FREE
Get 6 issues free
Sign up to Money Morning
Don't miss the latest investment and personal finances news, market analysis, plus money-saving tips with our free twice-daily newsletter
Don't miss the latest investment and personal finances news, market analysis, plus money-saving tips with our free twice-daily newsletter
The offer coincides with the latest US earnings season, when some of the most well-known global companies will be sharing their quarterly results - essentially revealing signs about their financial health - to help investors make informed decisions about whether they should buy shares or retain the ones they already have.
Earnings season has so far revealed strong demand for cloud computing and digital advertising with Microsoft and Alphabet appearing in robust financial health. Microsoft's revenue increased by 7% to $52.9 billion as its cloud business neutralised declining computer sales. Meanwhile, Google owner Alphabet's revenue increased by 3% to $69.79 billion - a better-than-anticipated result.
Currently, no other UK investment firm is offering a similar opportunity to its customers: AJBell, Fidelity and Hargreaves Lansdown confirmed to MoneyWeek it had no plan to offer the same or similar.
What is the US earning season?
In the US, companies are required to report their earnings every quarter, unlike in the UK, which allows annual or half-yearly reports. Firms have to file the first draft of their financial data for the previous quarter a couple of weeks after the end of each calendar quarter - which in this case is the 31st of March.
This period is thus called "earnings season". Analysts and investors then have the chance to look at reams of financial data to try and determine how a company is doing right now - and how it might perform going forward.
Why look to the US?
Savvy investors know the golden rule about diversifying and considering a mix of funds, shares and asset classes in order to spread your risk.
Lee Wild, Head of Equity Strategy, interactive investor, says: "Broadening your investment horizons geographically can be a powerful diversifier and help investors access growth outside of one's home market.
"The US is home to some of the large technology companies, for example, which UK investors don't have access to on their home market. None of us have a crystal ball, and earnings continue to give us a mixed picture, but investors have a breadth of choice at their fingertips.
"It's not just household tech names that many of us have become familiar with. The US is the world's largest market, with the broadest choice and plenty of hidden gems."
Why look to the US during the earning season?
US first quarter earnings allowing investors to glean insights into the financial health of corporate America.
Victoria Scholar, Head of Investment, interactive investor, says: "Typically, earnings season provides investors with an opportunity to seize upon the bout of higher-than-average share price volatility.
Most interesting for private investors, the three-day offer from interactive investor is an opportunity to add new stocks to your portfolio and save some cash on trading fees.
US stocks to consider during earning season
Meta, parent company of Facebook and WhatsApp, has seen its share price rocket almost 70% year to date after the sharp declines of 2022. Might there be more to come once it releases its earnings results on 26 April? Staff at the tech conglomerate are bracing for another round of potential layoffs in May (following cuts in November last year and earlier this month), a move analysts are pinning on slowing ad revenue.
Meanwhile, Amazon is expected to report the following day, on 27 April. CEO Andy Jassy revealed only a fortnight ago in his annual shareholder letter that he'd spent recent months taking a "deep look across the company, business by business" and reflecting on numerous "simultaneous challenges" in the last year. Nevertheless, Jassy said he feels "optimistic and energized by what lies ahead".
Elsewhere, whether or not the force remains with Apple – up by almost a third year to date – will be revealed next week when the tech giant plans to release its second fiscal quarter earnings results on May 4. The company missed expectations on sales, revenue, and profit on several lines when it reported its holiday quarter earnings in February. How will it fare this time?
Tesla shares are up around 50% year to date, rebounding from a torrid 2022.
Katie Binns is an award-winning journalist, and former Sunday Times writer where she spent 10 years covering news, culture, travel, personal finance and celebrity interviews. She has also written for the Times, Telegraph, i paper and Woman and Home magazine.
Her investigative work on financial abuse has examined the response of banks, the Financial Ombudsman and the child maintenance service to victims, and resulted in a number of debt and mortgage prisoners being set free.