4 AI stocks to invest in
Artificial intelligence (AI) is a fast growing sector, but how can investors profit? We look at 4 AI stocks to invest in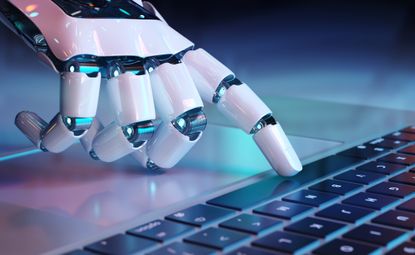 (Image credit: Getty Images)
The rise of artificial intelligence (AI) and machine-learning has got investors excited about technology again - so much so, AI stocks are starting to gain interest.
Tools such as ChatGPT and Google Bard have piqued the public's interest, with an ability to generate images and write everything from poetry to computer code and legal documents in seconds based on a few commands.
Supporters highlight the possibilities for processing data to support the development in areas such as medicine as well as fraud detection and providing more tailored financial services.
Subscribe to MoneyWeek
Subscribe to MoneyWeek today and get your first six magazine issues absolutely FREE
Get 6 issues free
Sign up to Money Morning
Don't miss the latest investment and personal finances news, market analysis, plus money-saving tips with our free twice-daily newsletter
Don't miss the latest investment and personal finances news, market analysis, plus money-saving tips with our free twice-daily newsletter
It could also mean better graphics and effects in video games and films and more reliable self-driving cars.
There are fears that it could take people's jobs away, but the flipside is that it makes us more productive by leaving the more menial tasks to chatbots and robots.
Venture capital investment in AI start-ups worldwide increased more than 80% last year to $115bn, according to PitchBook data.
In 2022, the global AI market size was valued at $136.5bn and it's projected to grow by 37.3% from 2023 to 2030, according to GrandView research.
Technology-focused funds have become more popular on investment platforms such as interactive investor, seen by some as a response to the rise of AI.
Getting direct exposure through stocks is a bit more tricky though.
AI has been around since the 1940s but the latest players such as OpenAI – the San Francisco tech company behind ChatGPT – aren't listed.
There are other ways of getting into the burgeoning area through equities by backing the technology stocks and companies involved in this sector.
Analysts warn that investors should tread carefully.
"It could be argued there are comparisons to the internet circa 1996/1997 - lots of talk of winners and losers but no-one knows what is coming next," says a spokesperson for AJ Bell.
"It is possible there will be new companies, and subsequently new initiatives. But that will likely bring a number of failures and some successes."
AI is a huge growth area with massive potential, says Ben Yearsley, investment director at Shore Financial Planning.
"But as in many nascent areas it's the 'picks and shovels' that are more suitable for most investors," he says
That makes doing your research all the more important.
Here are four stocks to consider that may help you tap into the AI boom.
4 AI STOCKS TO BUY
Nvidia
Computer chip maker Nvidia (NASDAQ:NVDA) is at the forefront of AI development.
Many machine learning products such as ChatGPT run on its products.
"Nvidia has a front seat on the AI juggernaut given that chips are essential for powering machine learning systems," says Susannah Streeter, head of money and markets for Hargreaves Lansdown.
The NASDAQ-listed company's share price is up 196% so far this year.
Its share price hit a record high in May after it reported surging demand for its AI chips from AI and predicted its sales would reach $11bn in the three months to the end of July, 50% ahead of analyst expectations.
While its growth is unlikely to be short lived, adds Streeter, there could be pressure on its supply chain due to levels of demand, while there are also tensions between Washington and Beijing over semiconductor exports.
"Given the valuation is well above the long-term average, there will be significant pressure to deliver high growth on a consistent basis and given the potential pitfalls ahead, there could be volatility in its share price to come," adds Streeter.
Microsoft
Microsoft (NASDAQ:MSFT) invested around $13bn into OpenAi last year and has started to integrate it into its Bing search engine and Teams, which Yearsley says will broaden the take up and adoption.
Google-owner Alphabet is also developing its own Bard chatbot and Amazon and Tesla are investing in AI so they may be worth investing in but their propositions are currently less extensive than Microsoft's.
"Of the big companies, Microsoft seems to have most to offer - that's before you add in things like the Azure storage business which will also be a beneficiary," says Streeter.
Microsoft's share price is up 41% so far this year to $338.
Relx
Data has been described as the new gold and being able to analyse vast streams of information will be crucial to AI business models.
Relx (NYSE:RELX), a British-based data analytics provider is well positioned to take advantage of future developments due to its huge proprietary datasets, which have been built with public and internal sources, says Streeter.
The New York Stock Exchange listed firm's share price is up 19% so far this year to $33.
The valuation is ahead of its longer-term average at 21 times forecast earnings and that adds extra pressure to keep delivering.
Darktrace
London Stock Exchange-listed Darktrace (LSE:DARK.L) uses machine learning to scan regular business operations and detect tiny irregularities that can be vulnerable to cyber attacks.
Cyber security is already a $200bn market and demand is only likely to increase, says Streeter, who suggests the shift to digital should open up new opportunities and markets for the firm.
It is a relatively new entrant to the stock market, having only listed in June 2021, but its share price is up 14% this year to 302p.
"Tricky macroeconomic conditions mean there are some short-term headwinds to new customer additions but 99% of revenue is subscription based which should provide a sticky revenue scheme," adds Streeter,
"Management expects full-year annual recurring revenue to grow by around 30%. However, profits are likely to remain slim while the business scales which is an added risk."
Marc Shoffman is an award-winning freelance journalist specialising in business, personal finance and property. His work has appeared in print and online publications ranging from FT Business to The Times, Mail on Sunday and The i newspaper. He also co-presents the In For A Penny financial planning podcast.