Government extends energy support
The Energy Price Guarantee will not go up in April as planned as the government extends energy support for another three months saving you £160. We look at what this means for your bills from next month.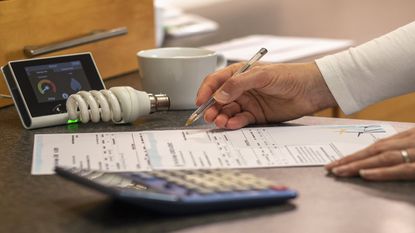 (Image credit: © Getty Images)
The government has today confirmed in its Spring Budget that it will not put up energy prices set by the Energy Price Guarantee (EPG) from next month as planned and support will stay at the current rate for another three months.
The EPG will now continue at its current rate until July 2023 instead of rising by 20% on 1 April.
The EPG sets the typical household bill, based on average use, at around £2,500 a year. But, in November 2022, chancellor Jeremey Hunt said the EPG would have to go up by 20% to £3,000 from 1 April until October 2024 as it was simply too expensive for the government to keep the support at the £2,500 level.
Subscribe to MoneyWeek
Subscribe to MoneyWeek today and get your first six magazine issues absolutely FREE
Get 6 issues free
Sign up to Money Morning
Don't miss the latest investment and personal finances news, market analysis, plus money-saving tips with our free twice-daily newsletter
Don't miss the latest investment and personal finances news, market analysis, plus money-saving tips with our free twice-daily newsletter
But things have changed since the government made this decision back in November and in fact, wholesale gas prices have been sliding meaning the costs are not as high as expected. Energy prices are around 50% lower than they were in October and it is likely the price drops will filter through to how much suppliers charge to households from July - so the extension of the energy support until July will bridge the gap until meaningful lower prices return to the market.
In a statement ahead of today's budget, chancellor Jeremy Hunt said: "High energy bills are one of the biggest worries for families, which is why we're maintaining the Energy Price Guarantee at its current level. With energy bills set to fall from July onwards, this temporary change will bridge the gap and ease the pressure on families, while also helping to lower inflation too."
The extension of the EPG at its current rate is estimated to save households around £160 between April and June.
What will happen to energy prices from July 2023?
Predictions from analysts at Cornwall Insight suggest that from July 2023, the average typical energy bill could be around £2,100 when the energy regulator sets the price cap for Q3.
The expectation of price drops put pressure on the government to keep the EPG rate as it is at £2,500 to ensure households continue to benefit from maximum support; although energy prices are sliding, prices are still higher than they were pre-pandemic and households are still grappling with high inflation and rising interest rates.
The government's EPG rate will now stay in place until July 2023. If predictions for prices from July come true, then the expectation is that this could prompt energy suppliers to bring back fixed rate energy tariffs to offer households energy deals. Sign up to our newsletter to stay up-to-date on the latest developments on energy prices.
Analysis from comparison site uSwitch suggests fixed energy deals may cost around £2,200 to £2,500 a year, based on typical average use, if they come back later this year - but whether you should fix your energy would essentially be a gamble as we do not know what will happen to energy prices later this year as wholesale gas prices are still volatile and subject to change. If you fix and prices continue to fall, then you will not benefit from lower rates - but if, on the flipside, price increases, you will have locked yourself into a cheaper deal. Take a look at our article looking at whether you should fix your energy tariff for more on fixed price energy tariffs.
Kalpana is an award-winning journalist with extensive experience in financial journalism. She is also the author of Invest Now: The Simple Guide to Boosting Your Finances (Heligo) and children's money book Get to Know Money (DK Books).
Her work includes writing for a number of media outlets, from national papers, magazines to books.
She has written for national papers and well-known women's lifestyle and luxury titles. She was finance editor for Cosmopolitan, Good Housekeeping, Red and Prima.
She started her career at the Financial Times group, covering pensions and investments.
As a money expert, Kalpana is a regular guest on TV and radio – appearances include BBC One's Morning Live, ITV's Eat Well, Save Well, Sky News and more. She was also the resident money expert for the BBC Money 101 podcast .
Kalpana writes a monthly money column for Ideal Home and a weekly one for Woman magazine, alongside a monthly 'Ask Kalpana' column for Woman magazine.
Kalpana also often speaks at events. She is passionate about helping people be better with their money; her particular passion is to educate more people about getting started with investing the right way and promoting financial education.