What Biden's blockbuster budget means for inflation
US president Joe Biden announced a $6 trillion budget last week. Saloni Sardana explains why this will add to inflation fears.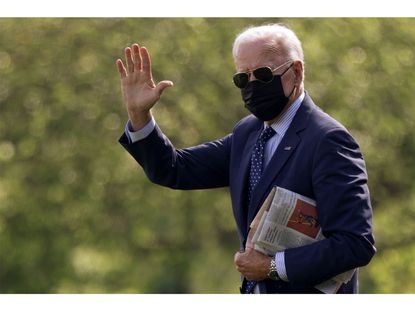 (Image credit: Photo by Alex Wong/Getty Images))
On Friday, US president Joe Biden announced a $6 trillion budget for the year ahead.
Inflation has been the biggest threat lurking at the back of investors' minds in recent months.
Biden's budget is unlikely to reassure them...
Subscribe to MoneyWeek
Subscribe to MoneyWeek today and get your first six magazine issues absolutely FREE
Get 6 issues free
Sign up to Money Morning
Don't miss the latest investment and personal finances news, market analysis, plus money-saving tips with our free twice-daily newsletter
Don't miss the latest investment and personal finances news, market analysis, plus money-saving tips with our free twice-daily newsletter
Spending will rise by higher levels than during World War II
The US budget proposal is Biden's first. It includes spending for areas such as climate change, education and infrastructure. In all, Biden is targeting a $6.01 trillion spending for the fiscal year of 2022.
To be clear (because there have been a lot of numbers and plans flying about), this includes previously announced spending for two flagship infrastructure proposals – the $2.3 trillion for the "American Jobs Plan" and the $1.8 trillion for the "American Families Plan". The budget also earmarks $1.5 trillion for operating expenditures for the US Department for Defence, the Pentagon.
How is he going to pay for it all? The president also proposed a 39.6% tax rate on capital gains and dividends for millionaires in the budget, an idea he floated in recent weeks. The rise in the top tax rate of capital gains is proposed in order to fund the American Families Plan.
All in all, the plan would put the world's biggest economy on track to face its largest levels of both taxation and spending in peacetime history, with the national debt expected to hit 117% of GDP by 2031, outpacing levels even seen during World War II.
The embrace of big spending marks a very clear change of political tone. While former president Donald Trump also ran deficits for each year of his tenure, even compared to that and accounting for the extra spending prompted by the pandemic, calling Biden's proposals hefty would be an understatement.
Biden's American Jobs Plan, first announced in April, focuses on vital physical infrastructure such as broadband, water pipes, and roads; while the American Families Plan provides money for improving the quality of lives for American in areas such as childcare.
Will Biden's budget get past Congress?
This is the big question. The Republicans, who are generally opposed to tax rises in most instances, and oppose increased spending when it's being done by the other team, balked at Biden's $6 trillion figure.
Given how closely split the Congress is, it's unlikely that Biden will succeed in getting the $6 trillion figure in its entirety.
It's not just the Republicans. Biden also faces the spectre of a backlash from centrist members of his own Democratic party, because his budget didn't include the Hyde Amendment. This marks the first time in 30 years that the Hyde Amendment – an anti-abortion law that prohibits the use of taxpayer funding to support abortions (barring rape and incest) – was missing from any budget announced by a US president.
Biden supported the Hyde Amendment as recently as last year, but changed his mind on the issue. As Ethan Adams, senior analyst at BlondeMoney points out: "President Biden will have to haggle with members of his own party if he is to make progress on any of his legislative goals."
Biden managed to drive through the $1.9 trillion Covid-19 stimulus package – known as the Great Rescue Plan – by 51 to 50 votes in a process known as "budget reconciliation" earlier this year with no Republican support. "Democrats have one last chance to advance their agenda before the midterms, which they will use on this infrastructure bill," says Adams.
But after that, "the US government will be effectively paralysed."
What's the likely impact on inflation?
With all that in mind, how will the plan affect investors? The level of public spending is not news, but it is still very high. Inflation is already rising. The core personal expenditure index, an inflation indicator closely watched by the Federal Reserve, rose by 3.1% in May compared to last year, marking the highest rise since the 1990s.
Consumer prices also rose by 4.2% in April compared to the previous year, marking the biggest such rise since September 2008. Core consumer price inflation (which excludes volatile food and energy prices), rose by 3% on the year, and 0.9% month on month, the highest since 1981.
Yes, this all makes sense given the slide we saw last year, but there's no guarantee that this will be "transitory," as the Fed keeps hoping. Commodity prices are shattering new records, for example. It's also worth noting that Biden's budget assumes that the Fed won't be raising interest rates any time soon – as The Wall Street Journal spotted, the budget assumes that "real" interest rates will be negative (ie below inflation) for the next ten years.
It's another sign that governments see "financial repression" as part of the solution to our post-Covid debt woes. Investors should bear that in mind while planning their asset allocation.
Saloni is a web writer for MoneyWeek focusing on personal finance and global financial markets. Her work has appeared in FTAdviser (part of the Financial Times), Business Insider and City A.M, among other publications. She holds a masters in international journalism from City, University of London.
Follow her on Twitter at @sardana_saloni