What will Joe Biden's "build back better" plan mean for markets?
Joe Biden recently proposed a $2trn "build back better" stimulus plan for America – on top of the $1.9trn he announced earlier this year. Saloni Sardana looks at what's in it, and how it will affect the markets.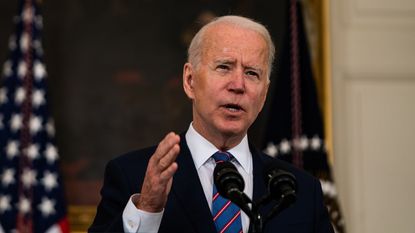 (Image credit: © Demetrius Freeman/The Washington Post via Getty Images)
Last week, US president Joe Biden unveiled his much-anticipated infrastructure plan.
Biden's vision to rebuild America is, he says, "not seen through the eyes of Wall Street or Washington but through the eyes of hardworking people". Accompanying those words are proposed corporate tax hikes worth $2trn to cover the cost of the package.
So what did Biden announce and what does it mean for your portfolio?
Subscribe to MoneyWeek
Subscribe to MoneyWeek today and get your first six magazine issues absolutely FREE
Get 6 issues free
Sign up to Money Morning
Don't miss the latest investment and personal finances news, market analysis, plus money-saving tips with our free twice-daily newsletter
Don't miss the latest investment and personal finances news, market analysis, plus money-saving tips with our free twice-daily newsletter
The American Jobs Plan
The first part of Biden's "Build Back Better" – dubbed the "American Jobs Plan" – detailed around $2trn of spending over the next eight years in several key areas.
These include direct investment in rural and tribal communities by providing 100% broadband coverage; the reconstruction or repair of 20,000 miles of road and 10,000 bridges; clean-energy projects; affordable housing; and funding for those who provide care for the elderly and disabled.
Electric vehicles will also receive a boost – the proposal includes plans for 500,000 electric vehicle chargers to be built by 2030, and will also pave the way for 50,000 diesel public transit vehicles to be replaced.
The second part of Biden's plan – which is due to be announced in a few weeks – is the "social infrastructure" section. This is expected to include proposals for free community college and universal pre-kindergarten, according to the New York Times, as well as moves to increase the participation of women in the workforce.
How likely is it to get passed?
Combined, both parts of the plan would add up to more than $3trn in public spending. That's on top of the $1.9trn stimulus package that kicked off Biden's administration.
The plan was split in two to make it easier to get Republican backing, which reportedly supports the physical infrastructure side, with its focus on bridges, roads, and broadband access.
But the sticking point plan is likely to be the question of who pays for it all. That's because the plan also calls for significant tax rises. The main proposal is to raise corporation tax from the current level of 21% to 28%. This would raise $730bn over ten years, reckons the Tax Policy Center, a US think tank. The tax paid by foreign companies would rise to 21%, which could add another $440bn to the coffers over the same period. Biden, meanwhile, believes the proposal will generate $2trn over a 15-year period.
This increase would still leave corporate taxes well below the 35% level that Biden's predecessor, Donald Trump, originally cut taxes from in 2017. However, Senate minority leader Mitch McConell (a Republican) has already made clear that he is unlikely to support the proposal.
That said, while Biden has said he wants bipartisan approval for the plan, the truth is he doesn't need any Republicans to back it, thanks to a mechanism called "budget reconciliation". This emergency power was used to pass the previous $1.9trn "Great Rescue Plan" without any Republican support.
Democrats ideally want the package to be approved this summer by 4 July, though that's not an official deadline, reports CNBC. To get there, the proposal would have to pass through both chambers of the Congress. There's the House of Representatives, where Democrats hold a majority, and the Senate, which is almost evenly split, with US-vice president Kamala Harris serving as the tie-breaking vote.
White House press secretary Jen Psaki says it is up to Democratic House leader Chuck Schumer and other leaders in the Congress to decide how the bill will be passed. Democrats have two more chances to use "budget reconciliation" before the 2022 midterms take place.
What effect will this have on the market?
Biden's radical plan may still signal higher inflation even though the plan proposes tax rises to fund it. That's partly because Republican opposition might result in the tax increases being scaled back. If, as a result, "Build Back Better" means borrowing and spending more money, this could strengthen the argument for higher inflation, and potentially nudge bond yields up higher.
Meanwhile, the sorts of big tech stocks that have done well from the last decade or so of falling interest rates might also come under more pressure as governments around the world try to crack down on shopping around for the most hospitable tax regimes.
On the electric vehicle side, Biden's pledge to invest in the sector is good news for electric vehicles, but the question is: how much of this is already in the price? The answer already appears to be: rather a lot.
According to analysts at Stifel, quoted on MarketWatch, the plan should particularly benefit engineering, construction and companies related to those sectors. Stocks such as Dycom Industries, Quanta Services, MasTec, MYR Group, and Atlas Technical Consultants, which all have higher revenue exposures to focus areas of the plan, are good picks to investigate further.
But commodities will be the true winner as "investments in domestic manufacturing and fixing roads, bridges and ports will drive the next commodity super cycle," Edward Moya, senior market analyst at OANDA, says. We've looked at commodity plays several times already in the past few months in MoneyWeek magazine. If you're not already a subscriber, get your first six issues – plus a free beginner's guide to bitcoin – absolutely free here.
Saloni is a web writer for MoneyWeek focusing on personal finance and global financial markets. Her work has appeared in FTAdviser (part of the Financial Times), Business Insider and City A.M, among other publications. She holds a masters in international journalism from City, University of London.
Follow her on Twitter at @sardana_saloni