Interest rates rise to their highest in 14 years – here's what it means for you
The Bank of England has raised interest rates by 0.5 percentage points to 2.25%, the highest level since December 2008. Saloni Sardana explains what it means for your money.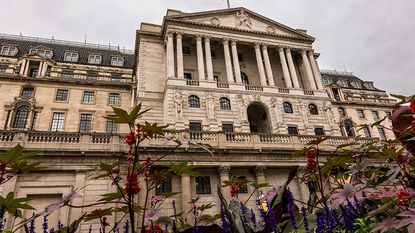 (Image credit: © Jose Sarmento Matos/Bloomberg via Getty Images)
The Bank of England has raised interest rates by 0.5 percentage points. The rise is the seventh increase in a row and takes the base rate to 2.25%, the highest level since December 2008.
A rise was expected, but most analysts were expecting a 0.75 percentage point hike.
The Bank is determined to tame inflation and is raising rates aggressively despite widespread concern the UK is heading for a recession.
Subscribe to MoneyWeek
Subscribe to MoneyWeek today and get your first six magazine issues absolutely FREE
Get 6 issues free
Sign up to Money Morning
Don't miss the latest investment and personal finances news, market analysis, plus money-saving tips with our free twice-daily newsletter
Don't miss the latest investment and personal finances news, market analysis, plus money-saving tips with our free twice-daily newsletter
Many analysts are anticipating further rises in November and December and warning that interest rates could reach 3.75% by Christmas.
A rise in Ofgem's energy price cap was expected to push inflation higher than 13% in October.
But the central bank thinks the government's "energy price guarantee" , the decision to cap energy bills to £2,500, for the average household means inflation would now peak at 11% next month.
Why the Bank of England is increasing interest rates
The Bank of England, which is independent from the UK government, has a goal of keeping consumer price inflation under the 2%.
But Russia's war against Ukraine, which has driven energy prices higher, has made this target impossible.
UK inflation rose to 9.9% in the 12 months to August 2022, marginally lower than July's 10.1% reading.
Yields on two-year gilts, the rate at which lenders demand in order to lend the government money, also spiked to 3.5% on Thursday.
"The more the Government has to borrow through gilts, the more investors will demand to receive in yields," says consumer news website This is Money.
So what does the rate rise mean for your money?
Mortgages
Higher rates usually come hand in hand with higher mortgages, but this depends on the type of deal you are on.
Many lenders, including the likes of Santander and Natwest have already increased their fixed-rate mortgages as lenders don't want to "get caught short scrambling to re-price their deals" according to Lewis Shaw, of Shaw Financial Services, a broker firm.
Analysts at CMC markets say the best advice for the housing market is to "hurry if you're selling, halt if you're buying, stay if you've borrowed".
While the increase in the bank rate hits those on mortgages with variable rates more significantly, even those on fixed mortgage deals are unlikely to be fully immune from the impact.
This is because UK Finance predicts that another 3.1 million households are due to renew their mortgages when their fixed-rate periods expire in 2022-2023.
But Alice Haine, personal finance analyst at DIY investing and coaching service Bestinvest, says that those who locked themselves in mortgage deals in the era of rock-bottom interest rates should act quickly to prevent being moved to the lender's standard variable rate.
Getting mortgage advice to make sure you are on the right product to suit future plans is key to mitigating the impact of rage rises.
Credit card debts
Credit card interest rates don't typically follow the base rate but they have also been creeping up.
If you are looking for a new credit card deal, deals may not be as attractive as they were last year.
"If you have a good credit rating and have outstanding credit card debt, it may be appropriate to consider looking to move your debt to a cheaper rate or to a 0% deal," says Alex Brown, financial adviser at financial advice firm Succession Wealth.
"0% balance transfer credit card deals are still currently available, as well as 0% purchase deals, meaning that you could cut the cost of your debt if you are paying high rates of interest," he adds.
Though he cautions that only those with better credit history are likely to get the deal.
Savings account interest rates
However, there is a silver lining. Higher interest rates are good news for savers, who were considered the ultimate losers of the last decade before inflation shot up as the interest on savings accounts rates fell to as low as 0.01%.
But this is assuming that banks do pass the interest rates on to customers.
"While banks and building societies are quick to apply higher rates to debt, they can be a little slower to deliver the good news to savers," says Haine.
She says it may be best to "hold off for the best deals" if you can.
"With the best easy-access accounts climbing to 1.95% this week and the best fixed-term accounts hitting 3.82%, every penny in additional interest will be crucial in the fight against high inflation, which eats away at our spending power. But it might be worth waiting a little while to let the latest interest rate rises trickle through from lenders to savers."
Saloni is a web writer for MoneyWeek focusing on personal finance and global financial markets. Her work has appeared in FTAdviser (part of the Financial Times), Business Insider and City A.M, among other publications. She holds a masters in international journalism from City, University of London.
Follow her on Twitter at @sardana_saloni