What the interest rate rise means for your mortgage
As mortgage interest rates rise, extending home loans is starting to become eye-wateringly expensive. Ruth Jackson-Kirby explains what you can do about it.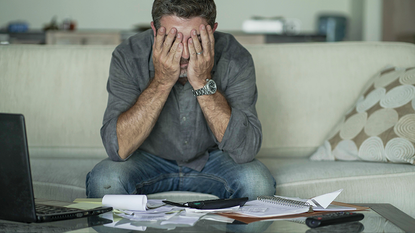 (Image credit: © Getty Images/iStockphoto)
Homeowners will have breathed a sigh of relief last week when the government finally announced a policy to prevent energy bills skyrocketing, but the cost-of-living crisis is far from over. The next thing to worry about is your mortgage.
On 22 Thursday the bank of England raised interest rates by 0.5 percentage points, which takes the base rate to 2.25% — the highest level since December 28.
"The historic low loan deals that buyers were blessed with for the past 12 years have been swept away by six Bank of England base rate rises so far this year," James Coney in The Times. The Bank is expected to increase the base rate by 0.75 percentage points to 2.5% next week.
Subscribe to MoneyWeek
Subscribe to MoneyWeek today and get your first six magazine issues absolutely FREE
Get 6 issues free
Sign up to Money Morning
Don't miss the latest investment and personal finances news, market analysis, plus money-saving tips with our free twice-daily newsletter
Don't miss the latest investment and personal finances news, market analysis, plus money-saving tips with our free twice-daily newsletter
In 2020 you could fix your mortgage for two years at an average rate of 2.24%, according to comparison site Moneyfacts. The best buys were far lower – less than 1% in many cases. Now the average two-year fix is 4.09%. On a £500,000 25-year mortgage that will mean your monthly repayments rise by almost £500.
"We are facing the worst mortgage shock since the 1980s," says Melissa Lawford in The Telegraph. The rate rises amount to a "financial disaster for those remortgaging next year".
A fourfold jump in two-year fixed mortgage rates
In fact, if you can remortgage now, you can count yourself lucky – experts are predicting things will be far, far worse next year. "Analysts expect the Bank Rate to climb further – to 3% next year," says Lawford. "The average rate on a two-year fixed deal for a buyer with a 25% deposit would then jump to 4.88%, according to Hamptons. This would be four times the rate at the end of 2021."
So, what can you do to prepare yourself? If you can remortgage, now is the time to do it. Rates are still going up, so locking in now will save you money. Even if your current deal doesn't end for some time, you can shop around for a mortgage now. Most mortgage offers are valid for six months so you could be approved for a lower-rate deal now than you will be able to get in a few months' time.
If you can afford to, consider overpaying your mortgage. "Borrowers who are still enjoying a low mortgage interest rate can overpay now to help erode their balance more quickly and leave them with a smaller mortgage when their current deal ends," says David Hollingworth of L&C Mortgages in The Mail on Sunday.
When it is time to remortgage, you could lengthen your mortgage term to lower your monthly repayments. For example, a £200,000 mortgage at 3% would cost £948 a month on a 25-year-term or £843 over 30 years. Just remember, the longer it takes you to repay your mortgage debt, the more interest you will pay.
Note too that if you see a good mortgage deal, you need to act fast. As rates rise, lenders are "pulling products from the market within 24 hours of launch", says Imogen Tew in The Times. Many lenders are dealing with a backlog of applications as homeowners try to grab a new mortgage before interest rates rise again. This means lenders have "already hit their loan targets for the year and so have been quick to take deals off the market".
Ruth Jackson-Kirby is a freelance personal finance journalist with 17 years' experience, writing about everything from savings and credit cards to pensions, property and pet insurance.
Ruth started her career at MoneyWeek after graduating with an MA from the University of St Andrews, and she continues to contribute regular articles to our personal finance section. After leaving MoneyWeek she went on to become deputy editor of Moneywise before becoming a freelance journalist.
Ruth writes regularly for national publications including The Sunday Times, The Times, The Mail on Sunday and Good Housekeeping among many other titles both online and offline.