How to solve Britain's water crisis
A drought has been officially declared across much of Britain, despite the fact that climate change is bringing more rain than ever. What's going wrong?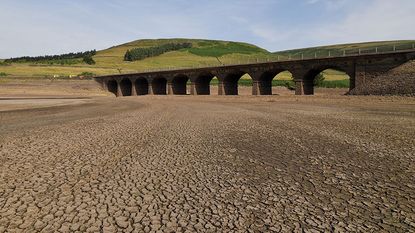 (Image credit: © Anthony Devlin/Bloomberg via Getty Images)
Following five months of below-average rainfall and the hottest summer for almost 50 years, a drought was officially declared across most of southern and eastern England last week, with Yorkshire now added to the list, too – and the West Midlands set to follow.
From 24 August a hosepipe ban will be imposed on 15 million customers in London and parts of southern England, as Thames Water became the sixth company to announce restrictions in response to the drought. It takes the number of people subject to "temporary use" bans to 23 million.
Meanwhile, the Environment Agency warned that the UK could face severe water shortages in the next 25 years without action to curb leakages, reduce water use and increase storage capacity.
Subscribe to MoneyWeek
Subscribe to MoneyWeek today and get your first six magazine issues absolutely FREE
Get 6 issues free
Sign up to Money Morning
Don't miss the latest investment and personal finances news, market analysis, plus money-saving tips with our free twice-daily newsletter
Don't miss the latest investment and personal finances news, market analysis, plus money-saving tips with our free twice-daily newsletter
What about pollution?
As the dry spell broke with heavy rain in some places this week, swimmers were urged to avoid dozens of popular beaches, mainly along the south coast, after sewage overwhelmed the sewerage systems and effluent was released straight into the sea. Last month an Environment Agency report attacked the "shocking" performance of water companies in preventing such discharges, with the head of the agency calling for jail terms for the worst offenders.
"Company directors let this occur and it is simply unacceptable," says Emma Howard Boyd, chair of the agency. "Over the years the public have seen water company executives and investors rewarded handsomely while the environment pays the price. The water companies are behaving like this for a simple reason: because they can."
Isn't Britain getting drier?
No. Climate change means Britain is getting warmer, but one irony of the current water shortage is that it is also getting much wetter. The Royal Meteorological Society's recent State of the Climate Report revealed that summer rainfall over the years 2012-2021 was up 15% on the period 1961-1990 and winter rainfall up 26%. "There is plenty of water to capture if we had the means to do so," says Ross Clark in The Spectator.
The trouble is that we haven't built a large reservoir in England since 1981, and none at all in the UK since 1991. Meanwhile, plans for a "national water grid" – capable of piping water from the wetter north and west of Britain to the drier south and east – have similarly come to nothing. And the dry weather has made chronic leakages worse by shrinking the ground and further damaging pipes.
Is privatisation to blame?
Hosepipe bans have concentrated minds on the privatised monopolies' decades-long failure to fix the leakage crisis. The Thatcher government sold off the water companies with no borrowings (and a £1.5bn "dowry") in the belief that private-sector efficiency and access to capital would improve service. "Instead they have mostly been bought by asset-hugging infrastructure funds that have geared them up and milked them for dividends," says Oliver Shah in The Times.
Since privatisation, the companies' borrowings have risen to £56bn (far outstripping equity) and they've paid out £72bn in dividends while bills rose 40% and a fifth of water is lost to leaks.
Is nationalisation the answer?
No, says Robert Colville on CapX. Privatisation has hardly been a "panacea", but the water companies (like the energy companies or the privatised railways) have nevertheless invested more than the nationalised utilities that preceded them, and – it must be presumed – far more than if they were still competing for state funding alongside the NHS, schools, defence and the rest.
Moreover, according to water-industry estimates (using figures from Ofwat), customers are five times less likely to suffer supply interruption and 100 times less likely to encounter low pressure than 30 years ago. And bills have not risen in real terms for the last two decades.
What many commentators (and politicians of all parties) haven't grasped about the water industry is that it isn't really an industry, and isn't fully privatised, says Colville. Water companies are essentially contractors who "run the water network on behalf of the state, in a fashion agreed with the state, to targets laid down by the state".
The state allows certain levels of leakage on cost-effectiveness grounds – and according to Ofwat's latest report, all 17 of the water companies covering England and Wales are at or close to their statutory targets. The water companies are then, says Colville, only doing what they've agreed with the government to do.
It's the regulators' fault then?
The UK's "toothless" regulators have been far too focused on short-term outcomes for consumers, and too afraid of scaring off investors, says Ben Marlow in The Telegraph. Ofwat has "talked a good game but largely failed to enforce genuine change". The Environment Agency has been timid in addressing pollution, and the Competition and Markets Authority, "cowed by an appeal from a group of rebel suppliers, ruled that a plan to curb industry profits had gone too far".
So what is to be done?
Alongside more stringent regulation, we need compulsory metering of water for households, to help curb demand, says John Armitt, chairman of the National Infrastructure Commission, in The Times. We need to continue to cut leakage. And we need to relieve pressure on waterways and groundwater in England by investing seriously in new reservoirs and transfer infrastructure.
The National Infrastructure Commission calculates that more than £20bn of investment in new infrastructure alongside leak reduction is needed over the next 30 years. The alternative – doing nothing and hoping for the best – would probably cost twice as much, £40bn, spent on emergency maintenance and water supplies.
Simon Wilson's first career was in book publishing, as an economics editor at Routledge, and as a publisher of non-fiction at Random House, specialising in popular business and management books. While there, he published Customers.com, a bestselling classic of the early days of e-commerce, and The Money or Your Life: Reuniting Work and Joy, an inspirational book that helped inspire its publisher towards a post-corporate, portfolio life.
Since 2001, he has been a writer for MoneyWeek, a financial copywriter, and a long-time contributing editor at The Week. Simon also works as an actor and corporate trainer; current and past clients include investment banks, the Bank of England, the UK government, several Magic Circle law firms and all of the Big Four accountancy firms. He has a degree in languages (German and Spanish) and social and political sciences from the University of Cambridge.