Investors should get ready for a political revolution
Liz Truss will beat Rishi Sunak, cut taxes, and then shake up the Bank of England, says Helen Thomas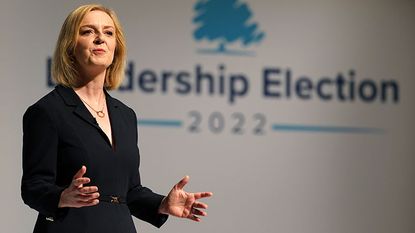 (Image credit: © Ian Forsyth/Getty Images)
Liz Truss and Rishi Sunak would like to convince you that they are a breath of fresh air, despite both having served in Boris Johnson's government. New policies are being thrown around thick and fast as they spend the summer sipping warm pink fizz and eating cheese canapes with the rather niche electorate of around 160,000 Conservative Party members. Polling of the membership has consistently shown Truss (pictured) to be ahead. We believe she will be announced the winner on 5 September for three reasons.
Firstly, she has chosen policies that appeal to members. Reversing tax hikes resonates strongly across a party that has become more and more perturbed by the tax burden rising to its highest level since the World War II. Truss's tax cuts could be inflationary, but she is pointing the finger squarely at the Bank of England (BoE) taking its eye off the ball, promising to review its mandate.
She has also managed to reinvent herself as a Brexiteer, thanks to the endorsement of Steve Baker and Jacob Rees-Mogg, leading members of the European Research Group. In the culture wars she gains plaudits from Conservative voters for treading the "anti-woke" path. Truss wants to redress the balance towards what Conservative members might call common sense.
Subscribe to MoneyWeek
Subscribe to MoneyWeek today and get your first six magazine issues absolutely FREE
Get 6 issues free
Sign up to Money Morning
Don't miss the latest investment and personal finances news, market analysis, plus money-saving tips with our free twice-daily newsletter
Don't miss the latest investment and personal finances news, market analysis, plus money-saving tips with our free twice-daily newsletter
Another reason to expect Truss to prevail is that she has put in the hard yards to gain members' approval. In the past few years she has been meeting activists in constituencies up and down the country. She knows it's not just about a highly visible social-media profile, although she's been putting effort into that too. A cursory glance at her carefully curated Instagram account reveals her in a tank, in Russia, in front of the flag at her desk – anything to remind you of her proto-Thatcherite expeditions to sign trade deals and defend Ukraine during her time as trade secretary and then foreign secretary.
Finally, her opponent has upset the membership on a number of levels. It's not just that Rishi Sunak has raised taxes and is now trying to convince them he's a tax-cutter. They feel he has no integrity following the furore over the tax status of his wife, his US Green Card and his Partygate fine.
In the regular monthly surveys conducted by the grassroots ConservativeHome website, Sunak's score in approval ratings of Cabinet members has collapsed. Throw in the fact that his resignation triggered the fall of dominoes that removed Boris Johnson, and Sunak can be accused of back-stabbing to boot. Truss, rather conveniently, was out of the country while her colleagues were stepping down.
Taxes will fall; interest rates will rise
Once the woman who wants you to perceive her as a loyal, hard-working, Thatcherite Brexiteer gets to work, we can expect her to deliver a fiscal stimulus that will see monetary policy tighten in response. Higher interest rates and steeper yield curves will support UK banking stocks.
They will also bring about a stronger currency, with sterling benefiting from a boost to growth and a wider interest-rate differential. That will be particularly the case versus the euro, where the looming energy crisis over a protracted war with Russia will cripple an economy that was already structurally stagnant.
Truss's tax cuts will also help the British consumer during the stagflationary period ahead, which should in turn bolster the consumer-goods sector and the leisure and travel industries. But there will be a divide between the luxury and budget ends of the market; the latter will struggle due to the high inflation rate for essentials, which hurts lower-income groups more.
But Truss is taking a gamble on her economic plan, as her opponent never fails to point out. She might simply stoke the inflationary fire, which the BoE now predicts will reach the incendiary level of 13% by the end of this year. Truss would argue that the five-quarter recession the BoE also predicts necessitates action now. And she plans to review the BoE itself.
With inflation now so far from the mandated 2% target, her ally and possible future chancellor Kwasi Kwarteng, the business secretary, warned that "something's gone wrong" and "we've got to look at how [the Bank] is performing". Rumours abound over what this might mean in practice, but with suggestions that the target could be shifted from inflation to GDP, or intervening in what attorney general Suella Braverman called "its entire exclusionary independence over interest rates", we could be in for a radical new approach from a Truss government.
The next prime minister will have just over two years to convince the country to vote in the Conservatives for what will then be almost two decades in power. Truss has to go for broke. She will inherit a 71-seat working majority that is desperate for unity and vision after almost two years of directionless discontent. Her chief enemy will be vanquished and she will be almost unassailable, with the party unwilling to put its members – or the country – through yet another contest. She will put this power to work quickly, before the honeymoon dissipates. Get ready for the Truss revolution. The political risk premium on UK assets has just gone up.
Helen Thomas is the founder and CEO of Blonde Money, a macroeconomic consultancy (blondemoney.co.uk)
Helen Thomas CFA has worked in financial markets for over 17 years. She founded her own macroeconomic consulting firm, BlondeMoney, in 2017 providing expert analysis on financial markets and politics.
Before that she was a Partner at a Global Macro hedge fund and Head of Currency Alpha for State Street Global Advisors. She started her career in Foreign Exchange at Merrill Lynch before going on to work for Societe Generale and SEB. She has also worked in politics, as an adviser to former Chancellor of the Exchequer George Osborne during the financial crisis.
She is a CFA Charterholder and holds a degree in Philosophy, Politics and Economics from Oxford University.
She is a Board Member of CFA UK where she is responsible for their sub-committee on the Value of the Investment Profession.
You can read more from Helen at Blonde Money