The public may have reached its limit for tax rises
The UK tax burden is now at a 70-year high. And, while there may be some reason to hold off on cuts right now, taxes are too high because the state tries to do too much. Perhaps it should do less, says Merryn Somerset Webb.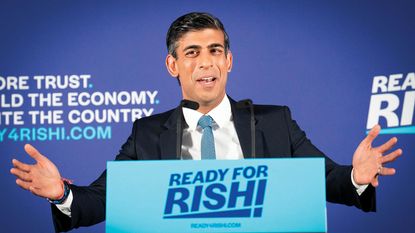 (Image credit: © PA Images / Alamy)
Rishi Sunak says that if he becomes prime minister he will cut taxes as soon as he "has gripped" inflation. That would be nice. Over the past 12 years of Conservative government, middle- and high-income-earning households have become "significantly worse off", says The Times. In 2010, tax freedom day (the day when you have earned enough to pay all your taxes) came on 30 May. This year it came on 8 June. You can thank the government for nine extra days working for the state (with, as far as I can see, no obvious improvement in the public services the state provides in return).
This is mostly about fiscal drag: if the threshold for paying the 40% rate of tax had risen in line with inflation since 2010, it would now be well over £58,000. The fact that it hasn't will have cost those who pay it (an extra three million of them since 2010) £1,653 each. The threshold at which you lose your personal income tax allowance is currently £100,000. If it had gone up with inflation it would be just over £130,000. That bit of drag costs those who pay it more than £6,000.
A growing burden
I could go on. But you get the picture: the UK tax burden is now at a 70-year high, with taxes as a percentage of GDP at 33.8% (the last time that number was higher was in 1951). As the chancellor of the exchequer until just over a week ago, Sunak is very, very far from innocent in all this. He calls himself an instinctive tax cutter. But if that is so, he was clearly working hard to suppress his true self during his time in the Treasury.
Subscribe to MoneyWeek
Subscribe to MoneyWeek today and get your first six magazine issues absolutely FREE
Get 6 issues free
Sign up to Money Morning
Don't miss the latest investment and personal finances news, market analysis, plus money-saving tips with our free twice-daily newsletter
Don't miss the latest investment and personal finances news, market analysis, plus money-saving tips with our free twice-daily newsletter
Sunak oversaw three big tax rises. He raised corporation tax from 19% to 25% with effect from next April. He increased national insurance rates by 1.25 percentage points for all (and dividend taxes by the same amount, to catch people who mostly get paid in dividends through their own companies). A national insurance hike is an effective rise in income tax, whether you want to call it that or not. And he froze all allowances again – with inflation heading for 10% this represents another huge tax hike through fiscal drag.
Collectively, those measures should raise £50bn a year in extra revenue by 2024-2025, Sunak reckons. And the tax burden by then? A depressing 36.6%.
Time to change
There is some reason to hold off on tax cuts right now – and particularly to hold off on slashing corporation tax back to 15% as Sunak's rivals seem to want to (all the chopping and changing is a nightmare for companies). It is a complicated and expensive time. But Sunak needs to be careful about how he looks at the numbers – and at those who pay the taxes his party demands.
He warns that the idea that tax cuts can work for the UK economy right now is nothing more than a "comforting fairy tale". He also tells us that "it is hard to cut taxes when the demands on the state are growing" (public spending is forecast to hit 41.1% by 2026-2027).
But we do wonder if it might be better to look at this the other way around – and ask if perhaps taxes are too high because the state tries to do too much. We also wonder if the real fairy tale might be in the idea that the UK's working population will put up with their tax freedom day extending any further into June. We may have our limits.
Merryn Somerset Webb started her career in Tokyo at public broadcaster NHK before becoming a Japanese equity broker at what was then Warburgs. She went on to work at SBC and UBS without moving from her desk in Kamiyacho (it was the age of mergers).
After five years in Japan she returned to work in the UK at Paribas. This soon became BNP Paribas. Again, no desk move was required. On leaving the City, Merryn helped The Week magazine with its City pages before becoming the launch editor of MoneyWeek in 2000 and taking on columns first in the Sunday Times and then in 2009 in the Financial Times
Twenty years on, MoneyWeek is the best-selling financial magazine in the UK. Merryn was its Editor in Chief until 2022. She is now a senior columnist at Bloomberg and host of the Merryn Talks Money podcast - but still writes for Moneyweek monthly.
Merryn is also is a non executive director of two investment trusts – BlackRock Throgmorton, and the Murray Income Investment Trust.