Let's adjust to living with Covid and get Britain back to work
The Covid-19 era is over, leaving a stagnant and lethargic workforce in its wake. It's time to wake up, says Matthew Lynn.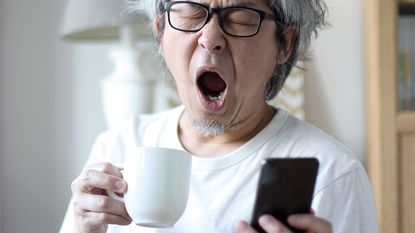 (Image credit: © Getty Images/iStockphoto)
Two long years after the first cases of Covid-19 were reported in the UK and the pandemic is now, to all intents and purposes, over. With infection rates down and vaccination reducing the number of deaths and hospitalisations, we can accept that Covid-19 is, for most of us, a mild virus that will probably circulate forever. We can get back to normal again, yet companies are still struggling to do so.
Many offices are still half-empty and staff reluctant to go back to their desks five days a week. Businesses are still fobbing off their customers with lame "because of Covid-19" excuses. The public sector is still operating in second gear, with simple tasks such as driving tests taking months to book. Many universities are still teaching remotely, trade shows are cancelled, and training and new projects on hold until the outlook clears.
Dust off the suit
That may have been understandable at the height of the pandemic, but two years on, we are starting to see the dire effect it has had on the economy. The truth is most people are more productive in a suit than they are in their PJs (the UK has more people in work than ever, but we are producing no more than we did in 2019, so output per person has clearly fallen). Many firms have become relaxed about lowering their standards of service simply because they know customers have little choice but to accept it. And there is very little sign of dynamism from most major businesses – the tech giants raced ahead in lockdown and a handful of new stars emerged, but overall there are more zombie corporations than ever kept alive by cheap debt and subsidies.
Subscribe to MoneyWeek
Subscribe to MoneyWeek today and get your first six magazine issues absolutely FREE
Get 6 issues free
Sign up to Money Morning
Don't miss the latest investment and personal finances news, market analysis, plus money-saving tips with our free twice-daily newsletter
Don't miss the latest investment and personal finances news, market analysis, plus money-saving tips with our free twice-daily newsletter
With the government ending its restrictions, this is surely the right week for the private sector to adjust to "living with Covid-19" as well. There are three places it could start. First, companies could insist that their people come back to the office full-time. True, many might be reluctant, and might have convinced themselves that they can be just as productive perched on the edge of the kitchen table as they ever were on the 20th floor of a skyscraper. In that case, they should negotiate their contracts so they can work flexibly, and they shouldn't have any trouble convincing their employer to let them carry on. After all, no one wants to pay for expensive office space if people don't work as well there. But there shouldn't be any automatic assumption that they can simply carry on working from home without being able to clearly demonstrate it is more effective.
"Due to Covid-19" not accepted anymore
Second, firms should benchmark themselves against 2019. They should be achieving the same delivery times, output levels and rates of growth as they were when none of us had even heard of Covid-19. There is no reason why phones should not be answered promptly, why orders should not be delivered on time, or why staff should not be trained in new skills. If the pandemic hadn't got in the way, we would have expected productivity to have advanced 3% or 4% over the last couple of years, even at the UK's generally fairly miserable rate of growth. We should try to make up some of that lost ground.
Finally, all the projects and investment that were put on hold during the pandemic should be relaunched as quickly as possible. Advertising campaigns should be refreshed, new designs rolled out and new branches opened. There is lots of pent-up demand so long as the supply is there to meet it. Everyone wants to go out and start enjoying life again. Many businesses need to re-energise themselves to take advantage.
The reality is that Covid-19 was destructive of the work ethic. Lockdown and working from home has made everyone sluggish, hollowed out teams that used to work well together, and undermined corporate culture and morale. The performance of the economy has steadily deteriorated. The important task now is to make sure that is not permanent. The UK is one the first countries to end all restrictions. It should end the excuses as well, encourage business to up its game and recapture the growth we have lost over the last two years.
SEE ALSO:
Flexible working: don't rush your staff back the office
Matthew Lynn is a columnist for Bloomberg, and writes weekly commentary syndicated in papers such as the Daily Telegraph, Die Welt, the Sydney Morning Herald, the South China Morning Post and the Miami Herald. He is also an associate editor of Spectator Business, and a regular contributor to The Spectator. Before that, he worked for the business section of the Sunday Times for ten years.
He has written books on finance and financial topics, including Bust: Greece, The Euro and The Sovereign Debt Crisis and The Long Depression: The Slump of 2008 to 2031. Matthew is also the author of the Death Force series of military thrillers and the founder of Lume Books, an independent publisher.