Britain needs a nimbler health service
The NHS is the beating heart of this country, the prime minister told the nation. Perhaps, but major surgery is needed.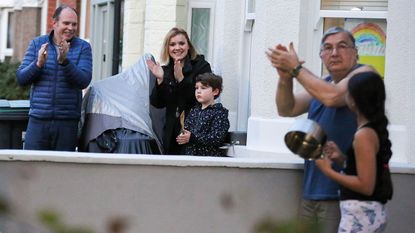 How is Britain coping?
At this stage, comparing Covid-19 fatalities in different countries, it is not obvious that the UK is doing a strikingly bad job at battling the coronavirus. This week there was much discussion of the fact that the UK's death toll per million (which was 178 as of Wednesday lunchtime) is a bit more than twice Ireland's (82). But Ireland's population density is a quarter of the UK's, the population is younger and far more rural and it has no massive conurbations or the global hub that is London. Our deaths per million are broadly the same as comparable countries such as the Netherlands (172) and less than half those in Belgium (383). In France, far less densely populated than the UK, the rate is 241.
So no need to worry?
Plenty of need to worry, given that the rate in Germany is less than a quarter of ours (42 per million), that recent daily death tolls are comparable with those of Italy and Spain at their peaks, and that the UK authorities' initial laissez-faire response may well have cost lives.
The charge against the UK's handling of the emergency is twofold. First, that the government's initial strategy was uncertain, slow and badly communicated, squandering precious time. "It just wasn't consistent," says Martin Stuermer, a virologist, in the Financial Times. "They had this plan to allow life to go on but ensure that elderly people were protected. But then they abandoned that. And they weren't prepared for mass testing. But the main problem was that the government just didn't chart a clear course in this crisis – unlike the German government."
Subscribe to MoneyWeek
Subscribe to MoneyWeek today and get your first six magazine issues absolutely FREE
Get 6 issues free
Sign up to Money Morning
Don't miss the latest investment and personal finances news, market analysis, plus money-saving tips with our free twice-daily newsletter
Don't miss the latest investment and personal finances news, market analysis, plus money-saving tips with our free twice-daily newsletter
And the second charge?
That Britain's national health service, and its broader health governance infrastructure, have proved too overly centralised and lumbering to respond nimbly and flexibly. It's not all doom and gloom, of course. There might be "many disadvantages to centrally organising a healthcare system for 60-million-plus people", says Helen Buckingham of the Nuffield Trust health think-tank. But an important "advantage is that, when you need to do command-and-control, you can, and you can do it quickly".
So, for example, recent weeks have seen the mass redeployment of staff and flexing of capacity, the rapid ramping up of ICU capacity within existing hospitals and even the speedy building of emergency capacity at NHS Nightingale temporary hospitals in east London and across the country with the help of military planners and engineers. In places, red tape has been slashed to fast-track promising private-sector initiatives, notably the continuous positive airway pressure (CPap) machine developed by the UK-based Mercedes Formula One business.
But?
But that's not the whole story. Elsewhere, and particularly when it comes to testing, the UK's approach has been dangerously bureaucratic. There have been widespread reports that Public Health England has been reluctant to relax its state-financed monopoly on testing procedures, turning down – or even ignoring – offers of help from the private sector.
The contrast with Germany is stark. Some of Germany's advantages arise from decades of higher health spending, plus a broader industrial and pharmaceutical base better equipped to scale up in extremis. But organisation and structures have also been crucial. According to Dr Christian Drosten of Berlin's Charité University Hospital, quoted in a report from the Adam Smith Institute, "we have a culture here in Germany that is actually not supporting a centralised diagnostic system… Germany does not have a public health laboratory that would restrict other labs from doing the tests. So we had an open market from the beginning". Meanwhile, on testing, the UK is still playing catch-up.
What can we learn from Germany?
First, we must come to value the virtues of planning and foresight, says Jürgen Maier, the British-Austrian former chief executive of Siemens UK. In 2016 a UK government pandemic modelling exercise, Cygnus, pointed to the potential collapse of NHS resources in a flu pandemic, but "the planners that should have been praised were largely ignored", says Maier. Even as the crisis intensified three weeks ago, "we were told of 3.5 million already ordered antibody tests", he says. "Most missed the small print that these tests had not yet been validated and they will probably never arrive." Germany is not building any temporary hospitals because its capacity is coping and there are no shortages of protective equipment. Crucially, NHS England entered the crisis with only 3,700 critical care beds, half the European average – or 6.6 per 100,000 population, compared with Germany's 29. And Germany is not having a weekly clap for its frontline clinicians, because "the truth is they feel appreciated all of the time. They are better paid" and "have got a much better resourced medical infrastructure behind them".
So we should adopt the German system?
Covid-19 has tested the centralised NHS model "to destruction," argues Daniel Johnson on The Article. Once the pandemic is over, we urgently need to examine ways of transitioning to the decentralised, social-insurance model that has served Germany so well in this global emergency, and create a more agile system that is more open to private-sector innovation. Unlike the top-down NHS model, the German model is based on government-backed, privately provided insurance "in a carefully regulated healthcare marketplace". The aim would be to "preserve many of the best aspects of our NHS" – provision remaining free at the point of delivery – "while gradually encouraging younger generations to insure their families' health through workplace schemes underpinned by the government". The ultimate objective would be a "better-funded, more efficient, decentralised health service. Coronavirus has demonstrated that it is time, not merely for reform of the NHS, but for revolution".
Simon Wilson's first career was in book publishing, as an economics editor at Routledge, and as a publisher of non-fiction at Random House, specialising in popular business and management books. While there, he published Customers.com, a bestselling classic of the early days of e-commerce, and The Money or Your Life: Reuniting Work and Joy, an inspirational book that helped inspire its publisher towards a post-corporate, portfolio life.
Since 2001, he has been a writer for MoneyWeek, a financial copywriter, and a long-time contributing editor at The Week. Simon also works as an actor and corporate trainer; current and past clients include investment banks, the Bank of England, the UK government, several Magic Circle law firms and all of the Big Four accountancy firms. He has a degree in languages (German and Spanish) and social and political sciences from the University of Cambridge.