10 years on: how has the London Olympics "legacy" panned out?
The 2012 Games would benefit not just athletes and spectators, but the whole economy over the longer term, we were told at the time. Ten years on, how has that panned out? Simon Wilson reports.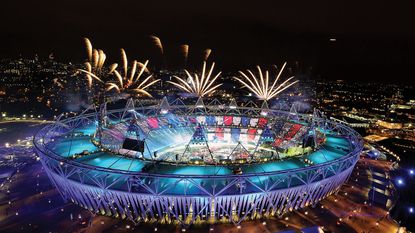 (Image credit: © Getty )
Is there a legacy?
The picture is inevitably mixed, but overall London 2012's legacy is looking pretty positive, yes. In purely sporting terms, the most striking legacy has been the boost to performance of Great Britain's elite sportsmen and women. In 2012, Team GB triumphed with 65 medals, 29 of them gold, placing us third in the medal table behind the US and China. That compares with just 30 medals, and only nine golds, in Athens in 2004. Back in 1996, in Atlanta, we won only 15 medals and a solitary gold. The success reflects massive investment by the UK government in elite sport in the run-up to 2012 and a ruthless "money-formedals" funding formula
What's happened since 2012?
The success has proved to be enduring – which is far from typical for Olympic host nations. At the following 2016 Olympics in Rio de Janeiro, Great Britain won even more medals than in 2012 (67 medals including 27 golds) and eased past China to finish second in the table. That made us the first nation ever to exceed their medal haul from a home Olympics at the next Games. Then at Tokyo 2020 (held in 2021 due to Covid-19) Britain again triumphed, with 65 medals and 22 golds. This time, we came fourth behind the US, China and the host nation, Japan. But the tally confirmed Britain's status as Europe's most consistent outperformer at the Summer Olympics, and a genuine global sporting superpower.
So 2012 "inspired a generation"?
London 2012 gave the nation a morale-boosting summer of sporting success that is remembered with a rosy glow by many. But the organisers' self-defined mission was bigger than that: they pledged to "inspire a generation" to take up sport. In that, they have broadly failed. Despite an initial surge following the Games, the proportion of British adults regularly taking part in sport has flatlined at a bit more than a third. And this month a new report by the National Audit Office confirmed that London 2012 did not boost participation in grassroots sport. The belief that people will be inspired to play sport just by watching it turns out to be a myth.
Subscribe to MoneyWeek
Subscribe to MoneyWeek today and get your first six magazine issues absolutely FREE
Get 6 issues free
Sign up to Money Morning
Don't miss the latest investment and personal finances news, market analysis, plus money-saving tips with our free twice-daily newsletter
Don't miss the latest investment and personal finances news, market analysis, plus money-saving tips with our free twice-daily newsletter
What other positives are there?
London 2012's most important legacy is the sporting and transport infrastructure now in place in east London, says Ben Rumsby in The Daily Telegraph. London's organisers had clear plans in place to avoid the kind of white-elephant venues and wasted billions that have plagued many Olympic host cities before and since. The Queen Elizabeth Olympic Park, and other sites built for London 2012, continue to provide world-class venues for both elite and grassroots sport, making London an attractive location for world and European championships in several sports over the past decade. In most other recent Olympic cities – Atlanta, Athens, Beijing, Rio – the "hulks of great sporting buildings stand marooned in expanses of open space, forever unable to attract the crowds that filled their brief lives as Olympic venues".
And London?
The legacy there is the "creation of a thriving new urban district" that's easily reachable from the rest of the city and region, and the development of a cleverly landscaped large new park that people actually visit. What have the Olympics ever done for us? "Nothing," says Rowan Moore in The Observer – "apart from the 226-hectare park that attracts six million visitors a year, the magnificent sporting facilities, the tens of thousands of new jobs, the decontamination and opening up of ex-industrial land, the schools" – and the many institutions currently under construction in the East Bank. Earlier this year London mayor Sadiq Khan revealed he had held preliminary talks to bring the Games back to London in 2036 or 2040.
Is that plausible?
Given that the number of cities prepared to spend billions on hosting mega-events has dramatically shrunk since the 2008 global financial crisis, it's entirely possible. The bidding process for 2012 was one of the most hotly contested ever, with five strong shortlisted bids from London, Paris, Madrid, Moscow and New York. By contrast, the only cities that competed to host in 2024 and 2028 were Paris and LA, after popular dissent forced Hamburg, Rome and Budapest to withdraw. In the event, they got one each.
So it's all positive then?
The blot on the landscape is the Olympic Stadium itself. Rechristened the London Stadium, and leased to West Ham football club, the stadium is a drain on taxpayers, losing £29m a year pre-pandemic. The London Legacy Development Corporation (LLDC, the mayoral agency overseeing the site) hopes to cut annual losses to £8m-£10m by selling naming rights; it may less ambiguously become a football stadium, with West Ham assuming greater financial responsibility. The other big downside is unmet promises on housing.
What were they?
The London 2012 organisers pledged 30,000 to 40,000 new homes in and around the Olympic Park. But so far, according to the LLDC, only around 1,180 new homes have been built, of which around 39% are classed as "affordable". The agency says that almost 6,000 new homes will have been built within the Park by 2032, and that, including nearby new-builds, the Olympic legacy will deliver 33,000 new homes by 2036. Whether that will happen is another question. What's clear, though, is that Olympic-related improvements have changed the area, sucking in more young professionals and seeing house prices rise sharply. In Newham, the London borough that has the most overlap with the park, average house prices have risen from 51% of the London figure in 2012 to 79% today. "The Games fell short on their promises for affordable housing but did boost a neglected corner of the capital," said The Economist. "That merits a podium place, but not gold."
Simon Wilson's first career was in book publishing, as an economics editor at Routledge, and as a publisher of non-fiction at Random House, specialising in popular business and management books. While there, he published Customers.com, a bestselling classic of the early days of e-commerce, and The Money or Your Life: Reuniting Work and Joy, an inspirational book that helped inspire its publisher towards a post-corporate, portfolio life.
Since 2001, he has been a writer for MoneyWeek, a financial copywriter, and a long-time contributing editor at The Week. Simon also works as an actor and corporate trainer; current and past clients include investment banks, the Bank of England, the UK government, several Magic Circle law firms and all of the Big Four accountancy firms. He has a degree in languages (German and Spanish) and social and political sciences from the University of Cambridge.