Does Britain need more runways?
MPs thought Heathrow needed a new runway and voted for one; the Supreme Court has now scotched the idea. But there are other ways to increase airport capacity that would cost less in environmental terms.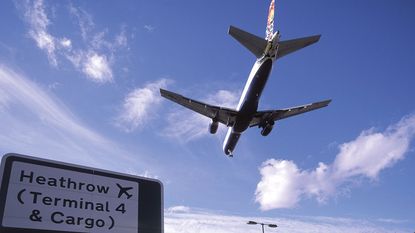 (Image credit: Credit: Justin Kase zsixz / Alamy Stock Photo)
What has happened?
Last week the Court of Appeal declared Heathrow's planned £14bn expansion illegal because the government decision to proceed with it did not properly take into account the UK's legally binding commitments on climate change. Heathrow wants a third runway to boost aircraft capacity by 56% and grow passenger numbers from 81 million last year to 130 million by 2050.
But in a case brought by environmental groups, the judges ruled that the then transport secretary, Chris Grayling, acted unlawfully when he approved the expansion in June 2018 (a decision that was backed by MPs by 415 votes to 119). The approval was unlawful because Grayling, acting on what has turned out to be flawed legal advice, failed to take into account the UK's international obligations under the 2015 Paris agreement, and our own domestic law. It's a landmark ruling that raises questions about a range of other infrastructure projects.
So the third runway is dead?
Not quite. The court made no judgment on the pros and cons of Heathrow expanding, or even on its environmental impact. It simply found that the decision in favour had not taken all the required factors and most recent climate change commitments into account.
Subscribe to MoneyWeek
Subscribe to MoneyWeek today and get your first six magazine issues absolutely FREE
Get 6 issues free
Sign up to Money Morning
Don't miss the latest investment and personal finances news, market analysis, plus money-saving tips with our free twice-daily newsletter
Don't miss the latest investment and personal finances news, market analysis, plus money-saving tips with our free twice-daily newsletter
The owners of Heathrow may yet win an appeal in the Supreme Court, or the government might agree to go back and rework its policy statement to comply with the ruling. Even so, the court's decision is a massive blow to Heathrow's expansion plans – not least because the government immediately said it would accept the ruling. Boris Johnson has long been an opponent of Heathrow's expansion, famously vowing as London mayor to "lie down in front of those bulldozers and stop the construction".
Is the case for expansion still solid?
The UK's big businesses certainly think so. In 2018, MPs overwhelmingly backed the argument that Heathrow was full – and that a new runway was needed to boost capacity by 50% and protect the UK's future as a globally trading nation (about 30% of all of the UK's non-EU exports by value pass through the airport). They accepted the argument that carbon emissions would not be cut by rejecting expansion, since the same planes would instead be flying into Charles de Gaulle, Schiphol or Frankfurt (to the detriment of the UK economy).
Nothing has changed since then, reckons Adam Marshall of the British Chambers of Commerce: without expansion, UK firms "risk losing crucial regional connectivity and access to key markets across the world". Indeed, any global trade policy without Heathrow's expansion would be "a joke", argues Juliet Samuel in The Daily Telegraph. "In a cash-strapped country desperate to expand access to foreign markets, it is hard to imagine a more slam-dunk case for an infrastructure project."
Can we expand and meet carbon targets?
Amber Rudd, who as energy and climate secretary led the UK's delegation at the Paris talks, thinks we can and must do both. First, argues Rudd in The Times, we should massively ramp up taxes on aviation to account for the pollution it produces.
Second, we should invest heavily in the development of low-carbon aviation technologies, including electric-, biofuel- and even hydrogen-powered flights. And third, we must "get serious" about negative emissions technology to take carbon out of the atmosphere. Net zero must not equal "hairshirtism", reckons Rudd. "Greening our economy is about doing things differently, not slowing us down."
What's the case against expansion?
Ever since the project was first mooted under Harold Wilson in 1968, the UK has been dithering about expanding Heathrow for a very good reason: the case for it is weak. Heathrow is simply in the wrong place for extensive expansion, argues Alistair Osborne, also in The Times. It's too close to densely populated and already heavily polluted London, and encircled by one of the world's busiest road systems – making the project too complicated and too expensive.
Indeed, the latest "bonkers incarnation" of the plan involves diverting all 12 lanes of the M25 into a tunnel under the new runway and building the two biggest car parks in the world. "Try to imagine the chaos." Meanwhile, the change in global sentiment on the question of climate change has transformed the Heathrow debate, says the Financial Times, a newspaper that used to support expansion and has now changed its mind.
The idea that the aviation industry will be able to get to net zero via a magical mix of new fuels, technology, carbon pricing and offsetting is asking us all to take an awful lot on trust. Meanwhile, the industry's emissions have doubled since 1990 and now account for 7% of the UK's total.
Can we expand capacity elsewhere?
Yes, argues Alistair Osborne – and once you junk the "last-century fixation" with hub airports as national virility symbols, it will be much easier than most people realise. For the foreseeable future, up to 2040, say, it would be eminently possible to deliver enough extra capacity by working existing London region runways harder, at a "fraction of the financial or environmental cost".
In concrete terms, that would mean a new national policy statement that lets Gatwick use its relief runway for takeoffs (a scheme it prices in the "hundreds of millions"). Stansted could be allowed to raise its annual passenger cap from 35 million to 43 million; Luton permitted its second terminal; and Heathrow allowed to up its flight cap a bit from 480,000 to 505,000 a year.
All that would "spread the environmental burden, making capacity growth easier to offset locally towards net zero targets". It would leave Heathrow's boss John Holland-Kaye having to explain to investors why he has "already blown £450m on a third runway always doomed to fail. But that's his problem, not ours".
Simon Wilson's first career was in book publishing, as an economics editor at Routledge, and as a publisher of non-fiction at Random House, specialising in popular business and management books. While there, he published Customers.com, a bestselling classic of the early days of e-commerce, and The Money or Your Life: Reuniting Work and Joy, an inspirational book that helped inspire its publisher towards a post-corporate, portfolio life.
Since 2001, he has been a writer for MoneyWeek, a financial copywriter, and a long-time contributing editor at The Week. Simon also works as an actor and corporate trainer; current and past clients include investment banks, the Bank of England, the UK government, several Magic Circle law firms and all of the Big Four accountancy firms. He has a degree in languages (German and Spanish) and social and political sciences from the University of Cambridge.