Chris Xu: the retailer with a cult following
Chris Xu was born to poor farmers in the Shandong province of China. Today he leads a mysterious upstart that is unnerving established fast-fashion retailers. What's his secret?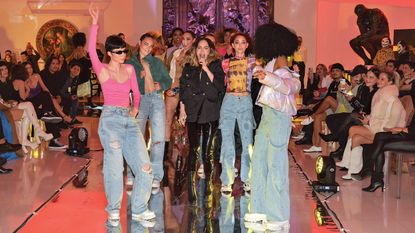 (Image credit: © Medios y Media/Getty Images)
Few bosses of international companies are more enigmatic than Chris Xu, head of SHEIN (pronounced she-in) – the Chinese fast-fashion company that has been testing the mettle of established giants such as Zara and H&M on the back of explosive growth during the pandemic. As one analyst told CNN Business: "they're making fast fashion look slow".
What is disconcerting for incumbents is that this $50bn "mysterious upstart" appears to have come from nowhere, says CNN. SHEIN has succeeded in building "a cult following" among "a global army of teen fans on TikTok" – not just because it turns round the latest fashions at "hyper-fast" speed and sells them at bargain-basement prices, but because of its radically different model. Youthful shoppers are encouraged to check-in daily to win points "for everything from opening the app, to watching live streams and entering outfit design contests". One describes the experience as like playing a mobile game, adding: "It is pretty addictive".
Ghosts and shadows
SHEIN has been so disruptive – blowing previous disruptors such as Boohoo and ASOS out of the water – that everyone in the rag trade wants to know what makes it tick. Yet despite its heft, the ecommerce giant has a "ghostly PR presence", says Charged Retail. One of Google's most searched queries last year was: "Is SHEIN a legit company?" Indeed, until quite recently, many were convinced that its shadowy founder may not actually be Chinese at all. In 2021, no less an authority than Forbes had Chris Xu pegged as "an American-born graduate of Washington University".
Subscribe to MoneyWeek
Subscribe to MoneyWeek today and get your first six magazine issues absolutely FREE
Get 6 issues free
Sign up to Money Morning
Don't miss the latest investment and personal finances news, market analysis, plus money-saving tips with our free twice-daily newsletter
Don't miss the latest investment and personal finances news, market analysis, plus money-saving tips with our free twice-daily newsletter
The reality is rather different. Local Chinese media report that he was born as Xu Yangtian in 1984 in Zibo in the Shandong province, the son of poor farmers. The family deemed education important and Xu worked his way through high school, winning a place to study international trade at the Qingdao University of Science and Technology, while continuing to work part-time. His big break was getting a job in charge of search-engine optimisation (SEO) at a company in Nanjing that claimed to be China's "first cross-border ecommerce marketing service provider". In 2008, he quit to form his own company, Nanjing Dianwei Information Technology, with two partners.
At first the trio traded pretty much anything, says Wired: hawking cheap Chinese-made goods, from teapots to mobile phones, to international buyers. But by 2009 – apparently inspired by his fiancée's hunt for a wedding dress – Xu had decided to major in apparel. His partners reportedly didn't agree with the idea and were shocked to arrive in the office one day to discover that Xu had done a flit – having changed some company passwords and, they alleged, retained control of its PayPal accounts. (A SHEIN spokesman disputed these allegations to Wired and said Xu and his partners "separated peacefully".)
A mob of influencers
In 2011, Xu registered the website that would eventually become SHEIN, calling itself "a leading worldwide wedding dresses company", but within a year it had broadened into street fashion. According to CB Insights, the company raised its first round of venture-capital funding in 2013 from JAFCO Asia, following that up with a $47m investment in 2015, when it moved its Chinese HQ to Guangzhou to be closer to its supplier-base, and "quietly opened" a US HQ near LA. By 2019, Coresight Research estimated SHEIN was turning over $4bn – a figure that quickly multiplied when the lockdowns hit.
These days, both Xu and his company are reportedly based in Singapore, says The Street – a choice aimed at making "a US listing easier". But despite rumours of an imminent initial public offering, it has repeatedly been shelved. Meanwhile, SHEIN's only public face continues to be "a federation of influencers", filming their "hauls" of cheap clobber, says CNN.
Can SHEIN continue its explosive growth out of the spotlight? The jury's out, says Wired. Some analysts admit they can't get their heads around how it makes its numbers stack up; others claim its "ultra-low prices are hiding unacceptable costs" in terms of exploitation of workers and the environment, not to mention potential copyright litigation. As Credit Suisse points out in a research note, it is "highly likely" that US lawmakers will try to rein in fast-fashion – and that "SHEIN in particular will struggle to comply". Whether he likes it or not, the firm's mysterious founder may soon find himself in the spotlight.
Jane writes profiles for MoneyWeek and is city editor of The Week. A former British Society of Magazine Editors editor of the year, she cut her teeth in journalism editing The Daily Telegraph's Letters page and writing gossip for the London Evening Standard – while contributing to a kaleidoscopic range of business magazines including Personnel Today, Edge, Microscope, Computing, PC Business World, and Business & Finance.
She has edited corporate publications for accountants BDO, business psychologists YSC Consulting, and the law firm Stephenson Harwood – also enjoying a stint as a researcher for the due diligence department of a global risk advisory firm.
Her sole book to date, Stay or Go? (2016), rehearsed the arguments on both sides of the EU referendum.
She lives in north London, has a degree in modern history from Trinity College, Oxford, and is currently learning to play the drums.