Why petrol prices are higher than in 2008, despite lower oil prices now
The price of petrol is at an all-time high. Yet despite oil prices being higher in 2008, petrol was cheaper back then. Saloni Sardana explains why.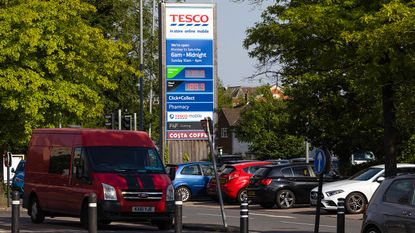 (Image credit: © Chris Ratcliffe/Bloomberg via Getty Images)
With energy prices going through the roof everywhere, it is no secret that consumers are feeling the pinch and having to pay higher prices to fill up their cars at petrol pumps.
Consumers in the UK have been hit particularly hard, and are now paying an average of £1.85 per litre to fill up their cars, says motoring organisation the RAC. The cost of filling an average family car with petrol is now more than £100.
As Arij Van Berkel of Lux Research points out, historically the spread between crude oil price and fuel price has been constant. But Brent crude oil is currently trading at $120 barrel, lower than it did in 2008, while petrol prices are much higher than then. So what is going on?
Subscribe to MoneyWeek
Subscribe to MoneyWeek today and get your first six magazine issues absolutely FREE
Get 6 issues free
Sign up to Money Morning
Don't miss the latest investment and personal finances news, market analysis, plus money-saving tips with our free twice-daily newsletter
Don't miss the latest investment and personal finances news, market analysis, plus money-saving tips with our free twice-daily newsletter
A lack of refining capacity
Several experts tell MoneyWeek that a lack of crude oil refining capacity is driving higher petrol prices.
Competition among refining companies for market shares tends to keep fuel prices low. But this time, says Van Berkel, "there is no or very little appetite to invest in refining capacity and hence there's not much appetite to increase market share".
"Companies appear to just enjoy the ride and get high margins on fuels for as long as it lasts without wanting to fight for extra sales. This keeps the prices high and higher than one would expect based on past behaviour," he adds.
The International Energy Agency predicts that oil demand could hit its peak as soon as 2025 due to the growth of electric vehicle sales, a factor which is curbing investment.
Craig Erlam, senior market analyst at OANDA, agrees that the lack of refining capacity is reflected through higher refining margins: "Margins are currently high due to a lack of capacity which is contributing to much higher prices at the pump."
Ideally, refinery capacity would be higher and margins lower. "But sanctions on Russia and underinvestment everywhere else mean this isn't the case," says Erlam.
The sterling effect
Michael Hewson, chief market analyst at CMC Markets, notes petrol prices have not really changed in dollar terms – the strong dollar and weak sterling is another factor in pushing UK petrol prices higher.
The pound to dollar exchange rate was around $1.85 in 2008 – the pound is currently trading at just over $1.20. With oil priced in dollars, a weaker sterling means oil and petrol are more expensive in sterling terms.
Why was the price of oil higher in 2008 than now?
Oil prices have risen in recent months due to higher demand following months of Covid lockdowns and Russia's invasion of Ukraine. But the oil price has still failed to breach its all-time high of $147.50 in July 2008.
Why?
Susannah Streeter, senior investment and markets analyst at Hargreaves Lansdown, says oil prices are lower now because of the point we were at in the global business cycle and because "global oil production was stagnating". In addition, stronger demand from the "Brics" countries – Brazil, Russia, India, China and South Africa – played a part in 2008.
But according to Streeter, even though oil prices are lower now than they were in 2008 this is likely to change because of the removal of Russian oil from the market. Russia is the world's third largest supplier of crude oil after Saudi Arabia and the US. The EU imports more than 40% of its gas and 29% of its oil from Russia, but is to impose a ban on most Russian oil imports by the end of the year. The US has taken a more stringent approach and has banned Russian oil completely.
So even if oil cartel Opec were to "open its taps, it wouldn't make up for Russia's supply in the market," says Streeter.
SEE ALSO:
The cost of petrol in the UK compared with the rest of the world
What makes up the price of a litre of petrol?
How to cut your car's fuel bill as the price of petrol hits a record high
Saloni is a web writer for MoneyWeek focusing on personal finance and global financial markets. Her work has appeared in FTAdviser (part of the Financial Times), Business Insider and City A.M, among other publications. She holds a masters in international journalism from City, University of London.
Follow her on Twitter at @sardana_saloni