"Cluster busting": why Japan has been so successful in fighting Covid-19
Japan has had one of the lowest rates of death from Covid-19, despite its densely-packed, elderly population. Merryn Somerset Webb looks explains the secret of its success.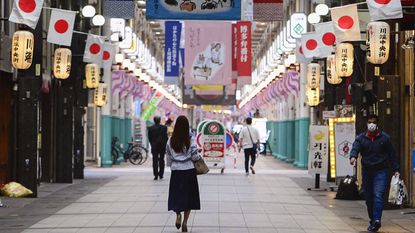 (Image credit: Deserted shopping street in Japan ©)
As of 28 April, despite being densely populated, jammed with super cities, and late to put in place only a sort-of-non-compulsory lockdown, Japan had recorded a mere 376 deaths caused by Covid-19. It's a death rate so low that it even looks good next to Germany – which has been much praised for the mildness of its outbreak. What's its secret?
Mike Bird of the Wall Street Journal asked this on Twitter this week. Everyone seemed to have an answer: the masks; the culture of rule following; the early closure of schools and universities; genetics; something in the water; the fact that most of the population have had the BCG vaccine; the low levels of obesity; the lack of vitamin D deficiency; the high number of smokers; etc, etc.
But there is one more well-researched possibility. In a note for clients of CLSA this week, Tomohiko Taniguchi, special adviser to Japan's prime minister, explained. It is, he says, all down to cluster busting.
Subscribe to MoneyWeek
Subscribe to MoneyWeek today and get your first six magazine issues absolutely FREE
Get 6 issues free
Sign up to Money Morning
Don't miss the latest investment and personal finances news, market analysis, plus money-saving tips with our free twice-daily newsletter
Don't miss the latest investment and personal finances news, market analysis, plus money-saving tips with our free twice-daily newsletter
In 1935, with funding from the Rockefeller Foundation, Japan opened its first public health centre (PHC) in Tokyo. The country then put in place a programme that led to the building of another 187 nationwide. They survived the war and the occupation. But the thing of note is that before and after the war, their priority, says Taniguchi, was always to "stay watchful all the time" for the emergence of TB cases. If one was found, they were tasked with rushing to the patient's residence, checking for clusters and sterilising the house (interesting 1949 video on this here)
Seventy-five years on, 469 PHCs are in operation across the country, with each manned, on average, by 64 medical professionals, including one to two licensed doctors. They still locate clusters, track links and conduct tests. It is this "accumulated wealth of expertise, rarely found elsewhere" that has made the difference. Japan has not had to rely on mass testing strategies because it's health care history had already left a cluster-crushing strategy embedded in its system
This doesn't mean that the culture of rule following and the exhortations from Abe to "refrain from going out" and "avoid coming into contact with others" aren't part of the solution. Of course they are (and it is worth noting that passenger numbers at all major rail stations are down 84%-92%). But the success of the PHC system could turn out to have been the key thing that has prevented most clusters escaping their starting points – and kept the death rate low.
Merryn Somerset Webb started her career in Tokyo at public broadcaster NHK before becoming a Japanese equity broker at what was then Warburgs. She went on to work at SBC and UBS without moving from her desk in Kamiyacho (it was the age of mergers).
After five years in Japan she returned to work in the UK at Paribas. This soon became BNP Paribas. Again, no desk move was required. On leaving the City, Merryn helped The Week magazine with its City pages before becoming the launch editor of MoneyWeek in 2000 and taking on columns first in the Sunday Times and then in 2009 in the Financial Times
Twenty years on, MoneyWeek is the best-selling financial magazine in the UK. Merryn was its Editor in Chief until 2022. She is now a senior columnist at Bloomberg and host of the Merryn Talks Money podcast - but still writes for Moneyweek monthly.
Merryn is also is a non executive director of two investment trusts – BlackRock Throgmorton, and the Murray Income Investment Trust.