Why we must not retreat into a nationalist bunker
Globalisation helped us prosper before the crisis – it will help us get out of it too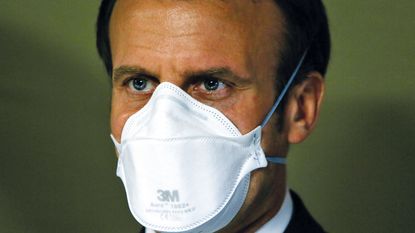 Over the last week, even as tentative signs emerged that the first wave of the virus may have peaked, the economic backlash seems to have only just started.
The Italian government has said it is planning new powers to stop foreign takeovers, including potentially from other companies within the EU. France's President Macron (pictured) has announced plans to make sure medical equipment such as masks and ventilators are produced in his own country, with food quickly added to the list as well.
Spain's prime minister, Pedro Sánchez, has promised measures "to block foreign companies from taking control of strategic Spanish companies by taking advantage of the share price collapse". Germany's economy minister, Peter Altmaier, has demanded that vital industries be protected even as the economy starts to collapse.
Subscribe to MoneyWeek
Subscribe to MoneyWeek today and get your first six magazine issues absolutely FREE
Get 6 issues free
Sign up to Money Morning
Don't miss the latest investment and personal finances news, market analysis, plus money-saving tips with our free twice-daily newsletter
Don't miss the latest investment and personal finances news, market analysis, plus money-saving tips with our free twice-daily newsletter
Understandable, but wrong
It would be no surprise to see similar demands from the US. There are already reports of the US muscling in on supplies of masks, and trying to buy up potential vaccines. President Trump was fighting trade wars before anyone had ever heard of Covid-19 and it is only likely to encourage him. As Britain leaves its transitional deal with the EU at the end of the year – assuming the timetable isn't derailed – it will be hard to resist the calls for tariffs and quotas as we take back control of trade policy. Across the world, the coronavirus crisis is leading to an upsurge in economic nationalism and protectionism.
This is understandable. There is a sudden shortage of medical equipment and governments want to ensure supply. And there may be a lurking suspicion that a highly integrated, globalised economy accelerated transmission of the virus from country to country. With a few more barriers, maybe Covid-19 would have stayed in Wuhan at least until we had better treatments available. But a retreat into protectionism would still be a huge mistake. Here's why.
First, it doesn't matter where stuff is made. It is unlikely anyone being rushed into A&E will worry about where their ventilator comes from. We need adequate sources of supply that can be ramped up when needed, but where it comes from is irrelevant. It might as well be made wherever the lowest-cost, most-efficient manufacturer is located, and in most cases that is going to be in China, southeast Asia or eastern Europe. That way we can preserve resources for more important things such as more doctors and nurses, or emergency hospitals, all of which are far more important.
We'll need foreign capital
Next, we will need capital to rebuild once the epidemic has been brought under control. It is going to take a huge effort to restore shattered economies. Lots of companies are going to be effectively bankrupted and are going to have to raise fresh capital to survive.
Unemployment is going to soar. Lots of jobs have been preserved by government support, but once that gets withdrawn employers are inevitably going to lay people off. Start-ups will have to be relaunched, and businesses will need to reinvent themselves as they come out of hibernation. All that is going to involve a lot of risk capital, and that will mean allowing money to move across borders and protecting the rights of investors. Countries putting up barriers to foreign money will quickly find it hard to raise any at all.
Finally, we will need global co-operation to defeat pandemics. With any luck we won't see a virus as deadly, or as easily spread, as Covid-19 for another century. But we can hardly count on that. Just as the crash of 2008 taught us to be more nervous of banks, so this crisis will teach us to prepare better for epidemics. That will mean scientists and drugs companies will need to work together to create treatments and vaccines ahead of time and work on finding solutions that can be put in place far more quickly. Putting barriers between businesses and countries won't help that.
Matthew Lynn is a columnist for Bloomberg, and writes weekly commentary syndicated in papers such as the Daily Telegraph, Die Welt, the Sydney Morning Herald, the South China Morning Post and the Miami Herald. He is also an associate editor of Spectator Business, and a regular contributor to The Spectator. Before that, he worked for the business section of the Sunday Times for ten years.
He has written books on finance and financial topics, including Bust: Greece, The Euro and The Sovereign Debt Crisis and The Long Depression: The Slump of 2008 to 2031. Matthew is also the author of the Death Force series of military thrillers and the founder of Lume Books, an independent publisher.