Coronavirus disruption will take some time to play out
There are already plenty of obvious casualties of the nasty combination of coronavirus-driven supply and demand shocks. But second-round casualties are beginning to appear too.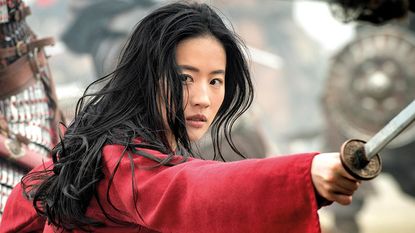 (Image credit: © 2020 Disney Enterprises, Inc. All Rights Reserved.)
Earlier this week we told you not to automatically buy on the dip. We'd hang on to some of that sense of caution. We don't yet know how serious Covid-19 will turn out to be. But we do know that the disruption it has already caused is going to take some time to play out. The obvious casualties of the nasty combination of supply and demand shocks are all around us – anything to do with travel or anyone working with a complicated supply chain, for example. Who wants to go on a cruise, take a tour of Italy or fly to France for a three-day property investment conference right now?
But second-round casualties are beginning to appear too. The Hollywood Reporter points out that the global film industry is, for example, facing a possible $5bn loss as film release dates are pushed back and venues shut. Cinemas have been closed in China for months, but the virus is now "heavily impacting" movie-going in Japan (the world's third-largest film market), South Korea and Italy. Ticket sales in China over the New Year period came in at $4.2m. Last year they were $1.76bn. In South Korea, box office takings were down 80% year-on-year last weekend. In Italy, that number is 76%.
Cinemas usually do well in bad times (inexpensive movie trips replace more expensive outings). Bad times in which they do appallingly badly are not in most people's models. Nor can they realistically be solved by sharp cuts in interest rates. If you didn't want to see the new Mulan movie badly enough to take the risk of sitting in a crowded cinema for going on three hours with rates at 1.75%, I'm pretty certain you also won't fancy it with them at 1.25%. It is also worth noting that the virus also creates new political risks that monetary policy can do little about: will power structures in Iran, China and even the US be the same post-virus as pre-virus? See this week's magazine for more on the US election.
Subscribe to MoneyWeek
Subscribe to MoneyWeek today and get your first six magazine issues absolutely FREE
Get 6 issues free
Sign up to Money Morning
Don't miss the latest investment and personal finances news, market analysis, plus money-saving tips with our free twice-daily newsletter
Don't miss the latest investment and personal finances news, market analysis, plus money-saving tips with our free twice-daily newsletter
Still the obvious uselessness of monetary policy is unlikely to be a barrier to central banker grandstanding, or indeed political grandstanding. It is entirely possible, as John points out in this week's cover story, that Covid-19 turns out to be the trigger for the introduction of helicopter money (new money printing for immediate spending) in the eurozone at least. Fans of this say it comes with no downsides. They reckon that governments will spend the lovely new money productively; that it will create wealth; and that it won't lead to inflation. Having never seen a fiscal or monetary policy that didn't come with a downside, we doubt all those things.
On the other hand...
On the plus side western economies are excellent at adapting to suit change (see Matthew Lynn's thoughts on retailers this week) and there is also much talk about how the crisis could change behaviour long term. Perhaps it would be a good idea if the US was finally jolted into creating a proper healthcare system. Perhaps we should travel less. Perhaps we all do far too much kissing anyway. And certainly an awful lot of people could do worse than to keep washing their hands properly long after Covid-19 is vaccined away. Finally, on the subject of travel, here's a thought: who needs to be physically available or even alive to appear present? See this week's magazine for how, if Whitney Houston can be replaced with hologram, odds are you can be too.
Merryn Somerset Webb started her career in Tokyo at public broadcaster NHK before becoming a Japanese equity broker at what was then Warburgs. She went on to work at SBC and UBS without moving from her desk in Kamiyacho (it was the age of mergers).
After five years in Japan she returned to work in the UK at Paribas. This soon became BNP Paribas. Again, no desk move was required. On leaving the City, Merryn helped The Week magazine with its City pages before becoming the launch editor of MoneyWeek in 2000 and taking on columns first in the Sunday Times and then in 2009 in the Financial Times
Twenty years on, MoneyWeek is the best-selling financial magazine in the UK. Merryn was its Editor in Chief until 2022. She is now a senior columnist at Bloomberg and host of the Merryn Talks Money podcast - but still writes for Moneyweek monthly.
Merryn is also is a non executive director of two investment trusts – BlackRock Throgmorton, and the Murray Income Investment Trust.