The French economy's Macron bubble is bursting
Cheap debt and a luxury boom have flattered the French economy. That streak of luck is running out.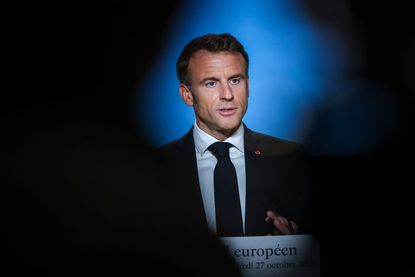 (Image credit: Nicolas Economou/NurPhoto via Getty Images)
Over the last few weeks, the outlook for many French companies has deteriorated dramatically. The Altice empire, put together by billionaire Patrick Drahi, is in big trouble, ensnared in a corruption scandal, and raising emergency cash to stay afloat. Among other assets, its 24.5% stake in BT may have to be sold off, and its shares are down by almost 60% over the past year.

Last week, shares in Worldline, the payments firm that is one of the biggest tech businesses in France, crashed by 60% as it warned about its profits for the year ahead. One of the country's few high-tech champions, even if it dates back to the 1970s, is failing badly.
It's not looking much better at the drinks giant Rémy Cointreau. Over the last few months, its shares have slumped to their lowest level in 15 years due to poor sales amid a slowing global economy. Meanwhile, luxury goods empire LVMH is on the slide, with its shares down by a quarter in the last six months as demand from China slips.
France has been riding an artificial boom
Add it all up and one thing is clear. France is starting to get into trouble and the Emmanuel Macron bubble has started to burst. In the six years that he has now been in power, the hyper-energetic French president has benefited from an artificial boom. France rode the rapid expansion of the Chinese economy better than any other major country. Sure, the Chinese bought some German cars and machine tools, but what its nouveau-riche entrepreneurs really wanted was high-status European luxury goods that allowed them to show off how rich they had become.
Subscribe to MoneyWeek
Subscribe to MoneyWeek today and get your first six magazine issues absolutely FREE
Get 6 issues free
Sign up to Money Morning
Don't miss the latest investment and personal finances news, market analysis, plus money-saving tips with our free twice-daily newsletter
Don't miss the latest investment and personal finances news, market analysis, plus money-saving tips with our free twice-daily newsletter
It was demand from Asia that made LVMH the largest company in Europe and also powered the likes of Hermès and L'Oréal. That generated vast profits, which in turn produced plenty of corporation tax: the state's tax from companies rose by almost 50% over the last decade. But as China slows down, profits certainly won't keep on growing the way they did and those tax revenues will dry up.
Meanwhile, membership of the euro, and the backing of the European Central Bank as it printed vast quantities of new money, has allowed France to run up huge debts. When the euro was launched, France's debt was just 59% of GDP. It is now up to 112%. That worked while interest rates were close to zero, and when the ECB was buying bonds. Investors have simply assumed that France is "too big to fail" within the eurozone and that in a crisis the other member countries will always bail it out, and so will the central bank. Even so, it has now reached the limit of borrowing. Its credit rating has been cut. The IMF is warning that spending needs to be reduced further. Bond yields are rising. If there is a loss of confidence there could be a rapid exit.
Macron's close allies' companies start to unravel
Finally, a select group of tycoons close to the president, such as Drahi, built up debt-fuelled empires that are now starting to unravel. They created an illusion of a dynamic, fast-growing France. But companies that are based on borrowing cheap money are rarely solid. If a few of these close allies crash, it will be hard for the president to escape some of the blame.
Macron has sold himself to the world as a radical reformer. He was the man who would modernise France. True, he has made more progress on shaking up its rigid labour market and burdensome welfare system than his last two predecessors put together. Still, progress has been very slow, and all the grand talk of change has disguised the fact that he has presided over a vast increase in debt and state spending, helped by the luck of a luxury boom and low interest rates.
Through all of this, France remained stuck in a low-growth rut, with little sign of new industries emerging, and only modest reductions in a punishing level of unemployment. The luck has now run out. Money will be very tight over the next few years. With all his political capital burned up on a tweak to the pension laws, Macron has no space for any further reforms. Soon, it will be clear that the bust has arrived – and the French economy will get very messy.
---
This article was first published in MoneyWeek's magazine. Enjoy exclusive early access to news, opinion and analysis from our team of financial experts with a MoneyWeek subscription.
Matthew Lynn is a columnist for Bloomberg, and writes weekly commentary syndicated in papers such as the Daily Telegraph, Die Welt, the Sydney Morning Herald, the South China Morning Post and the Miami Herald. He is also an associate editor of Spectator Business, and a regular contributor to The Spectator. Before that, he worked for the business section of the Sunday Times for ten years.
He has written books on finance and financial topics, including Bust: Greece, The Euro and The Sovereign Debt Crisis and The Long Depression: The Slump of 2008 to 2031. Matthew is also the author of the Death Force series of military thrillers and the founder of Lume Books, an independent publisher.