Eurozone inflation hits 10.7% in October
Inflation across the eurozone hit 10.7% in October. What does it mean for your money?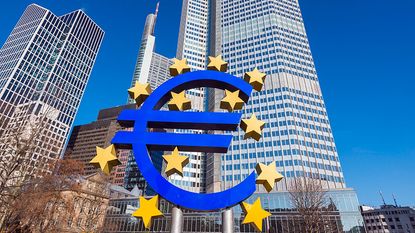 (Image credit: © Getty Images)
Eurozone inflation jumped to a record high of 10.7% in October, outpacing analysts' projections for an increase of 10.2% for the month. We explain what this means for your finances.
Like the UK, the EU is suffering from high energy and food prices following Russia's invasion of Ukraine earlier in the year, which are pushing up prices of goods and services across the board.
Inflation in the UK hit 10.1% in September, rising back into double digits after a slight dip to 9.9% in August.
Subscribe to MoneyWeek
Subscribe to MoneyWeek today and get your first six magazine issues absolutely FREE
Get 6 issues free
Sign up to Money Morning
Don't miss the latest investment and personal finances news, market analysis, plus money-saving tips with our free twice-daily newsletter
Don't miss the latest investment and personal finances news, market analysis, plus money-saving tips with our free twice-daily newsletter
UK inflation figures for October have not yet been published. Nevertheless, they are widely expected to show inflation accelerating again following the increase in the energy price cap.
What is the European Central Bank doing to control Eurozone inflation?
Double-digit inflation is putting a lot of pressure on the European Central Bank (ECB) to continue increasing interest rates.
Here in the UK, the Bank of England has been acting aggressively to raise rates in an attempt to drive down inflation. However, across the Channel, the ECB is having to be more cautious.
The EU is in an incredibly precarious economic position and the central bank is wary of going too far too fast.
But despite these concerns, the ECB has raised its leading interest rate from below 0 to 1.5%. It is expected the bank will unveil another 0.75% hike in December, taking the base rate to 2.25%.
Some analysts believe this could tip the Eurozone into a recession. A recession in the EU would ultimately be bad news for the UK economy as lower demand will have an impact on imports and exports.
A recession may also hurt the value of the euro. This may make it cheaper for holidaymakers and importers, which could be a silver lining.
Will Eurozone inflation have an impact on UK inflation?
Higher inflation in the Eurozone is hardly good news for investors and consumers here in the UK.
It could be seen as a sign of things to come as higher energy and food prices are responsible for most of the increase.
Energy prices across the Eurozone rose by 41.9% in October, from 40.7% the previous month. Meanwhile, the prices of food, alcohol and tobacco rose by 13.1%, up from 11.8% in September,
More worryingly, core inflation, which excludes volatile energy and food prices, rose 5%, up from 4.8% in September. This number suggests that inflation is becoming more entrenched in the economy and is going to become much harder to contain.
What does higher Eurozone inflation mean for you?
Higher Eurozone inflation will ultimately lead to higher interest rates in the rest of Europe. Rising prices may also force the Bank of England to go further with its planned rate rises.
This will be good news for savers who will be earning more money on their cash. However, it will be bad news for borrowers as higher interest rates will increase the cost of borrowing.
If interest rates settle at a higher level here in the UK than in the Eurozone, the pound could strengthen in value against the euro.
That means holidaymakers may be able to get more for their money when travelling to the EU.
A stronger pound may also help reduce inflation here in the UK.
Unfortunately, rising prices across the EU may not mean much for most people in the UK, but it is going to have an effect here.
The EU is the UK's biggest trading partner and higher prices will feed into exports from the region. That might mean higher prices for consumers here in the UK. With wages already lagging behind inflation, it seems negative real wage growth is going to continue.
Remember to get your tickets for the MoneyWeek Wealth Summit hosted by Merryn Somerset Webb, on 25 November 2022! – we've got some brilliant speakers lined up and, given everything that's going on, we'll have an awful lot to talk about.
Book your place now at moneyweekwealthsummit.co.uk
Rupert is the Deputy Digital Editor of MoneyWeek. He has been an active investor since leaving school and has always been fascinated by the world of business and investing.
His style has been heavily influenced by US investors Warren Buffett and Philip Carret. He is always looking for high-quality growth opportunities trading at a reasonable price, preferring cash generative businesses with strong balance sheets over blue-sky growth stocks.
Rupert was a freelance financial journalist for 10 years before moving to MoneyWeek, writing for several UK and international publications aimed at a range of readers, from the first timer to experienced high net wealth individuals and fund managers. During this time he had developed a deep understanding of the financial markets and the factors that influence them.
He has written for the Motley Fool, Gurufocus and ValueWalk among others. Rupert has also founded and managed several businesses, including New York-based hedge fund newsletter, Hidden Value Stocks, written over 20 ebooks and appeared as an expert commentator on the BBC World Service.
He has achieved the CFA UK Certificate in Investment Management, Chartered Institute for Securities & Investment Investment Advice Diploma and Chartered Institute for Securities & Investment Private Client Investment Advice & Management (PCIAM) qualification.