The eurozone takes a big step forward towards fiscal union
The European Union's coronavirus recovery plan and its decision to issue joint debt will change the bloc forever.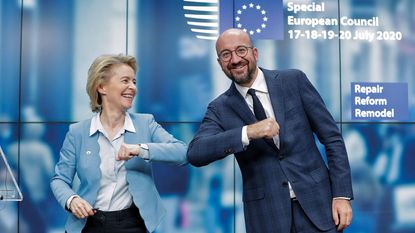 (Image credit: © AFP via Getty Images)
The European Union's recovery plan will "change the bloc forever", says Bernd Riegert for Deutsche Welle. Just months ago, talk of joint debt issuance was "unthinkable", yet this week national leaders agreed to just that as part of a historic €750bn recovery fund.
The plan will see the European Commission borrow on international markets and distribute the funds to the states hardest hit by the pandemic, with €390bn in grants and €360bn in loans. Italy is in line for about €209bn of aid, including €82bn of grants. Spain, Greece and Portugal are also likely to receive substantial help. The Dutch government won an "emergency brake" to ensure that the funds are tied to economic reforms.
A step towards fiscal union
This rescue package "breaks through the fortifications" that have long prevented a "more federal and united EU" from emerging, says Mujtaba Rahman for politico.eu. The creation of the single currency two decades ago was a "federal leap forward" that was not matched by more fiscal solidarity.
Subscribe to MoneyWeek
Subscribe to MoneyWeek today and get your first six magazine issues absolutely FREE
Get 6 issues free
Sign up to Money Morning
Don't miss the latest investment and personal finances news, market analysis, plus money-saving tips with our free twice-daily newsletter
Don't miss the latest investment and personal finances news, market analysis, plus money-saving tips with our free twice-daily newsletter
The result was that when parts of the eurozone fell behind – as happened to Greece after the financial crisis – there were few mechanisms available to remedy imbalances across the currency bloc. This plan starts to fix that structural problem and reduces the risk of a breakup of the eurozone, says Andrew Kenningham of Capital Economics.
The deal falls short of a "Hamiltonian moment", which would have seen the EU assume all member states' debts, says Andreas Billmeier of Western Asset Management. Yet it is still a "very significant milestone". For bond markets, it is not "every day that a top-quality…borrower roughly the size of Germany" suddenly appears in the market.
European equities are due a bounce
With the US so overvalued, investors are turning towards Europe, writes John Authers on Bloomberg. Inflows of American money into European equity exchange-traded funds (ETFs) have been gathering steam of late. The EU's recovery also looks more robust than America's patchy rebound, thanks to its more successful response to the virus. Data from Deutsche Bank and opentable.com shows that US restaurant attendance is down 60% on the year; in Germany it is up 5%.
The US market's long outperformance has been driven by its world-beating tech stocks. Yet that picture is now changing as ever more of the economy goes digital, says Michael Mackenzie in the Financial Times. Tech is now a bigger component than energy on Europe's Stoxx 600 benchmark, while the research-intensive healthcare sector makes up twice as much of the index as banks. It is increasingly possible to invest in "tech on a global basis" and European markets look the safest bet.
There is also talk that we are on the cusp of a "post-dollar era" as global trust in US institutions wanes, says Rana Foroohar, also in the FT. A more integrated eurozone may provide just the "strong alternative to the greenback" that global investors are looking for. "We might be about to see a resurgence of the Old World."