NIESR: 'Squeezed' middle class households now £2,560 a year worse off
Britain will feel like it's in recession even if it isn't after a significant drop in middle-class income - and the poorest households are even worse off.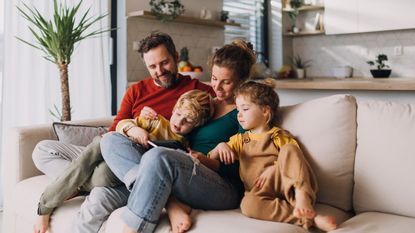 (Image credit: © Getty images)
'Squeezed' middle class households are around £2,560 per year worse off as a result of Covid and the cost of living crisis, a respected think tank has said.
This shortfall represents 8% of their income and comes despite government support such as the Energy Price Guarantee (EPG) and the £400 energy grant.
The National Institute of Economic and Social Research (NIESR) said the distributional shock of the crisis is not the same across all income groups, however, with the UK's poorest households being around £4,000 a year worse off - a shortfall that represents around 25% of their income.
Subscribe to MoneyWeek
Subscribe to MoneyWeek today and get your first six magazine issues absolutely FREE
Get 6 issues free
Sign up to Money Morning
Don't miss the latest investment and personal finances news, market analysis, plus money-saving tips with our free twice-daily newsletter
Don't miss the latest investment and personal finances news, market analysis, plus money-saving tips with our free twice-daily newsletter
NIESR was the first major forecaster to predict that Britain would avoid a recession in February, amid growing optimism across the EU that dire forecasts for 2023 would not come true.
However, all households will still experience a hit to their living standards this year, NIESR warned, driven mostly by low wage growth not offsetting the impact of high food and energy bills along with increased housing costs.
"The UK is likely to avoid a 'technical recession' in 2023. Though, with GDP growth of 0.1% in the first quarter of 2023 relative to the fourth quarter of 2022 and a further 0.3% of growth in the second quarter of 2023, it will feel like a recession for many," NIESR said.
Inflation is expected to remain continually above target, falling gradually from its current double-digit level to reach 5.4% by the end of 2023. "With inflation remaining persistently elevated, we anticipate the MPC will opt for a rate rise to 4. 5% today, with the possibility of a further rise to 4.75% conditional on future inflation developments," it said.
While unemployment was at a historic low, households are still worse off, said Professor Adrian Pabst, deputy director for public policy. "Anaemic, disappointing economic growth equates to falls in disposable income for households despite them working - they are the working poor - and this has been a situation in the making over many years."
Professor Stephen Millard, deputy director for macroeconomic modelling and forecasting points to the need for a credible medium-term plan and commitment to levelling up that would involve borrowing to invest. "Right now we are in a low growth, low investment mindset after years of the political and electoral cycle dictating policy. Debt and deficit could look different if we borrowed to invest."
The think tank recommends increasing spending on public investment to around 3% of GDP over the next five years as opposed to letting it fall to 2.2% of GDP.
"It is our position that a lack of public investment has deepened, and will continue to deepen, the low growth and low productivity traps countrywide as well as exacerbate regional inequalities," it explained
It also recommends unifying the fragmented funding streams so that the promises around 'Levelling Up' can be delivered.
"We continue to argue for the creation of a National Development Bank endowed with around £50bn worth of finance to support investment projects across regions and sectors."
Katie Binns is an award-winning journalist, and former Sunday Times writer where she spent 10 years covering news, culture, travel, personal finance and celebrity interviews. She has also written for the Times, Telegraph, i paper and Woman and Home magazine.
Her investigative work on financial abuse has examined the response of banks, the Financial Ombudsman and the child maintenance service to victims, and resulted in a number of debt and mortgage prisoners being set free.