GDP grows by 0.1% in November
GDP records a 0.1% growth for November, but does this mean the UK may escape a recession?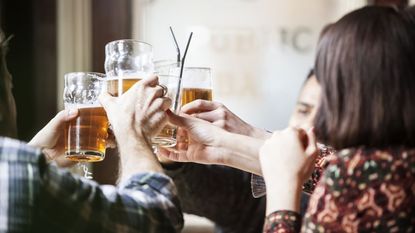 (Image credit: © Getty images)
The UK economy saw an expected growth, with GDP (gross domestic product) estimated to have grown by 0.1% in November.
A key contributor to the rise in GDP, which measures the output of goods and services, was food and beverage services as the FIFA world cup started, according to the Office for National Statistics.
The second largest contribution within services came from information and communication, which grew by 1.7% in November 2022 following growth of 0.8% in October 2022. Telecommunications and computer programming, consultancy and related activities were the largest contributors, with growth of 3.9% and 2.4% respectively.
Subscribe to MoneyWeek
Subscribe to MoneyWeek today and get your first six magazine issues absolutely FREE
Get 6 issues free
Sign up to Money Morning
Don't miss the latest investment and personal finances news, market analysis, plus money-saving tips with our free twice-daily newsletter
Don't miss the latest investment and personal finances news, market analysis, plus money-saving tips with our free twice-daily newsletter
Though the estimated growth does reduce the risk of the UK entering into a recession, looking at the broader picture, GDP fell by 0.3% in the three months to November 2022. And according to analysts, the UK is in recession as it continues to battle with high inflation. And according to the IMF, a third of the world economy will be in recession this year.
Jonathan Moyes, head of investment research, Wealth Club, said: "We have seen retailers report stronger than expected earnings reports for Q4 over the past week, and it appears a stronger than expected consumer services and services more broadly have helped the UK economy defy gloomy expectations.
"It may be too soon to mark the beginning of a turn in sentiment for the UK, but a quiet consensus appears to be forming. Energy prices are falling sharply, China is reopening and interest rate expectations have eased significantly."
Some experts say although the UK may narrowly have escaped recession with marginally better GDP figures, it is still a difficult time for the economy, with the UK chancellor saying that reducing inflation would be key.
Commenting on the latest GDP estimates, chancellor Jeremy Hunt, said the government plans to halve inflation this year, describing it as an "insidious hidden tax which has led to hikes in interest rates and mortgage costs, holding back growth here and around the world".
James McManus, chief investment officer at Nutmeg, added: "While November has delivered marginally better GDP figures than some expected, the broader picture suggests that this is a recession in all but name.
"Last year was a difficult one for households and businesses – inflation swelled to a 40-year high, fuelled by the Russian invasion of Ukraine which caused a surge in global energy prices, and then the Bank of England raised interest rates to 3.5% by the end of the year, in a bid to calm inflation.
"A slowing economy is never pleasant and it will be difficult for individuals and businesses to thrive over the coming months.
"A small glimmer of hope lies in the fact that a recession has been expected for a while, and the ongoing warnings of an impending downtown have enabled some businesses and households to prepare. For example, in December the Office for National Statistics said people hadn't been raiding their savings as much as expected to cope with higher inflation, and that was possibly because they were anticipating tougher times ahead."
Both the Bank of England and the Office for Budgetary Responsibility expect the recession to be shallow, "so for the time being there's no need to fear an all-out economic catastrophe."
Kalpana is an award-winning journalist with extensive experience in financial journalism. She is also the author of Invest Now: The Simple Guide to Boosting Your Finances (Heligo) and children's money book Get to Know Money (DK Books).
Her work includes writing for a number of media outlets, from national papers, magazines to books.
She has written for national papers and well-known women's lifestyle and luxury titles. She was finance editor for Cosmopolitan, Good Housekeeping, Red and Prima.
She started her career at the Financial Times group, covering pensions and investments.
As a money expert, Kalpana is a regular guest on TV and radio – appearances include BBC One's Morning Live, ITV's Eat Well, Save Well, Sky News and more. She was also the resident money expert for the BBC Money 101 podcast .
Kalpana writes a monthly money column for Ideal Home and a weekly one for Woman magazine, alongside a monthly 'Ask Kalpana' column for Woman magazine.
Kalpana also often speaks at events. She is passionate about helping people be better with their money; her particular passion is to educate more people about getting started with investing the right way and promoting financial education.