Why the Edinburgh Fringe festival is a great example of Adam Smith's "invisible hand" in action
The Edinburgh Festival Fringe is the biggest arts festival in the world. But its incredible success isn't down to careful planning, says Dominic Frisby. It's the result of pure self-interest.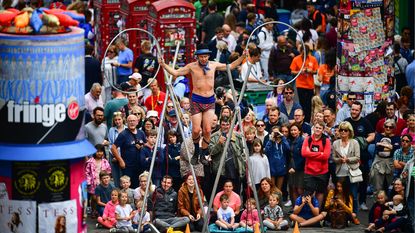 (Image credit: © Jeff J Mitchell/Getty Images)
Anyone who has built up a company or an investment portfolio knows just how long it takes.
Some seem to think that people just become wealthy overnight, but it doesn't work like that.
It takes many years of hard work and incremental growth – 3% one year, 5% another. Perhaps one year you have a really good year and grow by over 20%; another year you take a knock and you shrink.
Subscribe to MoneyWeek
Subscribe to MoneyWeek today and get your first six magazine issues absolutely FREE
Get 6 issues free
Sign up to Money Morning
Don't miss the latest investment and personal finances news, market analysis, plus money-saving tips with our free twice-daily newsletter
Don't miss the latest investment and personal finances news, market analysis, plus money-saving tips with our free twice-daily newsletter
It is the compounded effects of all that incremental growth that enable something to grow really big. As Albert Einstein (apocryphally) said: "Compound interest is the eighth wonder of the world."
I've recently made a film that demonstrates the extraordinary power of incremental gains and compounding, and I'd like to tell you about it today.
It's about an unlikely subject – the Enlightenment philosopher Adam Smith and the Edinburgh Festival Fringe.
It's called Adam Smith: Father of the Fringe.
A brief history of the Edinburgh Fringe
In 2019, the year before it was cancelled, the Fringe sold more tickets than any other event in the world. Four million people from 80% of the world's countries came to a city whose population isn't even half a million. It's an extraordinary economic success story.
And yet the whole thing started by accident. Nobody planned it.
In 1947 an Austrian impresario by the name of Rudolph Bing, who had fled to Britain from the Nazis 13 years earlier, had this idea that he wanted to put on a festival to "heal the wounds of war through the language of the arts".
He looked at various cities around Europe and, despite being warned that the locals were "too dour and too niggardly", settled on Edinburgh.
He raised £30,000 – comprising £20,000 in subsidy and another £10,000 from his friend Lord Roseberry who had won the money on a horse – and so did the first Edinburgh International Festival begin.
On the bill were the likes of Glyndebourne Opera, Sadler's Wells Ballet, the Hallé Orchestra, the Old Vic Theatre, the Vienna Philharmonic. It was pretty highbrow, elitist stuff.
At the time there was a lot of entrepreneurial zeal in Scottish grassroots theatre, and several groups wanted to take part in this inaugural Edinburgh International Festival – a Marxist theatre company from Glasgow, whose aim was to "bring drama of relevance to working people"; some student and amateur groups; a puppeteer from Malvern.
But Bing said no. They weren't good enough, he thought.
But the groups came anyway. They were known as the Uninvited Eight. One group put on their show in the foyer of the cinema, another at the YMCA, one group at Dunfermline Cathedral on the other side of the Firth of Forth.
The following year, nine groups came – a 12.5% increase on the previous year. And every year since, bar three, what would eventually become known as the Fringe has grown – gradually and incrementally.
By the 1970s it had grown bigger than the main International Festival itself.
How self-interest made the Fringe the world's biggest festival
Unlike participants at the "main" Festival, artists didn't get any subsidy. They came off their own bat – either for the love of performing, to get better, to make money, to have fun or, most of all, to get discovered: to get better gigs, to get reviews, to get an agent or a TV show.
Countless artists have made it big thanks to Edinburgh – from Peter Cook, Dudley Moore, Alan Miller and Jonathan Miller with Beyond the Fringe, to Tom Stoppard with Rosencrantz and Guildenstern Are Dead to Steve Coogan, Flight of the Conchords, Miranda Hart and Phoebe Waller-Bridge with Fleabag in recent years. There isn't a known British comedian who hasn't done Edinburgh.
Performers don't come to the Fringe to house the homeless, solve climate change or feed the world's poor. They come to "make it". It is their own self-interest that drives them. But as a result of all that acting in their own self-interest we have this incredible Fringe Festival.
It's pure Adam Smith. As he said, "It is not from the benevolence of the butcher, the brewer, or the baker that we expect our dinner, but from their regard to their own interest."
Smith's idea of the "invisible hand" was that individuals acting in their own interest, without intending to, carry "the society to wealth and prosperity".
"Every individual," he said, "Neither intends to promote the public interest, nor knows how much he is promoting it... he intends only his own security; and by directing that industry in such a manner as its produce may be of the greatest value, he intends only his own gain, and he is in this, as in many other cases, led by an invisible hand to promote an end which was no part of his intention."
This is the dynamic that has taken the Edinburgh Festival Fringe from accidental beginnings in 1947 to such extraordinary heights by 2019, and it's an incredible success story.
Last summer director Alex Webster and I went and shot a film about this – Adam Smith: Father of the Fringe. It was the year the Fringe was cancelled, and we completed it last month. It features Fringe favourites such as Jimmy Carr, Al Murray, Henning Wehn, Shazia Mirza and Arthur Smith, and it's screening as part of this year's Virtual Festival at Panmure House, where Smith lived and completed Wealth of Nations.
Please consider this your invitation to watch the film! I think you'll like it.
Dominic Frisby ("mercurially witty" – the Spectator) is the world's only financial writer and comedian. He is MoneyWeek's main commentator on gold, commodities, currencies and cryptocurrencies. He is the author of the books Bitcoin: the Future of Money? and Life After The State. He also co-wrote the documentary Four Horsemen, and presents the chat show, Stuff That Interests Me.
His show 2016 Let's Talk About Tax was a huge hit at the Edinburgh Festival and Penguin Random House have since commissioned him to write a book on the subject – Daylight Robbery – the past, present and future of tax will be published later this year. His 2018 Edinburgh Festival show, Dominic Frisby's Financial Gameshow, won rave reviews. Dominic was educated at St Paul's School, Manchester University and the Webber-Douglas Academy Of Dramatic Art.
You can follow him on Twitter @dominicfrisby