Artists demand a fair share of the music industry pie
Technology once threatened to destroy the music industry, now it's helping it thrive. But while investors are making a packet, artists says they are not getting their fair share.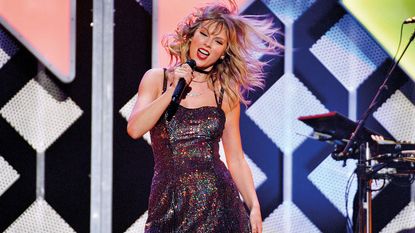 (Image credit: © Getty Images)
What's happened?
Shareholders in the media conglomerate Vivendi have approved plans to spin off Universal Music Group, the world's biggest record label, as a standalone business and list it on the Amsterdam stock exchange in September. Universal accounts for around a 30% slice of the global recorded music market, and its catalogue includes more than three million songs from many of the leading artists of every era, from The Beatles and Queen to Adele, Taylor Swift and Drake. Recently, the label has been making headlines in the financial pages as bidders jostled to build up stakes, including the Chinese giant Tencent (which owns 20%), and rival US hedge-fund billionaires Daniel Loeb and Bill Ackman. The latter's special-purpose acquisition company (Spac) has just bought 10% of Universal for $4.2bn. That values Vivendi at $42bn and suggests that Vivendi was wise to turn down an acquisition offer of $8.5bn from SoftBank in 2013. The scramble for a slice of Universal also reflects the music industry's changing fortunes.
How have they changed?
Famously, the music industry had a torrid time of it in the 2000s as consumers snaffled content for free via file-sharing sites. Sales of physical CDs collapsed, and the nascent digital-download channel failed to make up the difference. Between 1999 and 2014, global revenues shrank by 40%. But since then, it's been a growth story, with recording industry revenues growing by 54% between 2014 and 2020, to $21.6bn. The main driver has been technology. If the growth of the internet destroyed the record companies' old business model, the ubiquity of smartphones facilitated the rise of the now-dominant streaming model, whereby record labels license their content to sites such as Spotify and Apple Music, and consumers mostly "rent" music rather than buy physical (or even digital) copies. In 2017, industry revenues from streaming surpassed sales of physical formats (CDs and the like) and downloads for the first time – and they've continued growing strongly since. In 2020, Spotify paid out $5bn to rights holders (mostly record companies), and YouTube (owned by Google) has paid out $4bn over the past year.
So all is rosy?
Revenues are up, but many recording artists say they're not seeing their fair share. For a few, it's great. Ed Sheeran's Shape of You, the most streamed track of the past decade at 2.3 billion plays, is estimated to have made him $14.6m. But recently the classical violinist Tamsin Little reported that more than five million Spotify streams from albums she recorded in the 1990s had earned her £12.34. Paul Weller revealed in April that more than three million streams of his latest record, On Sunset, had made him £9,500 since its launch last July. According to Spotify's figures, only 13,400 artists' catalogues made more than $50,000 from the site last year (which is at least a jump from 7,300 in 2017). Only 7,800 artists worldwide made more than $100,000, and only 870 made more than $1,000,000. But these are not the sums received by artists; they are the sums paid to rights-holders who then pay on a slice to the artists depending on their contracts.
Subscribe to MoneyWeek
Subscribe to MoneyWeek today and get your first six magazine issues absolutely FREE
Get 6 issues free
Sign up to Money Morning
Don't miss the latest investment and personal finances news, market analysis, plus money-saving tips with our free twice-daily newsletter
Don't miss the latest investment and personal finances news, market analysis, plus money-saving tips with our free twice-daily newsletter
So what do artists want?
The biggest gripes are (a) the opaque algorithms used by the streamers, which skew earnings towards the biggest artists; and (b) the fact that while performers take home about 50% of radio revenues, with streaming services that falls to about 15%. These complaints are levelled not just by lower-earners, but by the very biggest artists. This spring more than 150 of the top-selling names in British music signed letters urging government intervention to level the playing field and update the law in line with technological change. These included Paul McCartney, The Rolling Stones, Kate Bush, Tom Jones and members of Coldplay, Led Zeppelin and One Direction. The government is currently working on a response.
How did streaming change the industry?
In the age of Spotify, it's easy to consume songs via playlists without even knowing the name of the artist. That tilts power away from performers and towards songwriters. It has also made it harder than ever to break new acts and for artists to build long-term fan bases – both trends that raise questions over long-term revenue streams in the industry as the streaming model matures. At the same time, it has delivered lucrative new revenue streams for legacy acts, as new generations of listeners decide that the old songs really are the best. All these developments, together with the pandemic-related collapse in touring revenues (nowadays the main income stream for most artists), have also encouraged another music industry revolution: the moves by a growing number of big-name acts to sell off their back catalogues to investors.
How does that work?
"The industry has changed in the last 24 months because of one company," reckons Mathew Knowles, the music executive and father of Beyoncé. London-based Hipgnosis Songs Fund – run by Merck Mercuriadis, an ex-manager of Elton John and Beyoncé, and co-founded by Nile Rodgers – has spent $1bn (£723m) on evergreen hit songs over the past year, buying the rights to 84 song catalogues from artists ranging from Neil Young to Shakira. It takes the total spent since it listed in 2018 to $2bn on 65,000 songs. Mercuriadis says that the pandemic accelerated consumption of classic songs through streaming. Now 60% of the songs it owns are more than ten years old – a big rise from the 32.5% slice in March 2020. Investors currently get a respectable 4.22% dividend, but should note that just 2% of its songs have provided 80% of its profits. Hipgnosis is essentially a way of buying into the future of songs through royalty rights, but as an asset class it's new and unproven. Similar vehicles include Round Hill Music (which has spent around $650m), Primary Wave and Concord.
Simon Wilson's first career was in book publishing, as an economics editor at Routledge, and as a publisher of non-fiction at Random House, specialising in popular business and management books. While there, he published Customers.com, a bestselling classic of the early days of e-commerce, and The Money or Your Life: Reuniting Work and Joy, an inspirational book that helped inspire its publisher towards a post-corporate, portfolio life.
Since 2001, he has been a writer for MoneyWeek, a financial copywriter, and a long-time contributing editor at The Week. Simon also works as an actor and corporate trainer; current and past clients include investment banks, the Bank of England, the UK government, several Magic Circle law firms and all of the Big Four accountancy firms. He has a degree in languages (German and Spanish) and social and political sciences from the University of Cambridge.