Currency Corner: As Britain leaves the EU, what lies ahead for the pound?
On Brexit Day, there's only one currency pair to look at, says Dominic Frisby – the pound and the euro. Will sterling continue to strengthen, or will the euro rebound?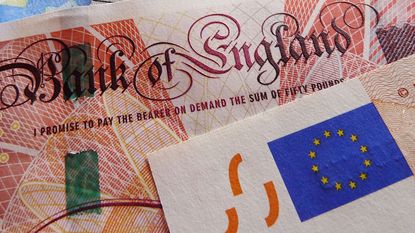 (Image credit: 2016 Jim Dyson)
Editor's note: A quick note before we start today – we'd love to get your opinion on MoneyWeek magazine, Money Morning and the website. I'd really appreciate it if you could take ten minutes to fill in a short survey – it'll help us to focus our efforts on making sure that MoneyWeek delivers exactly what you need when it comes to managing your money.
As today is the day that Great Britain and the European Union formally "part company", there's only one currency pair I can really look at today and that's the pound and the euro.
Instead of looking at GBP/EUR, which shows how many euros there are to the pound, and is the way in which the pair is usually quoted, I thought I'd flip it and look at EURGBP. That is, how many pounds there are to the euro. Currently EUR/GBP stands at £0.84. It takes 84p to buy a euro.It's amazing to think that back in 2000 at one point, you could buy a euro for just 56p.
Subscribe to MoneyWeek
Subscribe to MoneyWeek today and get your first six magazine issues absolutely FREE
Get 6 issues free
Sign up to Money Morning
Don't miss the latest investment and personal finances news, market analysis, plus money-saving tips with our free twice-daily newsletter
Don't miss the latest investment and personal finances news, market analysis, plus money-saving tips with our free twice-daily newsletter
I had a job that took me out to France once a fortnight at the time, and I remember marvelling at how cheap – if that's the right word – Omega and Ebel watches were. Not today. In late 2008, however, the pair almost reached parity. A euro cost 98p.
So that's the long term range – 56p to 98p. For some reason, I find the pair easier to consider this way round.
The peak of post-referendum-vote-cock-up of course, at least as far as sterling is concerned, came in October 2016, with then-Prime Minister Theresa May's conference speech and the infamous Flash Crash. EUR/GBP went to 94p. We retested that level in the first part of 2019 at 93p, and sterling has been strengthening ever since. Today at 84p we are at at 30-month highs (barring election night madness).
When this chart is falling, sterling is strengthening – it takes fewer pennies to buy a euro. We now have a clear triple top in place. The lower end of the three-year range (83-93p) is being re-tested. The current direction of travel – the trend – is clear. It's lower. Confirmation will be a break below 83p, a break below that range – but this one could be heading towards the low 70s over the next 12 months or so.
Will the euro rebound, or will sterling continue to strengthen?
Going long the euro here against the pound would be fighting the trend. That said, a range trader might take the view that the bottom end of the range at 83p will hold, and that the euro will strengthen against the pound.
We are betting on trade deals, monetary policy, political machinations, whether Brexit will work, and much more besides. But strip all that out and just focus on the technicals and we have a simple situation. The trend is down. Is that range going to hold, or post Brexit, is the pound going to return to more historical normal levels against the euro?
I don't see us going back to the heady 2000-days of 56p buying you a euro I must say. Nor do I see us going back to the crisis levels, where a euro would cost you more than 90p. But I do see a return to more "normal" levels in the middle of that range – in the low 70s – as a distinct possibility, a likelihood even.
The currency markets are like an ongoing commentary of political and economic activity. As Britain determines its economic destiny over the next six months through the deals it forges and the decisions it makes, the forex markets will deliver their verdict.
Some like a weak currency because it boosts exports, but ultimately a strong currency is a sign of good governance, and a weak currency of bad. If you need proof, just look at Switzerland or Singapore compared to Argentina, Venezuela or Turkey.
How well or badly is Brexit working? Are Boris Johnson and his government making the right decisions? The pound will be a guide. And was it the right decision to leave the EU? Often the market's view on that question can be seen in EUR/GBP.
• Dominic's new book Daylight Robbery: How Tax Shaped Our Past And Will Change Our Future, published by Penguin Business, is available at Amazon and all good bookshops. Audiobook at Audible.co.uk. Signed copies are available at dominicfrisby.com
Dominic Frisby ("mercurially witty" – the Spectator) is the world's only financial writer and comedian. He is MoneyWeek's main commentator on gold, commodities, currencies and cryptocurrencies. He is the author of the books Bitcoin: the Future of Money? and Life After The State. He also co-wrote the documentary Four Horsemen, and presents the chat show, Stuff That Interests Me.
His show 2016 Let's Talk About Tax was a huge hit at the Edinburgh Festival and Penguin Random House have since commissioned him to write a book on the subject – Daylight Robbery – the past, present and future of tax will be published later this year. His 2018 Edinburgh Festival show, Dominic Frisby's Financial Gameshow, won rave reviews. Dominic was educated at St Paul's School, Manchester University and the Webber-Douglas Academy Of Dramatic Art.
You can follow him on Twitter @dominicfrisby