10 ways to cut car insurance premiums
With car insurance costs hitting a record high, here are 10 ways to cut your premiums and save you money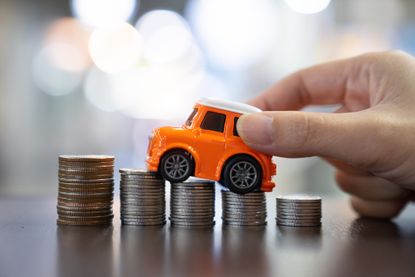 (Image credit: krisanapong detraphiphat)
It's no surprise we all want to cut our car insurance premiums - costs have soared over the past year due to inflation, and the expense can be a painful strain on our wallets. But there are a number of ways to find savings.
According to comparison site Compare the Market, the typical car insurance premium has risen 49% year-on-year to reach £848. This is a £278 increase since September 2022.
Another car insurance price index, measured by Consumer Intelligence, shows that premiums in the UK have skyrocketed, with a record 61% increase in the year to August 2023.
Subscribe to MoneyWeek
Subscribe to MoneyWeek today and get your first six magazine issues absolutely FREE
Get 6 issues free
Sign up to Money Morning
Don't miss the latest investment and personal finances news, market analysis, plus money-saving tips with our free twice-daily newsletter
Don't miss the latest investment and personal finances news, market analysis, plus money-saving tips with our free twice-daily newsletter
The big jump in the cost of car insurance is partly down to a rise in the cost of claims for insurers. Inflation has impacted many areas of the motor repair industry including the cost of spare parts, energy and hiring specialist mechanics.
As such, getting the best deal possible is important. Here are 10 ways you can cut your motor insurance premium, potentially saving you hundreds of pounds over the course of a year.
1. Pick the right level of cover to cut car insurance premiums
Insurance is essential to drive in the UK, but there are varying levels of coverage. Depending on your needs, you may be able to get a cheaper deal with a different form of cover, but it is essential to determine what kind of cover you need. Here's a breakdown:
Comprehensive: Comprehensive car insurance is the highest level of cover available. A comprehensive policy covers you, your car, other people, and their property, meaning the policy has your back in any eventuality.


Third party, fire and theft: This form of policy will not protect you or your car in an accident that was your fault, unlike comprehensive cover. But as the name suggests, it will cover fire damage, theft or attempted theft. Passengers are protected under the policy, plus any people or property that may be affected by an accident that you are responsible for.


Third party: This is the minimum level of cover required to drive in the UK. This form of cover does not allow you to claim for any damage to your own car or person but does cover damage to other cars and property.
The assumption here is that third-party cover is the cheapest, but that is not always the case, as the cost of coverage depends on a huge range of factors, from what you drive, and how you drive it, to your age, occupation and where you live.
The reason for this is those with third-party coverage tend to lodge more claims or those with older cars who aren't too worried about damages. So, if you have a car you're keen to look after, comprehensive cover may offer you better protection at a price comparable to third-party insurance.
2. Consider black box insurance
Commonly associated with new and younger drivers, black box policies, sometimes called telematics, will see your insurer mount a small device to your car. Often used in conjunction with an app, the black box monitors how you are driving, including your speed, how sharply you use the brakes and what time of day you tend to travel.
According to comparison site Moneysupermarket, those aged between 20 to 24 years can save around £132 annually on average with black box insurance, and those aged 25 to 29 years can save around £120.
The thinking behind it is it encourages drivers to be more careful and cautious, thereby reducing risks on the road. These policies tend to get cheaper over time - the more careful you are, the more your premiums will drop.
3. Protect your no-claims bonus
You can save around 60% of your car insurance costs by maximising your no-claims discount. This is a deduction given to you by your insurer for every year where you don't lodge a claim. But of course, accidents happen and it can take a long time to build up the bonus. That's what many insurers offer to protect your no-claims bonus for a fee in the form of a small additional premium.
4. Pay upfront to avoid paying interest
If you are able to, paying your car insurance annually in one go is almost guaranteed to be cheaper than spreading the cost of it over 12 months. When you agree to pay in monthly installments, you are in essence taking out a loan (with interest added) from the insurer. The amount you can save varies from provider to provider, but somewhere between a 10-20% saving can be expected.
5. Never auto-renew
Auto-renewing is one of the ways you may be missing out on a deal. While it may seem like you're saving time and hassle by sticking with the same insurer, you forgo the chance to shop around for better offers and prices. So long as your fixed-term deal is nearing its end you are free to shop around and switch to another provider. You could always see if your current provider will match an offer from elsewhere too. You can shop around for the cheapest quotes on our sister site Go.Compare.
6. Cut back on extras you're not using…
Some policies include extras that you may not need but are paying for. For example, you may no longer need European cover or windscreen cover - two common add-ons that can bump up the price of your policy. When it comes to renewing your coverage, take a look at what you're actually paying for and try to get rid of any extras you aren't using.
7. … or get them cheaper elsewhere
On the same lines, see if you can get your add-ons for cheaper elsewhere. For example, you can get a specific policy to cover any damage to your windscreen. This could be cheaper than getting it as part of a bundle with your motor insurance.
The same is true for add-ons like legal assistance and courtesy car cover. It is well worth shopping around to see if there's a cheaper deal out there.
8. Make your car more secure
Improving the security of your vehicle could encourage insurers to offer you a better rate. Steering locks and immobilisers are two of the most common ways of deterring thieves, and while both come at a cost, the expense of fitting security updates could be worth it should your insurer decide to reduce your premiums as a result.
Your location also affects how much you pay for your car insurance - this includes what city you live in and where you park your car. If you have a garage or driveway, your car insurance is likely to go down a little, as it is deemed as a 'safe space' to park a car. But, of course, you should always be truthful when telling your insurance where you live.
9. Take an advanced driving course
Pass Plus is an optional course drivers can take to get a discount on your insurance with some providers. While it's typically meant for young and inexperienced drivers, there's no reason why you can't take advantage of the potential savings on offer.

Some insurers will take the course into account when setting the cost of your coverage, but not all will. It's worth getting in touch with your provider to see if the cost of taking the course will be worth the discount you receive.
10. Renew at the right time
29 days before the policy start date seems to be the best time to buy a new policy as you can 'lock in' the price you're quoted on that day. The reason is the price tends to increase the closer you get to your renewal date. The sharpest rise tends to be between five and three days before the end of your policy, so steer clear of taking out new coverage during that window.
Another reason why it's great to lock in a price early is that insurers can change their prices at any time, and for seemingly no reason. You may be searching a price comparison site one day, see a good offer and go back to claim it a few days later to find the price has been hiked.
To avoid this, be prepared to jump on a deal as soon as you see it - it could save you money down the road.
Vaishali graduated in journalism from Leeds University and she has experience working with the likes of Leicester Mercury, Inews and The Week. She also comes from a marketing background, where she has done copywriting and content creation for businesses.
Currently writing about all things personal finance, Vaishali is passionate about finding the best deals around, whether it's the best credit cards or the cheapest personal loans, as well as sharing top money hacks to help people save and better manage their money.
With contributions from