Revealed: The job titles that will spike your insurance costs
When it comes to the cost of your car insurance, job titles matter. We reveal the ones that could potentially add hundreds to the cost of your policy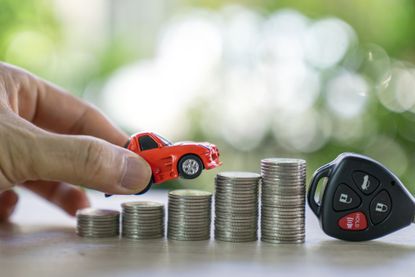 (Image credit: krisanapong detraphiphat)
With car insurance costs going up, you may be looking at how to keep costs low.
Recent figures from CompareTheMarket suggest that the cost of car insurance for typical drivers has risen by 49% to a typical £848 over the last 12 months. But did you know that your job title could in fact be adding hundreds of extra pounds to your policy?
Traders and mechanics face paying hundreds more for their car insurance than people in other jobs, research shows.
Subscribe to MoneyWeek
Subscribe to MoneyWeek today and get your first six magazine issues absolutely FREE
Get 6 issues free
Sign up to Money Morning
Don't miss the latest investment and personal finances news, market analysis, plus money-saving tips with our free twice-daily newsletter
Don't miss the latest investment and personal finances news, market analysis, plus money-saving tips with our free twice-daily newsletter
Your job title is one of many factors that influence how much you will pay for your car cover. We look at what job titles could be costing you extra and identify legitimate ways to cut the cost of your cover, without falling foul of your insurer.
Which job titles cause the biggest spike in car insurance premiums?
A new study from Vanarama, part of the Auto Trader group, analysed car insurance quotes for 100 different job titles. In each case everything about the driver was the same, with only the job role changing, while MoneySuperMarket was used to collect the car insurance quotes.
These are job roles that came up with the highest and lowest car insurance premium quotes:
Swipe to scroll horizontally
| Job title | Premium for 2024 | Increase from 2023 | Job title | Premium for 2024 | Change from 2023 |
| --- | --- | --- | --- | --- | --- |
| Trader | £744.02 | £269.88 | Design engineer | £550.98 | £140.75 |
| Mechanic | £728.26 | £274.82 | Chef | £549.06 | £74.98 |
| Graphic designer | £711.96 | £283.16 | Accounts assistant | £546.90 | £118.10 |
| Web designer | £696.97 | £284.39 | Accountant | £546.90 | £136.67 |
| Web developer | £696.97 | £284.39 | Quantity surveyor | £544.91 | £134.68 |
| Programmer | £696.97 | £284.39 | Finance manager | £544.91 | £104.39 |
| Developer | £696.97 | £284.39 | Business analyst | £544.91 | £116.11 |
| Designer | £672.90 | £232.38 | Financial analyst | £544.91 | £128.08 |
| Journalist | £662.09 | £202.44 | Assistant teacher | £542.80 | £114 |
| Driver | £662.09 | £240.33 | HR manager | £529.16 | £93.89 |
In percentage terms, it's graphic designers that have seen the biggest increase on a year ago. Their premiums have grown by 66% over the year, though it is traders that have the largest premiums overall.
At the other end of the scale, those working in HR have the lowest overall price, and saw the smallest increase year-on-year.
Tweaking your job title (legally)
When you are arranging car insurance, it can be worthwhile to tweak the job title that you enter. For many jobs there will be a wide range of similar options ‒ for journalists for example, you may be offered the chance to select editor or writer for example.
Try this online tool from comparison site MoneySavingExpert to see of you can use an alternative job title and slash hundreds off your policy costs.
Doing this can mean that you secure a cheaper car insurance policy, so it's a good idea to test the quotes you get from different ‒ albeit similar sounding ‒ job titles.
However, it's important to be really careful when doing this. It's crucial that the job title on your car insurance policy is accurate for your role, otherwise this can invalidate your cover. As a result, in the event that you try to make a claim you may find that you are left having to pay the cost of repairs entirely out of your own pocket.
There's a further financial impact too, since you will need to declare that you have had an insurance policy voided when arranging other financial products in the future. This can mean they are more expensive, or even lead to financial firms declining your application altogether.
Beyond playing around with different job titles, there are many other ways to reduce the cost of your car insurance, such as shopping around for your policy, improving the security of your vehicle and even timing it right when looking for a quote.
Why your job title impacts your car insurance premium
With all forms of insurance, the underwriters essentially work out how likely it is that you are going to need to make a claim against your policy. The more likely the insurer feels you are to make a claim, the higher your premium costs will then be.
There are all sorts of different factors that play a part here too. Obviously the car itself and your record as a driver will be crucial ones. For example, if you have been in a handful of accidents over the last few years then your costs will be higher, since it suggests you are less careful behind the wheel, while certain vehicles tend to be targeted more by thieves and vandals.
However, there are other less obvious factors that impact your 'risk' level, including your job title.
The thinking is that certain job titles suggest you spend more time on the road, or more time driving during rush hour, which can increase the chances of you being caught up in an accident and therefore needing to make a claim.
Equally, insurers will analyse claims data to see which policyholders are most likely to make a claim, and whether there are any trends when it comes to job roles.
John Fitzsimons has been writing about finance since 2007, and is a former editor of Mortgage Solutions and loveMONEY. Since going freelance in 2016 he has written for publications including The Sunday Times, The Mirror, The Sun, The Daily Mail and Forbes, and is committed to helping readers make more informed decisions about their money.