Short this burger chain – it's absurdly overpriced
Shake Shack, the premium-burger restaurant chain, looks lacklustre and absurdly overpriced. Matthew Partridge explains how to short it.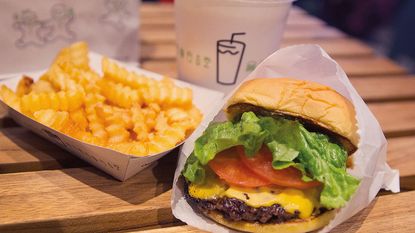 (Image credit: 2015 Getty Images)
Investing in the restaurant sector can prove perilous. Not only is it prone to sudden shifts in fashion and taste, but the low barriers to entry (it isn't hard to set up a food outlet) also mean that there is always intense competition, pushing down margins.
While a few mega-chains such as McDonald's and Domino's Pizza have managed to strike it rich, stockmarket history is littered with restaurant companies that rocketed briefly before falling back to earth. One example is Shake Shack (NYSE: SHAK). Having risen from around $30 three years ago to a peak of over $100 last September, the company has now fallen back to just under $60 – and there could be more to come.
Shake Shack has clearly come a long way from its origins as a single hot-dog cart in New York in 2001. It has restaurants in 249 locations, including 12 in Britain. Between 2014 and 2019 sales rose fivefold, from $119m to $595m. Earnings per share went up tenfold in the same period. However, growth is now expected to slow down to under 20% a year between 2019 and 2021, still impressive but not quite the blistering pace that investors have been accustomed to.
Subscribe to MoneyWeek
Subscribe to MoneyWeek today and get your first six magazine issues absolutely FREE
Get 6 issues free
Sign up to Money Morning
Don't miss the latest investment and personal finances news, market analysis, plus money-saving tips with our free twice-daily newsletter
Don't miss the latest investment and personal finances news, market analysis, plus money-saving tips with our free twice-daily newsletter
Sales at Shake Shack have slowed sharply
A particularly worrying sign is that same-store growth, one of the key measures of how a chain is doing (it strips out new openings) has fallen from 10% a few years ago to 2%. And in the last quarter same-store sales actually fell (though they are still growing on a year-on-year basis). Shake Shack's return on capital expenditure, a key measure of how efficiently it is using its money, isn't impressive either, running at a low 3%. This all suggests that it is finding it hard to compete in the crowded premium-burger chain market, especially since there are other brands out there such as Five Guys.
Despite all these problems, Shake Shack is valued at 97 times expected 2021 earnings, the sort of valuation typical for an internet start-up, not a restaurant chain. Given that both McDonald's and Starbucks trade at 21 times 2021 earnings, this suggests that Shake Shack will need to expand its earnings roughly fivefold to justify its price.
I visited a Shake Shack restaurant recently and didn't find the food particularly tasty or distinctive. It's also important to note that the fast-food industry may be hit by the long-term shift from eating out to takeaways (though Shake Shack does have a partnership with food-delivery platform Grubhub).With Shake Shack's stock now down by over 40% from its 52-week peak and well below both the 50 and 100-day moving averages, it looks as though it has plenty of negative momentum behind it. I suggest you short it at the current price of $56.66 at £60 per $1, covering your position if it rises above $73, giving you a potential downside of £981.
Trading techniques... short football sponsors?
Many football teams are sponsored by gambling companies, fuelling fears of problem gambling. However, some people argue that it's the companies' shareholders who should be worried: the firms involved in high-profile football-shirt sponsorship deals have a nasty habit of going bust. During the financial crisis, Newcastle and Manchester United's respective sponsors, Northern Rock and AIG, both collapsed. West Ham briefly had to play with blank shirts after the privately owned XL Leisure Group went bankrupt.
There's a certain logic to this argument. Shirt sponsorship isn't the most efficient way to target an audience (especially for firms that promote services most spectators are unlikely to use, such as foreign-exchange broking). As a result, these firms are either extremely optimistic about their prospects, or more concerned with prestige than the bottom line, neither of which bode well for those who own shares in them . So shirt sponsorship could be a contrarian indicator. But a thorough 2011 study scotches this idea. Oleksii Khvastunov of the Kyiv School of Economics examined shirt-sponsorship deals in the English Premier League and German Bundesliga between 1998 and 2011. He says that sponsorship had no connection to the stock price of the advertiser and couldn't even be used as a contrarian indicator. Financial companies actually increased their football sponsorship after the crash. Still, another study by Dong Lou of the London School of Economics in 2014 found that advertising spending tended temporarily to boost the share prices of the companies involved, only for their shares to lag the market subsequently.
How my tips have fared
The past fortnight has not been kind to my long tips due to the coronavirus-related chaos in the markets. All eight declined. Drug company Bausch Health Companies has slipped from $27.74 to $24.09 and car manufacturer Volkswagen has declined from €172 to €153. Builder Taylor Wimpey has slipped from 232p to 208p. Recycling firm DS Smith has also retreated, from 358p to 322p. National Express fell from 442p to 415p and United Rentals fell from $153 to $132.
Builder Bellway fell to 3,784p, while storage firm Safestore dropped to 784p. Since this was below the stop-loss levels of 4,000p and 800p respectively, both positions have been automatically closed, taking profits of £1,782 on Bellway and £932 on Safestore. Even counting those two tips, the profit on the seven long tips has shrunk to just £1,638 – down from £4,819.
The silver lining from all the market chaos is that all four short tips have also fallen. Ride hailing service Uber has gone down from $39.66 to $33.38 and retailer Wayfair has declined from $82.60 to $62.88.
Aircraft manufacturer Boeing has fallen from $338.37 to $287.40, while tobacco company PMI (Philip Morris International) has slipped from $88.50 to $85.41. As a result, my four short tips are now making a total profit of £1,914.
The closure of the two oldest long positions, combined with the new Shake Shack short, has balanced the portfolio. We now have six long tips (Bausch Health Companies, Volkswagen, Taylor Wimpey, DS Smith, National Express and United Rentals) and five shorts (Uber, Wayfair, PMI, Boeing and Shake Shack), which sounds about right. Given that it's been nearly six months since we tipped Volkswagen, I'll be looking to close it down soon unless it sharply bounces back.
Matthew graduated from the University of Durham in 2004; he then gained an MSc, followed by a PhD at the London School of Economics.
He has previously written for a wide range of publications, including the Guardian and the Economist, and also helped to run a newsletter on terrorism. He has spent time at Lehman Brothers, Citigroup and the consultancy Lombard Street Research.
Matthew is the author of Superinvestors: Lessons from the greatest investors in history, published by Harriman House, which has been translated into several languages. His second book, Investing Explained: The Accessible Guide to Building an Investment Portfolio, is published by Kogan Page.
As senior writer, he writes the shares and politics & economics pages, as well as weekly Blowing It and Great Frauds in History columns He also writes a fortnightly reviews page and trading tips, as well as regular cover stories and multi-page investment focus features.
Follow Matthew on Twitter: @DrMatthewPartri