Trading: catch this coach company
Bus and coach operator National Express has expanded into promising markets abroad – and it looks cheap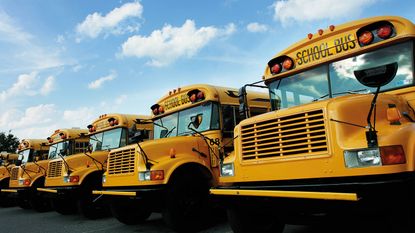 (Image credit: billnoll)
Sometimes the best opportunities come in sectors that sound desperately dull. Take buses and coaches, probably the least exciting form of transport as they are slower than planes and railways and lack the high-tech glamour of ridesharing services. However, they are ideal for short and mid-length journeys since they are cheap, while they are also more environmentally friendly than some other forms of transport. And as far as operators are concerned, they don't require much capital investment. One of the most attractive coach companies is National Express (LSE: NEX).
National Express is best known for its intercity coach services in Britain, where it accounts for 60% of the scheduled coach-service market; it also operates local buses outside London. In recent years, however, it has moved stealthily into other markets. It now gets 40% of its revenue from the United States, with the UK only in third place behind Spain. Similarly, it gets half its revenue from contract services, notably the lucrative market for operating school buses in the US. This expansion has enabled it to grow its revenue at an annual rate of 7.1% and its earnings per share by 11.4% a year over the past five years.
National Express: a highly profitable operation
While the barriers to entry for potential rivals in bus services are low, National Express has above-average profit margins, which should not only help protect it from any competition but also see it gain market share. National Express also boasts a strong return on capital expenditure of around 12.4%. This enables it to generate large amounts of cash flow that can be returned to shareholders in the form of a dividend and used to expand the business further through intelligent acquisitions. National Express made several investments last year, notably the purchase of a 60% stake in America's WeDriveU.
Subscribe to MoneyWeek
Subscribe to MoneyWeek today and get your first six magazine issues absolutely FREE
Get 6 issues free
Sign up to Money Morning
Don't miss the latest investment and personal finances news, market analysis, plus money-saving tips with our free twice-daily newsletter
Don't miss the latest investment and personal finances news, market analysis, plus money-saving tips with our free twice-daily newsletter
WeDriveU focuses on the fast-growing employers' shuttle market, with companies, universities and hospitals eager to help their workers, students and patients overcome increasingly crowded roads and poor public-transport services. Already WeDriveU has contracts with an array of technology firms, including Netflix, Stanford Research Park and LinkedIn. As of last September, it had seven million passengers a year, up from 6.1 million at the end of 2018, and has plans for further expansion in the coming year.
Despite these strong growth prospects and proven record of success, National Express isn't that expensive. It is on 12.9 times 2020 earnings, with a dividend yield of 3.5%. Momentum investors will also like the fact that the share price is very close to its 52-week high. I suggest you go long at the current price of 473p at £8 per 1p (compared with IG Index's minimum of £1 per 1p). Set a stop-loss of 353p, giving you potential downside of £960.
Trading techniques: buy share buybacks
Companies are increasingly returning cash to shareholders by buying back shares rather than paying dividends. US firms spent $900bn on buybacks in 2018 alone. Buybacks bolster the share price and raise earnings per share, even if a company's underlying profits aren't growing, since there will be fewer shares on the market.
However, critics of this practice argue that dividends give shareholders more choice over what they can do with their money. They can use the money to purchase shares if they want to, while firms risk wasting money if their shares are already overvalued.
Despite the criticism of share buybacks, they seem to have a positive effect for shareholders in both the short and medium term. A study by the investment firm Two Sigma covering 9,698 buyback announcements in firms in America's Russell 3,000 index between 1 January 1998 and 30 April 2019 found that if you bought immediately after the announcement and held onto the share for up to six months, you would make a market-beating return on your investment. Even if you waited for a month after the announcement you would still beat the index.
Two Sigma also found that the stocks of firms that buy back shares tend to do badly in the six months before the buyback announcement, with the optimum time to buy one month before the news. Someone buying six months before the buyback announcement and selling on the day would have lagged the market by 3%. This suggests that firms often use buybacks as a defensive measure and to signal to the market that they think that their shares are undervalued.
Matthew graduated from the University of Durham in 2004; he then gained an MSc, followed by a PhD at the London School of Economics.
He has previously written for a wide range of publications, including the Guardian and the Economist, and also helped to run a newsletter on terrorism. He has spent time at Lehman Brothers, Citigroup and the consultancy Lombard Street Research.
Matthew is the author of Superinvestors: Lessons from the greatest investors in history, published by Harriman House, which has been translated into several languages. His second book, Investing Explained: The Accessible Guide to Building an Investment Portfolio, is published by Kogan Page.
As senior writer, he writes the shares and politics & economics pages, as well as weekly Blowing It and Great Frauds in History columns He also writes a fortnightly reviews page and trading tips, as well as regular cover stories and multi-page investment focus features.
Follow Matthew on Twitter: @DrMatthewPartri