Rates on Cash ISAs at their highest since 2009
If you're looking to hold to some cash savings then now could the time to snap up a cash ISA as providers bump up their rates to the highest level since seen since 2009.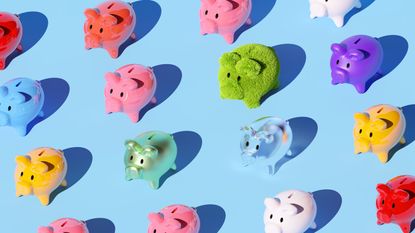 (Image credit: © Getty Images)
Savers looking to secure the best cash ISA can currently benefit from the highest rates on easy access and notice ISAs since 2009.
Research from Moneyfacts shows there are now more ISAs available than at any time since 2009 as competition heats up ahead of the new tax year and rates are much higher than what we have seen in previous years.
Cash ISA rates have rebounded thanks to rising competition in the sector and the Bank of England's interest rate rises. The average rate for a cash ISA is currently 1.96%, according to Moneyfacts, but you could get as much as 3% if you shop around.
Subscribe to MoneyWeek
Subscribe to MoneyWeek today and get your first six magazine issues absolutely FREE
Get 6 issues free
Sign up to Money Morning
Don't miss the latest investment and personal finances news, market analysis, plus money-saving tips with our free twice-daily newsletter
Don't miss the latest investment and personal finances news, market analysis, plus money-saving tips with our free twice-daily newsletter
While providers are under no obligation to pass rising rates on to savers, the rates on both ISAs and savings accounts have made a comeback over the last year.
So whether you're looking to start saving into an ISA or have your money sitting in an ISA with a low rate, now could be the time to move your money.
Where to find the best ISA rates
While many savers opt for major high street banks, their rates on offer "remain pretty dismal – well below 1% for those with typical sums to invest", says Sarah Coles, head of personal finance at Hargreaves Lansdown. You're more likely to find the best rate with online providers - we list the best rates available in our article on - the best cash ISA rates.
"Meanwhile, at the top of the best-buy tables, rates have pushed over 3%, so anyone with a cash ISA from a high street giant may well choose to vote with their feet."
According to Moneyfacts the average cash ISA rate returned 1.71% between February 2022 and February 2023, up from 0.51% the year before.
Cynergy Bank's Online ISA offers a rate of 3.05%, while Shawbrook Bank's Easy Access ISA offers a rate of 3.01%.
Fixed-rate ISAs tend to offer better rates than easy access ones, but you have to be willing to lock your cash away for anywhere between one to five years so this might not be the best product for those looking to store away their rainy day fund.
Shawbrook Bank's 1 Year Fixed ISA offers a rate of 4.06%, and Barclays' 1 Year flexible cash ISA offers a rate of 4%.
"If you're planning on fixing your ISA savings, you may be tempted to wait to see whether the ISA season produces better deals – especially if the Bank of England raises rates in March," says Coles.
Markets were previously pricing in a 0.25% rise to the base rate, though they are now expecting a hike of as much as 0.5% as inflation remains in the double digits. This has been largely priced in though, so it's unlikely providers will make major changes to their rates after the next base rate announcement.
"We definitely expect banks to keep boosting their rates in the run up to the end of the tax year, but if they offer anything particularly attractive at this time of year, they risk filling their coffers overnight and dropping the rate," says Coles.
"It means any movement upwards is likely to be small, and if the best rates fill their boots, they may end up being withdrawn, so the best rate on the market may actually fall. It means if you're happy with rates right now, it might be a good time to take the plunge."
Stocks & Shares ISAs underperform
On the other hand, stocks & shares ISAs have underperformed as of late. Moneyfacts revealed the average stocks & shares ISA fund experienced a loss of 3.27% between February 2022 and February 2023, compared to growth of 6.92% the year before.
"This should not be much of a shock considering the significant volatility felt across the markets over the past year, but it does emphasise the importance of keeping track of investments and ongoing fund performance," says Rachel Springall, finance expert at Moneyfacts.
But this is why stocks & shares ISAs make for better long-term investments. Withdrawing funds from a stocks & share ISA during a period of market volatility would crystallise your losses – so it might be best to be patient and wait for the current financial turmoil to pass.
Nic studied for a BA in journalism at Cardiff University, and has an MA in magazine journalism from City University. She joined MoneyWeek in 2019.