Black Friday and Christmas shopping scams warning: how to protect your money
The coming weeks are the busiest of the year for online shopping - but it's also when scammers are working harder. Here's how to keep your money safe.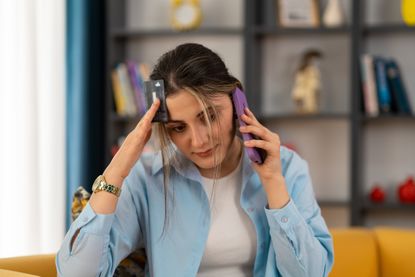 (Image credit: RainStar)
Whether you're just doing some Christmas shopping or tapping into Black Friday, there is now a high risk that more people could be caught out by a scam when shopping online.
We've already seen scams around self-assessment, investing and even pensions, but with the high shopping season now starting, shoppers are being warned to be on their guard or risk losing money.
Barclays bank has warned it has seen a 22% surge in Black Friday scams and online security firm F-Secure suggests that as many as 13 million Brits have been caught out by online shopping scams over the last year, with enormous sums lost as a result.
Subscribe to MoneyWeek
Subscribe to MoneyWeek today and get your first six magazine issues absolutely FREE
Get 6 issues free
Sign up to Money Morning
Don't miss the latest investment and personal finances news, market analysis, plus money-saving tips with our free twice-daily newsletter
Don't miss the latest investment and personal finances news, market analysis, plus money-saving tips with our free twice-daily newsletter
Barclays estimates victims lose an average £970 to a scam, often because they feel pressured into snapping up an offer.
Tom Gaffney at F-Secure, said: "The next couple of months are the biggest shopping weeks of the year which we anticipate cybercriminals to try and take advantage of, particularly as the cost-of-living crisis may mean shoppers are looking for deals, but not necessarily safely."
We look at how online shopping scams work, and what can you do to protect yourself?
How do online shopping scams work?
Online shopping scams are designed to con you when you are making a purchase online.
Generally they involve the production of a spoof website, which is made to look as genuine as possible. This could be for a little known ‒ or even entirely invented ‒ retailer, but it could also be a mocked up version of the website of large online retailers like Amazon.
The idea is that the shopper is duped into believing they are purchasing an item from a genuine retailer, but you end up paying for something that will not arrive, and perhaps does not even exist.
According to the study from F-Secure, there are certain industries where these scams can prove particularly effective. These include targeting shoppers looking for fashion items, technology or even event tickets. The top 10 shopping scams are:
1. Fashion item 16%
2. Gifts 16%
3. Tech or IoT devices 15%
4. Beauty 13%
5. Food 13%
6. Sport gear 12%
7. Furniture or home dec 12%
8. Vehicles 12%
9. Travel 12%
10. Concert tickets / event tickets 11%
How can I protect myself from online shopping scams?
There are plenty of measures you can take to ensure that you are less likely to fall victim to an online shopping scam.
Check the website is legitimate
Ensure that you are using a legitimate website. There may be telltale signs that something is amiss ‒ obvious spelling mistakes, or issues with the website branding, for example. However, it could be something more subtle, like a slight tweak to the URL that you would have to go out of your way to spot.
There are also tools you can use to help you clarify whether a website is genuine or not, from the likes of F-Secure and Get Safe Online.
You can also check whether a seller is registered on Companies House, plus check to see the business has a valid address. Lookout for these important red flags before parting with your cash.
Do your homework
As with any purchase, it's important to do your homework, so that you are confident in what you are buying. Checking reviews and social media is a good idea, though it pays to be somewhat cautious about trusting them too much.
There have been issues in the past with people paying for fake reviews, to boost the attractiveness of the 'products' they are selling online.
Don't feel pressured to buy now
Most scams centre on presenting you with a deal that can't be resisted, to the point that you feel you have to act quickly to take advantage. So take your time and carefully consider how realistic it is. If the price or offer seems too good to be true, then it likely is.
According to Barclays, 41% of people feel pressured to buy something quickly, and 42% would actually buy from an unfamiliar seller for 'good price'.
Dr Peter Brooks, chief behavioural scientist at Barclays, says: "People act differently under pressure, and scammers will take advantage of the way shoppers behave during Black Friday sales.
"Sales are typically all about speed, and scammers will play on people's emotions to instil a sense of time pressure or create a perceived scarcity for an item. They will also bank on people not doing the appropriate due diligence before making a purchase, and getting swept up in the rush and excitement of Black Friday.
"Never feel pressured into making a purchase, and if something doesn't feel right, take a step back and ask someone you trust – a family member, friend, or your bank – for advice."
Look for the padlock
Looking out for a padlock next to the URL is a smart move too, since this means it is encrypted. Generally this suggests that the website is legitimate, since payments can't be intercepted. However, it is possible for scammers to purchase or even forge this feature, so it's no guarantee of authenticity but rather another helpful thing to check.
Use a credit card for purchases
It's also a good idea to think carefully about how you are going to pay for the item online. Credit card purchases enjoy greater protection than those made by debit card or other payment options, thanks to the Consumer Credit Act, so even if things go wrong you may be able to get your money back from the card provider.
If the website encourages you to pay by bank transfer, that should be a warning that it may not be genuine.
Social media scams
With more people also now buying on social media, shoppers are often reeled in via these platforms by advertising items that are in demand. Make sure you do your research before following a website and making a purchase.
Are small retailers more susceptible to online shopping scams?
The F-Secure research found that more than half of shoppers avoid using small, independent businesses online because they feel less secure. While this is somewhat understandable, the reality is that large retailers can be impersonated just as effectively as smaller names ‒ restricting your shopping solely to the big names will not automatically protect you from scammers.
After all, data shows that small independents accounted for 27% of online shopping scams last year, which is only slightly above the 23% of scams involving large online platforms like Amazon and eBay, and the 21% which revolved around large retailers.
John Fitzsimons has been writing about finance since 2007, and is a former editor of Mortgage Solutions and loveMONEY. Since going freelance in 2016 he has written for publications including The Sunday Times, The Mirror, The Sun, The Daily Mail and Forbes, and is committed to helping readers make more informed decisions about their money.
With contributions from