Fraudsters stole more than £500 million in first half of the year
Huge sums are being stolen by fraudsters every year. We outline the most common scams and what you can do to protect yourself.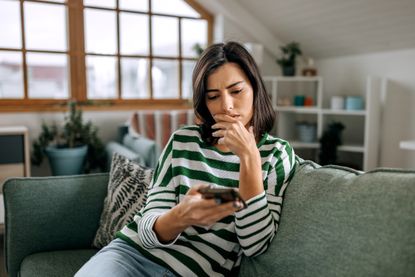 (Image credit: Getty Images)
Whether it's pension scams, banking app scams and self-assessment tax fraud,more people are falling victim to scammers.
Fraudsters made off with millions of pounds in the first half of 2023, new figures from banking trade body UK Finance have revealed.
In its fraud report for the first six months of the year, UK Finance found that a total of £580 million was stolen by scammers through both authorised and unauthorised frauds. While that's down by 2% on the same period in 2022, it's nonetheless an enormous sum of money that criminals have managed to get their hands on.
Subscribe to MoneyWeek
Subscribe to MoneyWeek today and get your first six magazine issues absolutely FREE
Get 6 issues free
Sign up to Money Morning
Don't miss the latest investment and personal finances news, market analysis, plus money-saving tips with our free twice-daily newsletter
Don't miss the latest investment and personal finances news, market analysis, plus money-saving tips with our free twice-daily newsletter
It could have been even worse, too, with a further £651 million of frauds prevented through banks' security systems.
So how are scammers conning us out of our money? And what warning signs can you look out for to ensure you don't fall for a fraudster?
Unauthorised fraud losses
More than half of the money lost to fraudsters in the first half of the year was through unauthorised transactions.
These are frauds where you have not given permission for the money to be spent or transferred, whether that's from a credit or debit card, through remote banking or via cheques.
Unauthorised fraud accounted for £340.7 million of the £580 million in total lost to fraudsters. This is down by 3% on the same period in 2022, while the total number of recorded cases of unauthorised fraud was down by 10% to 1.26 million.
Within these types of fraud, remote purchase was the most common, accounting for £173.8 million of frauds. These are frauds where the money is being spent without a card being present, for example online shopping when the fraudster has obtained your card details.
UK Finance noted there had been a particular increase in card ID theft cases ‒ where the fraudster takes over your genuine card account, or else opens one fraudulently in your name using stolen personal data.
Losses to authorised push payment (APP) frauds
The other big category of frauds is authorised push payments, where the victim is essentially conned into approving some sort of purchase.
While losses to APP scams were down 1% annually to £239.3 million, the total number of APP cases jumped significantly, up by 22% to 116,324.
According to UK Finance, the main driver here was purchase scams, where victims are duped into paying for items that never turn up. There was a 43% jump in such cases, to the point that it now represents around two-thirds of all APP cases.
There was also a large jump in romance scams, where people are tricked into sending money to fraudsters with whom they believe they are in a relationship. Cases soared by 29% compared with the same period last year.
By contrast, there was a sharp drop in the number of cases of fraudsters impersonating banks or the police. With this form of the fraud, victims are talked into transferring money into a 'safe account'. Cases dropped by 35% year-on-year, which UK Finance said was down to greater levels of warnings around these types of scam.
Can I get my money back if I've been scammed?
There are certain protections in place for those who are the victims of scams and frauds.
If you have been the victim of identity theft, for example, and had money stolen then banks and building societies should provide a full refund. You will need to establish that you have not been 'grossly negligent' however, for example by sharing your passwords with other people.
There is separate protection for APP fraud victims, though it's important to note that this is provided through a voluntary scheme signed up to by some ‒ but not all ‒ banks and building societies.
Again, you will need to prove that you have not acted carelessly and have followed any security warnings from your bank in order to be eligible. It's also worth noting that signatories to the scheme ‒ which is called the Contingent Reimbursement Model (CRM) code ‒ have been criticised by consumer groups including Which? for 'victim blaming', making it difficult for those caught out by such scams to get their money back.
What should I do if I have fallen for a fraud?
The first thing to do if you fear you have been caught out by scammers is to speak to your bank, building society or credit card provider. This gives them the opportunity to hopefully stop the payment or transfer before it goes through.
It's also a good idea to report scam attempts ‒ whether you fall for them or not ‒ to Action Fraud. Action Fraud is the national fraud and cyber crime reporting centre, and is run by the police.
Finally, it's also worthwhile keeping an eye on your credit report in the months thereafter. That way you can see if there is any unexpected activity in your name, for example scammers attempting to open credit cards by pretending to be you.
The fraud warning signs
The 'Take Five to Stop Fraud' campaign is a good place to start when it comes to preventing yourself from falling victim to these sorts of scams.
The campaign outlines three main steps:
STOP ‒ Take a moment to stop and think before handing over your money or information. Scammers often rely on making us feel under pressure, using that to convince us to do something we ordinarily would not. By stopping and considering what's going on carefully, you are more likely to spot whether the request is genuine or not.
CHALLENGE ‒ It's important to question whether what you have been told is genuine. Could it be fake? Legitimate businesses or banks will not have a problem with you asking questions, or wanting more information before proceeding. It's only criminals that will try to rush or panic you.
PROTECT ‒ If you think you may have been caught out by a scam, or even if you are just suspicious about some correspondence you've received, then be sure to report it to Action Fraud.
John Fitzsimons has been writing about finance since 2007, and is a former editor of Mortgage Solutions and loveMONEY. Since going freelance in 2016 he has written for publications including The Sunday Times, The Mirror, The Sun, The Daily Mail and Forbes, and is committed to helping readers make more informed decisions about their money.