Young investors could bet on NFTs over traditional investments
The first batch of child trust funds and Junior Isas are maturing. But young investors could be tempted to bet their proceeds on digital baubles such as NFTs rather than rolling their money over into traditional investments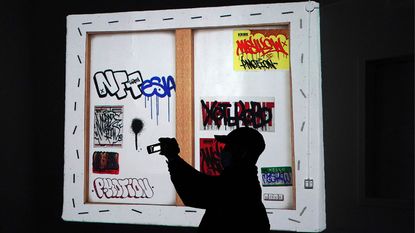 (Image credit: © TIMOTHY A. CLARY/AFP via Getty Images)
Remember child trust funds (CTFs), Gordon Brown's attempt to make sure that all young people had something to their name when they turned 18? Well, their time has come. They started maturing in September.
That's nice for any of the young people who were eligible. Even if their parents did nothing about it, there will still be a useful pile of cash knocking around in a default fund for them to find. And it will be very nice indeed for anyone with proactive parents with the spare cash to have turned them into junior Isas (Jisas) and kept them topped up, as has been possible since 2015. There's a lot of money up for grabs here: £9bn in the CTFs alone. The question is just who gets their hands on it, and how.
When the CTF or Jisa holders turn 18, their products generally roll into being adult Isas. Exciting! Until they actually want access to them, that is. The problem is paperwork. A friend's son tells me that – for today's young, at least – this is complicated stuff. It isn't online with everything verified with codes sent to phones and the like. Instead, it involves actual letters on real bits of paper and the production of bits of ID they mostly can't lay their hands on.
Subscribe to MoneyWeek
Subscribe to MoneyWeek today and get your first six magazine issues absolutely FREE
Get 6 issues free
Sign up to Money Morning
Don't miss the latest investment and personal finances news, market analysis, plus money-saving tips with our free twice-daily newsletter
Don't miss the latest investment and personal finances news, market analysis, plus money-saving tips with our free twice-daily newsletter
You need to verify your ID and address. Most will have a passport (if they don't, there is a long search for their birth certificate ahead) so the ID part isn't too hard but, for the address, the list of things most institutions will accept aren't easy for the average 18-year-old to find, particularly as mobile phone bills aren't acceptable. Not so exciting.
So what do you do if you are said friend's son, you are finding the access documentation difficult to deal with, and a kind relative deposits some birthday cash into your bank account to help you top up your new adult Isa?
Beware the lure of shiny baubles
If you are over 40 the answer isn't obvious: you will already be down a rabbit hole of stress about the low deposit rates on cash. But if you are under 20 the answer will be obvious. With the money burning a hole in your bank account, a pile of admin faff ahead and YouTube offering you New-Age financial advice on a loop, you will start clicking.
The next thing you know you won't have what you should have: some nice sensible stakes in a diversified range of investment trusts biased to long term growth. No, you'll have a portfolio of non-fungible tokens. NFTs are bits of code that attach to anything digital (sound, videos or art) certifying them as unique and hence collectable.
You might go to nbatopshot.com, for example. There you might buy a video of your favourite basketball player doing something brilliant as an NFT. This doesn't mean no one else can ever see it. It just means, for what it's worth, that you own the moment.
The top NFTs now for sale on the Top Shot site are $250,000. That is chicken feed compared to the £1m I am hoping to get if the FT allows me to turn this column into an NFT and auction it; the $2.9m Twitter founder Jack Dorsey got for the NFT of his first tweet ("just setting up my twttr"); or the £50m artist Mike Winkelmann, aka Beeple, got for selling a digital collage this month.
These numbers make no sense. Think of an NFT, if you will, like a Scottish island (bear with me). There is currently a tiny one for sale in the middle of Loch Moidart on the west coast. It comes, says Future Auctions, with a "beautiful outlook and approach" and a "unique opportunity to purchase a space that can be enjoyed with zero chance of intrusion".
The first part of this is true. The second simply isn't. Scotland has fabulous right to roam laws. You can go pretty much anywhere and do pretty much anything when you get there. Loch Moidart is "extremely popular". I should think it will be something of a shock to the buyers when they find that they have bought, not a private haven, but a popular local picnic spot open to anyone with a paddle board.
NFTs: useful tech in a speculative mania
What is ownership without exclusivity? The same is true of NFTs. If everyone can watch your video clip, what is it that you have collected? You might say that owning an NFT video which can be copied is no different from owning a Picasso that everyone else can get prints of. But that's to miss the point. A print is not the same as a painting. But a digital copy of a video of any one slam dunk is identical to the original.
NFTs are lots of fun, partly in a speculative isn't-the-tech-cool kind of way and partly in a social-justice way. Note that the code can be written so that a payment is made to the artist every time the NFT is traded.
NFTs might also be useful to some people – perhaps money launderers. And there are some interesting aspects to the craze: the thought that the whole thing is just another step towards the full digitalisation of life; and the way which the tokens disintermediate the art industry (we no longer need institutions to authenticate art).
But that doesn't mean their current ubiquity represents the beginning of the emergence of a new asset class, whatever the YouTubers might tell you. I suspect it represents yet another minor speculative mania driven by free money meeting free time, and one that will end along with the pandemic and within which danger lurks.
My young friend's NFT trading account suggests he has made money buying and selling (hooray!). But he has not yet been able to get the money paid out of the platform and back into his bank account (no hooray).
There is an important lesson here: there's a new generation of investors out there and they aren't much good with, you know, like, letters. We have an amazing opportunity, right now, to bring these people, and the £9bn in their CTFs, into the long-term investing fold. If we want to have a chance of doing so, depositing money in your first Isa needs to be as straightforward as signing up for an NBA Top Shot account.
Providers, adjust your processes accordingly. In the meantime, some advice for those who are newly 18: do not put your CTF money or indeed your granny's money into NFTs. This is not what Gordon Brown had in mind.
• This article was first published in the Financial Times
Merryn Somerset Webb started her career in Tokyo at public broadcaster NHK before becoming a Japanese equity broker at what was then Warburgs. She went on to work at SBC and UBS without moving from her desk in Kamiyacho (it was the age of mergers).
After five years in Japan she returned to work in the UK at Paribas. This soon became BNP Paribas. Again, no desk move was required. On leaving the City, Merryn helped The Week magazine with its City pages before becoming the launch editor of MoneyWeek in 2000 and taking on columns first in the Sunday Times and then in 2009 in the Financial Times
Twenty years on, MoneyWeek is the best-selling financial magazine in the UK. Merryn was its Editor in Chief until 2022. She is now a senior columnist at Bloomberg and host of the Merryn Talks Money podcast - but still writes for Moneyweek monthly.
Merryn is also is a non executive director of two investment trusts – BlackRock Throgmorton, and the Murray Income Investment Trust.