Don't be tempted by cashback mortgage deals
Many lenders are now offering "cashback mortgages" that can return up to £1,000 to you on completion. But beware, says Ruth Jackson-Kirby. Cashback offers can often hide an expensive mortgage.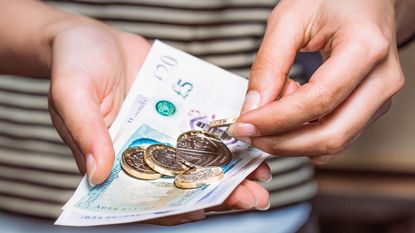 (Image credit: © Getty Images/iStockphoto)
If you've been shopping around for a mortgage this month, you might have noticed that lenders are offering "cashback" deals of up to £1,000.
The idea of being handed £1,000 when you take out a mortgage is certainly tempting – but think twice before you grab the cash. Cashback offers are often disguising an expensive mortgage.
Cashback mortgages may not give the best deal
There were 1,350 cashback mortgages on the market at the start of June, up from 1,276 in May, according to Moneyfacts. Of those deals, 64 are offering £1,000. But many have much higher interest rates than those offered on mortgages without cashback. In fact, The Times found that some such deals would result in you paying more interest in just six months (!) than you earned in cashback.
Subscribe to MoneyWeek
Subscribe to MoneyWeek today and get your first six magazine issues absolutely FREE
Get 6 issues free
Sign up to Money Morning
Don't miss the latest investment and personal finances news, market analysis, plus money-saving tips with our free twice-daily newsletter
Don't miss the latest investment and personal finances news, market analysis, plus money-saving tips with our free twice-daily newsletter
For example, the best five-year fix with £1,000 cashback is 3.13% from Platform. If you borrowed £200,000 you would make monthly repayments of £962 and pay back £34,649 over the next two years (assuming a 25-year repayment mortgage).
But if you look beyond cashback deals you could get a five-year fix at 2.45% with Reliance Bank. Someone with a £200,000 mortgage would repay £897 a month, or £32,288 over two years.
After two years the person with the Reliance Bank mortgage would have saved £2,361. That means they're more than £1,300 better off than with the cashback handed out by Platform.
Disappearing mortgage fees
When you are assessing the overall cost of your mortgage you should also take fees into account.
Often a lender will slash their interest rates to get their deals to the top of the best buy tables, but then whack a hefty mortgage fee on it to recoup their costs. Factor that fee into the overall cost and you may find a deal with a lower fee and a higher interest rate is actually cheaper in the long run.
For example, one of the best buys today, judged by interest rate alone, is a two-year fix from Reliance Bank at 2.35%. But it comes with a £995 fee. Over two years, on a £200,000 mortgage that would cost £22,497, according to MoneyFacts. By contrast, The Cambridge Building Society's two-year fix has a higher interest rate at 2.49% but carries no fee. Over two years it would cost someone with a £200,000 mortgage £523 less.
The good news is that fee-free deals are readily available. Rising interest rates are having a knock-on effect on mortgage fees – more and more lenders are scrapping their fees. The number of fee-free mortgage deals on the market has leapt by 34% over the past year, and four out of ten fixed-rate mortgages don't currently charge a fee.
So don't just opt for the mortgage at the top of the best buy tables for lowest rates. Change the settings on the comparison tables to show you the mortgages with the lowest overall costs instead.
Should I fix my mortgage?
This month the Bank of England raised interest rates again. The base rate now stands at 1.25%, up from 0.1% six months ago. This has had an almost-instant effect on many mortgages, with lenders quick to pass the rise on to their standard variable rate (SVR) customers.
The rise has also driven up the cost of the best fixed deals on offer, with rates on two, five and ten-year fixes all higher today than they were last month.
If you are on your lender's standard variable rate, then look at the best-buy fixed deals to see how much you could save. And if you are on a fixed-rate deal which is due to end in the next six months, note that you can apply for one of today's mortgage deals now.
Offers are usually valid for up to six months. So if you are worried about rates continuing to rise you can secure one of today's deals. Then when your current deal is due to end have another look at the best buys. If you can find a better deal you don't have to take up your existing mortgage offer.
The best buy two-year fix today is 2.34% from Progressive Building Society. At present the average standard variable rate is 4.91%. So, someone with a £200,000 mortgage could save £3,300 a year by fixing. The saving could be even higher assuming interest rates continue to rise.
The lowest mortgage rates
Swipe to scroll horizontally
| | | | | | |
| --- | --- | --- | --- | --- | --- |
| Row 0 - Cell 0 | Mortgage | Rate | Fee | Max LTV | % Change in rates from last month |
| Two-year fixed rate mortgage | Progressive Building Society | 2.34% | £0 | 95% | +11.4% |
| Five-year fixed rate mortgage | Reliance Bank | 2.45% | £995 | 75% | +11.4% |
| Ten-year fixed rate mortgage | Barclays | 2.82% | £999 | 60% | +14.7% |
Source: Moneyfacts
SEE ALSO:
• Should you overpay your mortgage?
• Why you shouldn't rush to fix your energy tariff
• Why you should consider abandoning your cash Isa
Ruth Jackson-Kirby is a freelance personal finance journalist with 17 years' experience, writing about everything from savings and credit cards to pensions, property and pet insurance.
Ruth started her career at MoneyWeek after graduating with an MA from the University of St Andrews, and she continues to contribute regular articles to our personal finance section. After leaving MoneyWeek she went on to become deputy editor of Moneywise before becoming a freelance journalist.
Ruth writes regularly for national publications including The Sunday Times, The Times, The Mail on Sunday and Good Housekeeping among many other titles both online and offline.